Queen of America, Taylor Swift, has been knighting lesser celebrities all summer during her "1989" tour. Last weekend was no exception as she tapped the ceremonial sword upon the famed subject of that one Maroon 5 song: Mick Jagger.
As Swift has continued her campaign across America in anticipation of her inevitable role as Kanye West's presidential running mate in 2020, the singer has painted the country red with her "sick beats." It was finally time to paint it black.
One attendee of the Swift/Jagger show was especially ecstatic about the pairing of super friends before her, going into a state of nirvana as if she'd just seen a Beatle in 1964.
The 72-year-old grandma "had a lifelong dream of going to a Stones concert, but due to a serious health issue this past year, she missed their tour," her daughter explained on YouTube where she uploaded the following video.
"Needless to say, when Mick came out, it was like he walked on stage just for her." 
It's been said that Beatles and Rolling Stones era concerts smelled of urine, due to teenagers swooning out of control. Swift did sing "Smelly Cat" with Lisa Kudrow just last month, but still, similar reports of, uh, satisfaction haven't surrounded the 1989 tour.
Given the history of the moves of Jagger, however, it certainly isn't all too unexpected a freakout on this level would occur. You can't always get what you want, but that means you also sometimes can, and this grandma was the lucky lottery winner of life the other night.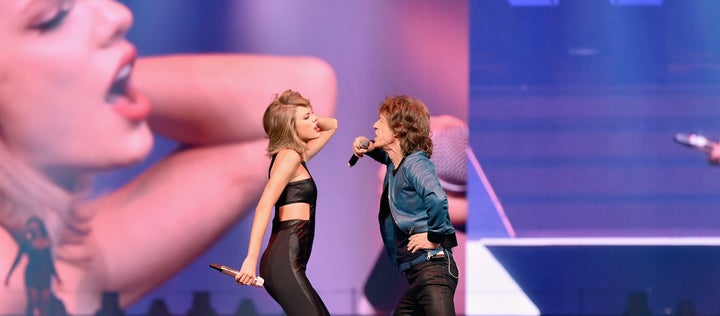 PHOTO GALLERY
Taylor Swift's '1989' Tour
For a constant stream of entertainment news and discussion, follow HuffPost Entertainment on Viber.