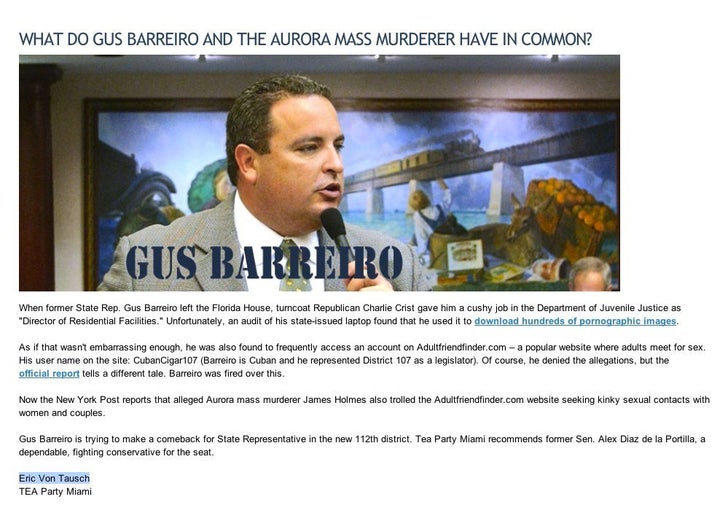 The Tea Party in Miami has endorsed one of two Republicans vying for Florida's House District 112 by likening his opponent to the accused theater shooter in Aurora, Colorado.
Barreiro is locked in an increasingly nasty race with former state Sen. Alex Diaz de la Portilla, who is endorsed in the post signed by Tea Party Miami chairman Eric Von Tausch.
...[Barreiro] was also found to frequently access an account on Adultfriendfinder.com – a popular website where adults meet for sex. His user name on the site: CubanCigar107 (Barreiro is Cuban and he represented District 107 as a legislator). Of course, he denied the allegations, but the official report tells a different tale. Barreiro was fired over this.

Now the New York Post reports that alleged Aurora mass murderer James Holmes also trolled the Adultfriendfinder.com website seeking kinky sexual contacts with women and couples.

Gus Barreiro is trying to make a comeback for State Representative in the new 112th district. Tea Party Miami recommends former Sen. Alex Diaz de la Portilla, a dependable, fighting conservative for the seat.
Diaz de la Portilla, who said he had not heard about the post, decried the comparison when reached by phone.
"Something like that should never be used for political game," he told HuffPost while campaigning door-to-door. "Any kind of that kind of a dirty campaign should always be condemned. Of course, you can't equate one thing with the other... That's actually disgusting to take a tragedy and link it to something like a state rep campaign. It's absurd."
In a statement emailed to HuffPost, Tea Party Miami said it apologized to anyone who "might have been offended by our comparison between the Colorado killer and Gus Barreiro, a confirmed job killer."
"Gus Barreiro is the epitome of a political sleaze-bag and TEA Party Miami is committed to uncovering his misdeeds, and those of other unscrupulous politicians, no matter how offensive it might appear," continued the statement. "...Tea Party Miami will help to expose these issues and let the voters decide if Gus Barreiro should be regarded as a politician or a pervert."
BEFORE YOU GO
PHOTO GALLERY
Politicians React To Colorado Shooting