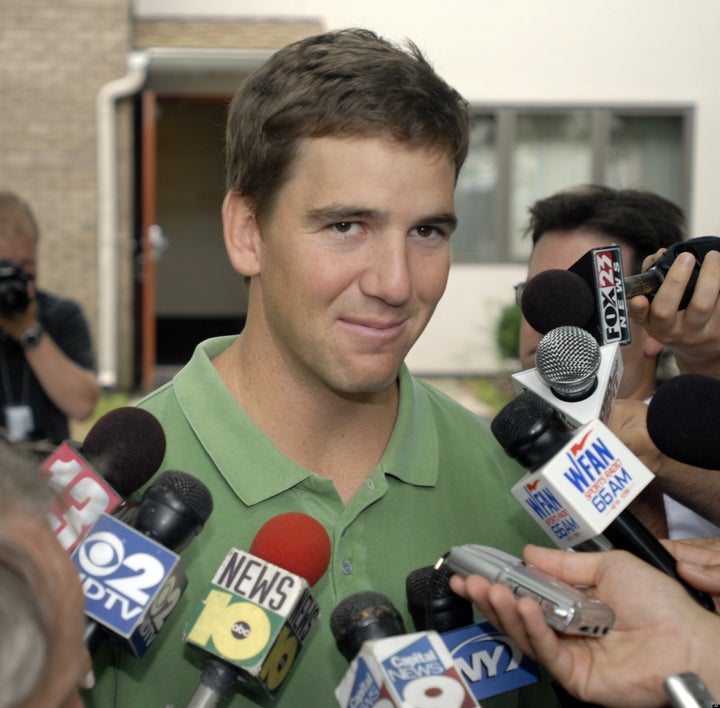 For all the shit Eli Manning gets about his goofy demeanor, he makes this one gesture that ranks among the coolest in sports. For lack of a more artful term, we'll call it the "double-fist pump" -- it's the gesture he made after the touchdown pass to Smith on Sunday night, a gesture immortalized in the SportsCenter introduction last year.
The gesture speaks to Eli's ability to be an assertive, awesome athlete when the time calls for it. It is a quality Giants fans have come to expect. Eli's accuracy may slip during the game and his shoulders may stoop, but he sure perks up when the game is on the line.
Eli: His clutchness has been much discussed, so let's talk about his pocket presence, which has improved by leaps and bounds in the last two years. Yes, the offensive line did an outstanding job, but Dallas' total of zero sacks also speaks to Eli's ever-improving savvy back there.
Mario Manningham: Was a star just born before our eyes? Perhaps, but either way, one has to wonder how this game would have gone if Domenik Hixon hadn't gotten injured. As soon as Manningham got on the field, it became clear that he was much better than Hixon, which invites the following obvious question: What was Coughlin waiting for?
On the first drive of the game, Eli threw two passes to Hixon in one-on-one coverage. Hixon didn't make a play on either of them, which isn't necessarily his fault, but speaks to the fact that he's just not a playmaker as a wide receiver. Mario Manningham, despite his small stature, is. Manningham's superiority to Hixon was apparent to most Giants fans before this game; shouldn't it have been to Coughlin as well?
(As of this writing, Hixon had gone for an MRI, but there is no word on his status.)
Steve Smith: He's really making a name for himself. There's the route-running -- which Cris Collinsworth spotlighted on an errant Eli Manning throw towards the end of the first half that turned into an incompletion -- but there's also the body control. For the second straight week, Smith contorted himself in the air and made an exceedingly difficult catch look eminently makeable, if not easy.
The offensive line: For the pass protection. Last year, the Cowboys were the best team in the NFL at sacking the quarterback (they unseated the Giants, who held that title in 2007), and sacked Eli Manning eight times in the teams' second meeting. Many of these, though not all, were the direct result of Kevin Boothe's replacing Kareem McKenzie at right tackle. This tells us two thins: 1) Kareem McKenzie is much better than Kevin Boothe; and 2) Continuity along the offensive line is extremely important. The Giants have been extraordinary lucky in this regard over the last two years, with no major injuries to any starter on the line since 2006 (Remember Bob Whitfield?). They can only hope to be so lucky again this year, but whether they are or aren't will go a long way toward determining their championship chances.
The secondary: In a what's shaping up to be a resurgent year for the Miami Hurricanes, it's fitting Kenny Phillips and Bruce Johnson get game balls. After the game, Johnson told a reporter he had been taught by a former coach to "run like you stole something" after intercepting a pass. This is an excellent description of how Johnson caught the ball in the air, landed, and then tore ass in the other direction.
Phillips, for his part, showed some outstanding athleticism befitting a safety from The U -- or perhaps hand-eye coordination is a more precise description. First, there was the ridiculous reaction time on the interception off Witten's foot. Then there was the shoestring tackle on Tashard Choice on a play where Choice nearly broke a huge run out of deep Dallas territory. Then there was the interception of Romo's inexplicable heave. This last one was an easy interception, but you have to love how Phillips used his hands to catch the ball with ease. Perhaps Phillips can become the ball-hawking safety the Giants never had. Isn't that exactly what this defense needs?
Also re: the secondary, another great week for Elite Corner Corey Webster. Ho-hum.
Antonio Pierce: He justified the "indispensable-quarterback-of-the-defense" label on the Johnson pick-six.
The run-defense: Obviously -- 251 yards on 29 carries. The Giants were pushed around at the line of scrimmage and their discipline was poor, as evidenced by the cutback runs that went for big yardage. Mike Garafolo of the Star-Ledger observed that "opponents have now run three big plays through the gap between right DE Osi Umenyiora and the right DT" in the past two games. Something to think about.
Obviously, the Giants have to figure the run-defense out. But there were a few mitigating factors regarding Sunday: 1) The Giants didn't have Tuck for the entire second half. Matthias Kiwanuka, who took his place, is a drop-off from Tuck as a run defender. 2) Michael Boley was playing in his first game as a Giant; 3) Chris Canty was out, which thinned out the Giants tackle rotation on a hot, humid night.
(As of this writing, Tuck has angrily insisted he will play next week. Coughlin called it a "wait-and-see" situation.)
The running game: Dallas was able to get a lot of penetration in the backfield and often stopped Brandon Jacobs before he could get his momentum going. For as good of a back as Jacobs is in some situations -- when the run-blocking springs him to the second level, there's nobody better -- he's pretty bad in others. When other teams get penetration, Jacobs doesn't have enough time to get going, and therefore can't make teams pay with a cutback through an abandoned gap. For that reason, I would like to see Coughlin be more flexible in his usage of backs. Yes, Jacobs is The Starter," but there are some games where Bradshaw is clearly the better option. Last night was one of them, in my opinion. But to be fair, Bradshaw's numbers weren't much better than Jacobs'.
The pass rush: Though it did come alive late in the game.
The red-zone offense: If this isn't a crisis now, it will be if this goes on for one more game. A few ideas on how to improve it:
1) Incorporate Ramses Barden. He's worth having on the roster even if he's a one-trick pony. That's one trick more than Sinorice Moss has.
2) Use Jacobs in a wildcat. I'm serious -- not just for goal line, but for other situations as well. It's an easy way to get his momentum going.
3) More Boss. Like last year, it's been a quiet start for the big tight end with the soft hands.