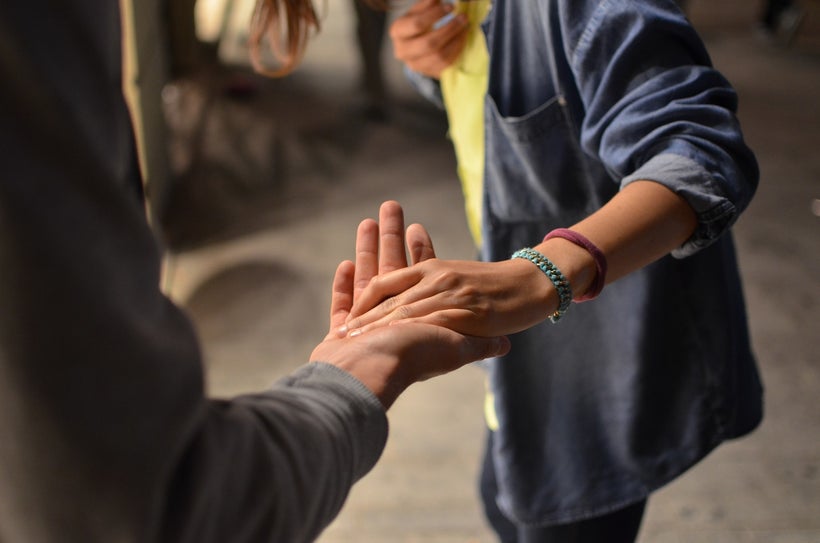 In A Bitter Irony, The Web May Be Making Us Less Connected, But These Three Exciting Apps Are Bucking That Trend
The internet, mobile phones and so much of modern technology is all about connecting people. It is about helping us to communicate over long distances, to rekindle old friendships and to share our daily (and otherwise mundane) activities with relatives.
Except the reality is that technology is just as often a barrier to real, meaningful connection as it is a facilitator. Although we have the means to contact nearly an unlimited number of people in a myriad of different ways, we are nevertheless thought to be lonelier than ever before. With so many screens to distract us and so many ways to get the latest gossip, there is less incentive than ever to venture outside into the real world.
But it's not really technology that is our enemy. Technology might just be another convenient scapegoat. Author Margaret Atwood was right when she wrote, "Every aspect of human technology has a dark side, including the bow and arrow." The problem is the way that we use technology and some of the habits we've fallen into.
Thankfully, there are a few apps and websites out there that genuinely help us to connect in a more meaningful way that feels 'real'. These apps demonstrate that when technology is applied in the right manner, it can actually help us to form deeper connections with one another, not just larger friends lists.
Let's take a look at three examples.
Uriji Jami
You know that Uriji Jami has high aspirations when the tagline reads: made by life. The aim of Uriji is to help people 'share their dreams and stories' with the hopes that they'll be able to actualize their greatest potential.
Instead of sharing photos of cats, or photo-shopped nights out, Uriji wants you to get a little deeper and share your secret hopes and recent adventures. After creating a profile, you literally post your dreams (things you hope to do) or your stories (adventures and experiences you've had). From there, other users can comment, ask you questions or give you tips and advice. There is even a monetization aspect, for those that want to turn their hobbies into something more lucrative.
Facebook is the kind of small talk that you find yourself engaging in over parties and the posturing you do when you are trying to impress strangers; Uriji is a much more intimate and in-depth conversation. This is the kind of conversation where you completely forget the time and end up chatting all through the night.
AltspaceVR
AltspaceVR is a VR app available for a range of devices including mobile solutions (the Gear VR and Google Daydream). The fact that Facebook decided to invest in Oculus for $2 billion should give you a clue as to how important social is going to be for VR and this is one of the apps currently leading that movement.
AltspaceVR doesn't just provide a virtual environment for you and your friends to hang out, it also gives you games to play, events to attend, and a wealth of great virtual environments to visit. Simply being able to meet up with friends and chat with them in a 3D space is transformative and works significantly better than a conference call or multi-participant Skype call.
But it's when you introduce activities like Holograms Against Humanity, the meetups become much more than a mere novelty or a way of staying in touch. Suddenly, you find you're actually having fun with your real friends – no matter how far away they are. And when you attend your first virtual talk or a stand-up act, you will be convinced that this is the future of communication.
Periscope
As the name implies, a live streaming app allows users to stream footage from their phones' cameras and broadcast it live. Among friends, this provides a way for us to 'bring people along' on our adventures, to attend concerts that we were not able to make in person, or to view the same party from another angle or another room.
But when you look at the big picture, apps like Periscope have potential to do much more. Periscope presents users with a map of the world, dotted with hundreds of live streams that you can tune in to, follow and comment on in real-time. This gives influencers a way to connect directly with their fans and answer questions directly. It gives restaurants a way to show potential local patrons the amazing atmosphere and fun that they are missing out on. And it means that when something newsworthy happens, you'lll be able to tune in live from the perspective of hundreds of ordinary people.
This will transform communication just as much as virtual reality. And when you combine them both? And throw in the values and priorities of something like Uriji Jami? Then you will have something truly incredible.
This post was published on the now-closed HuffPost Contributor platform. Contributors control their own work and posted freely to our site. If you need to flag this entry as abusive,
send us an email
.