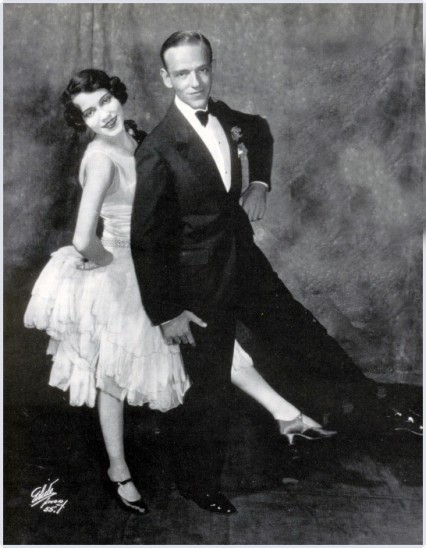 Fred and Adele Astaire still from "The Bandwagon"
Courtesy of Getty Images
Fred Astaire made it sound so easy, "I just put my feet in the air and move them around". The 34th Annual Fred & Adele Astaire Awards took place on Monday, May 16, 2016 to celebrate outstanding achievements in dance on Broadway and in film. The gala evening at the Skirball Center for the Performing Arts in New York started with red carpet arrivals and a cocktail reception. The show featured standout performances of "Tradición" from the musical On Your Feet, "Where Do I Begin", choreographed and performed by Spencer Liff and Amy Kakima, and "A Humble Tribute" with tap dancing brothers Leo and John Manzari. Rachel McLaren performed an excerpt from "Cry" an Alvin Ailey signature Judith Jamison performance piece.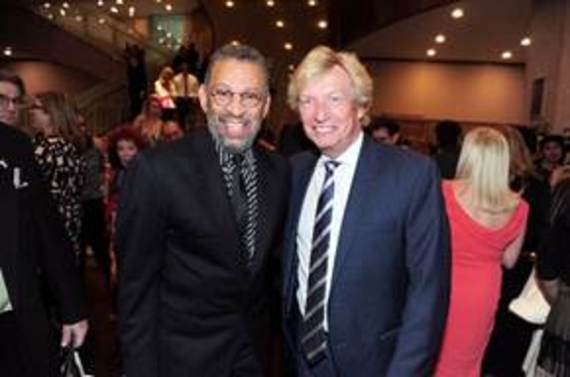 Maurice Hines and Nigel Lythgoe
New York Post critic and author Michael Riedel who announced the nominations at a cocktail party at the Friars Club on May 2, 2016. Michael reminisced about New Yorker critic Douglas Watt who saved shows, championed talent and founded the awards for his friend's the Astaire's. His daughter Executive Director, The Fred & Adele Astaire Awards Patricia Wyatt continues the tradition, "We represent excellence in dance on Broadway and film exemplified by all the winners this year. The best in the world!"
Nigel Lythgoe, Creator & Executive Director of So You Think You Can Dance accepted the award for Outstanding Contribution to the Field of Dance Nigel demurred, "I am honored because we have the best of Broadway's dance community here tonight. A few legends Savion Glover, Judith Jamison and Desmond Childs and to being honored with an award in front of my peers. Anything with Fred Astaire's name on it your going to be honored in the first place".The Douglas Watt Lifetime Achievement Award was presented by Patricia Birch and Joel Gray to Judith Jamison, Artistic Director Emerita at Alvin Ailey American Dance Theater. Judith Jamison believes, "It's so important that some award that has to do with Broadway goes especially to dancers, choreographers and ensembles. It's a labor of love what we do as the instruments we are because we can't put ourselves in a box like a trumpet. ..Dancers reveal their hearts on the stage eight times a week for when you leave the theatre lifted up and feeling different about yourself.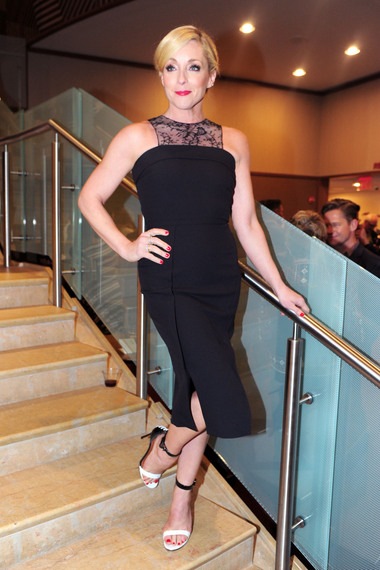 Spencer Liff
Dance legend Carmen DeLavallade presented the award for Outstanding Body of Work in Dance to choreographer Maurice Hines who appeared Off-Broadway this season in his show Tappin' Through Life. Maurice thanked his teachers Henry LeTang and David Black.


Diane Doyleand Netanel Bellaishe ,Danny Gardener,Leo and John Manzar, Eloise Kropp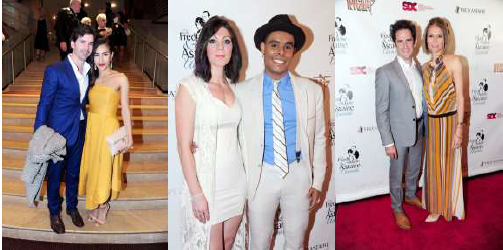 Harris Remillard, Yesenia Ayala, Joy Attmore, Phillip Attmore , Andy Blankenbuehler, Elly Blankenbuehler.
The first dance award of the evening Outstanding Choreography in a Feature Film was won by Dave Scott for High Strung. The award for Outstanding Ensemble in a Broadway Show presented to Shuffle Along. Phillip Attmore (of Shuffle Along) won the award for Outstanding Male Dancer in a Broadway Show. The Outstanding Female Dancer in a Broadway Show award was won by Jane Krakowski (She Loves Me). The last award of the evening for Outstanding Choreographer in a Broadway Show, presented by Sandi Duncan and Don Correia, resulted in a three way tie between Andy Blankenbuehler (Hamilton), Savion Glover (Shuffle Along) and Sergio Trujillo (On Your Feet). For the first time, the Fred & Adele Astaire Awards recognized excellence in dance, movement, and choreography Off-Broadway. Rumi Oyama (Sayonara) was the winner of the category for Outstanding Female Dancer Off-Broadway. The award for Outstanding Male Dancer Off-Broadway was won by Robert Creighton (Cagney). The Award for Outstanding Choreography Off-Broadway resulted in a tie between Connor Gallagher (of The Robber Bridegroom) and Paul McGill (of The Legend of Georgia Mcbride).
The real winners were the children as all proceeds from the event will the benefit non-profit 501 c(3) organization. The Douglas Watt Family Fund for the Performing Arts. The Douglas Watt Family Fund for the Performing Arts provides Dance and Movement Therapy for autistic and disabled children in New York City. The goal of the organization is to bring artistic expression to the developmentally disabled children in our community. Dance and movement Therapist for The Douglas Watt Family Fund for the Performing Arts Jessica Zippin shares, "I use a variety of different dance therapy techniques with these students, but what is most important is meeting them where they are. I am mirroring their movements back to them to help them understand their bodies in space and in relation to other people." The only non-professional dancer Dr. Joan Fallon received Special Achievement in the Field of Autism and Related Disorders Award and was honored for her breakthrough work in autism research. As is the Fred and Adele Astaire awards tradition the next generation of dancers from Studio Bleu of Washington closed the show to a melody of Gloria Estefan and Miami Sound machine hits.
(Photo Credit: Patrick McMullan)