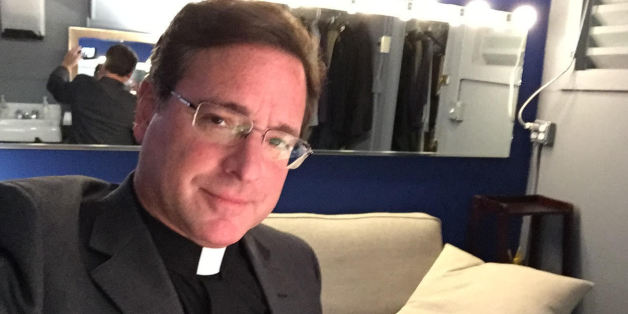 Seven months ago I came to New York to see a of couple Broadway plays. One of them was produced by a friend of mine, Kevin McCollum entitled, Hand To God, which was in previews at the time.
I took two of my daughters who live in New York to see it and was blown away by not only its amazing cast and its hilarity but by its poignancy. It shines a comedic light on how twisted a broken family can be. I don't come from a broken family, but we certainly weren't fixed by any means, having lost two of my sisters by the time I was in my late thirties.
Then out of nowhere, Kevin called me and told me the wonderful actor that played the part of Pastor Greg, Marc Kudisch, had to leave to go work on a musical production of his own -- and asked me if I would like to take over the part of the Pastor from November 3rd to January 3rd when the play closes in New York. I immediately said "Let me call my reps," but the answer was an obvious "yes."

Hand To God, which runs until January 3rd before it moves to London with a British cast, has changed me. For one, I am transitioning. Not in the current use of the word, but in the sense that playing Pastor Greg, a Lutheran minister who attempts to have good human values, is a full 180 from my stand-up persona, as well as from other parts I have played over the years.

The play is about a young man, Jason, acted astonishingly by Steven Boyer, who has a puppet on his hand named Tyrone. Tyrone has Satanic qualities. His mother, Margery, is played by the amazing Geneva Carr, who's husband in the play has died. Two other brilliant actors complete the ensemble -- Sarah Stiles and Michael Oberholtzer, who play two students of Margery's along with Jason in this puppet workshop run by Pastor Greg's ministry.

The demeanor of this Pastor, when he is, for the most part, a good man, is opposite anything I have played -- being from a small town in Texas and believing the bible to be the book that you take with complete seriousness -- to give your life rules to live by. It is refreshing and eye opening for me to embody this role, and gain a certain amount of respect for those who chose clergy of any kind as their purpose in life.

I was raised Jewish -- Happy Chanukah by the way -- and yet I subscribe to any religion that leads to evolvement and love and peace. Though I am not sure how I personally feel about religion as a whole.

That is why I have chosen show business to be my religion. It is so full of non-competitive compassionate souls who care about others with full empathy. That is meant to be sarcastic. I thought I learned when I wrote my book Dirty Daddy that sarcasm does not travel in print. One step forward, two steps back.

The point of this little piece -- and damn could I use one right now, this eight show a week schedule can make a Pastor hawny -- is how healthy it is for us to emotionally shift gears in our lives if we are able to, depending upon our circumstances, opportunities and obligations. The interesting part for me is that this play embodies all of my comedic and hardcore serious sensibilities, and yet, the comedy does not come from my character. It comes from the writing and the play itself. And from Tyrone, the devil of a puppet, who could do a great solid five minutes in any comedy club in the English speaking world.

I have three daughters, and they are my proudest accomplishment -- besides my appearance in The Aristocrats -- sorry, once again, sarcasm not the best traveler. I love getting into the mind and work on understanding what drives a man like the Pastor to try to "do the right thing," even though he is far from perfect. Most of us want to do the right thing. It's those that have a demented view of what the right thing is that is the saddest part of all of our lives.

The small family in this amazing Tony nominated play written by Robert Askin and directed by Moritz von Stuelpnagel -- a name I not only know how to pronounce now, but am thinking of changing my name to -- is a play that, like all good art, shines a light on one subject and holds a mirror up to us all.
If you can get to New York before January 3rd, try to come and see it. It is, in my humble opinion, that significant of a play -- and one that people fourteen and up, or a twelve year old with a mustache will be deeply affected and entertained by.

It asks questions we all face, like: Why aren't my kids relating to me? Why don't my parents understand me? Do they even love me? It's the core of why our society has always been so majorly flawed. Because of our lack of pure communication with each other. More now than ever we are trying to hold ourselves together, so hopefully we can hold our children's lives together in this oh so difficult of times in our world.

I am far from preaching the gospel, but I am simply, through this life changing work experience, trying to grasp and understand why many preach and follow the gospel. It is to give us, through our faith, hope. Hope that the world won't come to an end. Hope that our children will have a world to live in. Hope that in the future mankind will somehow have more respect for all of its peoples, even if they deem themselves atheist, agnostic, or 'spiritual' as some people call themselves, right before they take Adderall and decide to clean out their closets for twenty-four hours. I am a spiritual type of guy. I am not built for Adderall or the people who take it. However if the makers of it are reading this and have any free samples....

Living in New York these past couple months, especially during the beautiful holiday time here, has allowed me to enjoy important plays such as the unachievable ticket of Hamilton and The Curious Incident of the Dog in the Night-Time. Like great books and movies, but in a live way that only theater can affect you, they make their point from the moment they begin -- which is to reflect on where we have come from and where we are presently as human beings. All of us struggling to get through our lives, yet somehow, possibly making it through.

I only have four weeks left of this Broadway experience, which had moments of clouds over it at times -- as we all feel the pain of the world. But doing a good Broadway show as I am so fortunate to do at this moment in time, is impossible to do unless you go out there with no fear. And it helps that an army of police envelop Times Square.

So my only fear is when my daughters are in the audience -- as I want them to be proud of my work and share in my growth as I share in their growth as amazing young women. And they are all artists and incredibly bright, so their opinion I value above all others... Except the heads of studios who sometimes frequent the show. And major directors, producers and showbiz icons who have come too -- and are still coming to see Hand To God before it ends its run.... Oh, and then my daughters' opinions I value most. By the way, I have copywritten the use of the run-on sentence, so I am rolling in royalties.

When this play ends January 3rd it will be an emotional and deeply moving experience. Especially for Steven, Geneva, Sarah and Michael who have been with it from the beginning-- for what will be a total of three-hundred and eleven performances at the Booth Theatre on Broadway. And Steven and Geneva have been working on it off and on for four years with the playwright Robert Askin and director Moritz von Stuelpnagel. I am so lucky to have been accepted into their talented and significant ensemble. At least they tell me I have been.

So, I will always relish this amazing experience and it will influence the next chapter of my life -- my work -- and how I approach my new standup tour that I begin in 2016, my new work in television and film, and most importantly, how I relate to my daughters and friends and even strangers. Well, strangers when they don't get too creepy and try to touch my inner buttocks while I'm posing for a selfie with them in Times Square.

Okay, I think I have earnestly and, press hoe that I am, fluffed this brilliant play as I had intended. But my intentions are pure. More pure than they have been for years, as I now have some new DNA in my blood. The DNA of a Lutheran Minister who tries his hardest to deal with the "Hand To God."

_______________

Bob Saget is a Grammy nominated stand-up, a New York Times Best Selling author, actor and director. On January 12 he will guest star on the Fox series Grandfathered and later in 2016 he will be seen in the Netflix series Fuller House. His upcoming tour schedule is on BobSaget.com