Teaching from a Behavior Analytic standpoint is different than traditional approaches to education. Indeed, the entire point is to teach children who need a unique approach. Often, adults have lowered expectations for children who have a Developmental Delay - such as Autistic Disorder. And yet, children on the autism spectrum are often very capable of learning any skill that we expect a neurotypical child to learn. All the child needs is a dedicated professional, who understands the variety of approaches in education.
A couple of weeks ago, our organization wrote an article about the Preschool Benchmarks outlined by the Illinois State Board of Education. Today we want to review how Behavior Analysts might approach each of these benchmarks.
Disclaimer: This article provides a very high-level overview of the approach a Board Certified Behavior Analyst would take to teach each of the benchmark skills below. Please note that to truly teach this from the Behavior Analytic perspective, there are significantly more steps and prerequisites involved.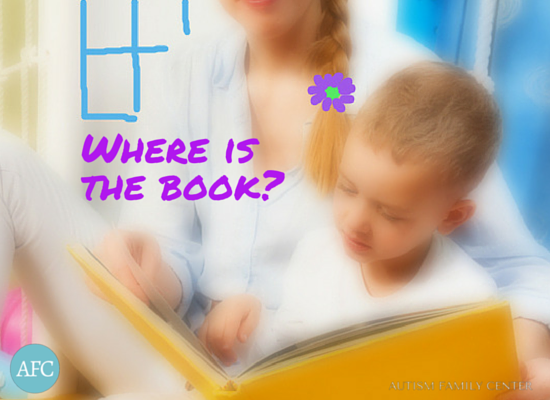 The Benchmark: Understand and use question words in speaking.
What it means:  The child can use question words that are appropriate in context. Words like: "who," "where," and "what."
Before we can use expressive language, we first need to master receptive language ID. This means I first test using three different pictures - one has a person, one has a place, and one has an object. I ask the child "Who is a person?" We want the child to respond by pointing to the picture of the person.
If the child does not point to the right card, we don't want them to practice with errors. Using a technique called Errorless Learning, we start by sorting picture. The child will have access to many cards of people, places, and objects. We start working on sorting the "people cards" into the "who" category. This shows the child that we associate "who" with people. Then we can start over again with three cards and ask "who is a person?"
One child may learn this in a day, another might take a week or a month. It depends on the child. We always start with "Who" and "What" before we move on to "Where" and "when." "How" and "Why" are last. Once the child has mastered receptive language ID, we move on to one question word at a time.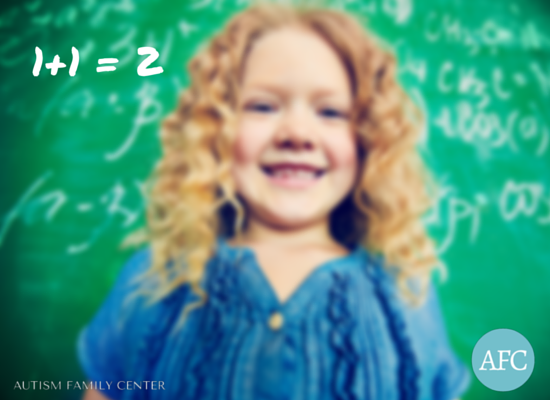 The Benchmark: Recognize that numbers (or sets of objects) can be combined or separated to make another number.
What it means: The child understands that when we take one object and place it with another, we now have two objects.
We start by showing the child a card that has one dot on it. Then we give them several of an object (let's say cotton balls). We tell the child, "make same." The goal is for the child to take one cotton ball and put it on the dot. Once they can do that, we move on to two. This demonstrates the child recognize quantities.
Then we put items on two different cards. One one card, we have one item, on the other card we place two objects. I would ask them to move all three pieces from the two cards to a THIRD card that had three dots on it.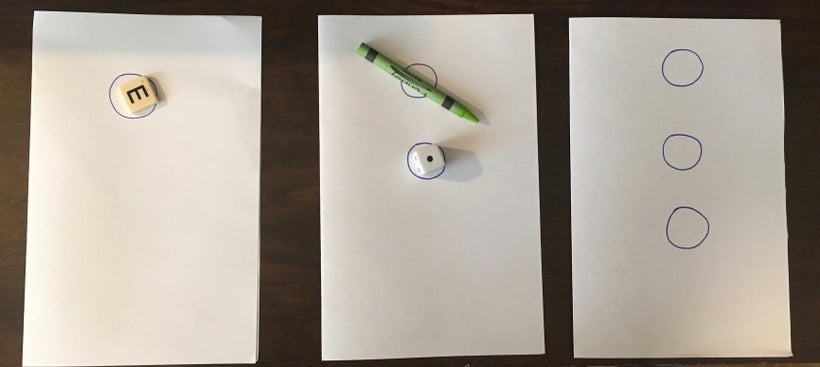 We practice this until the child can complete the task with increasing number of objects. Up to 20 objects is age appropriate for a 5-year-old.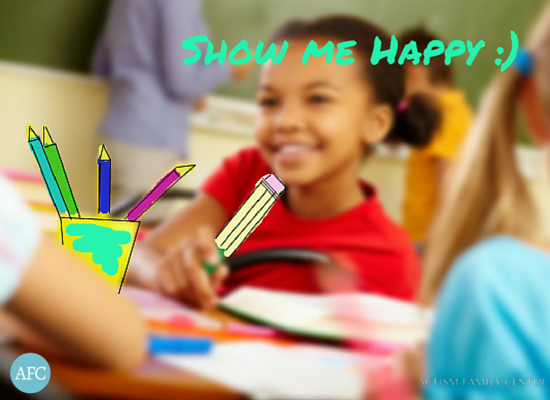 The Benchmark: Identify emotions from facial expressions and body language.
What it means: The child can identify emotions like "happy," "sad," and "angry" on faces and photos of faces.
We start with non-identical matching of emotions in pictures. This means that we show the child two pictures down of the same person. In one picture the person is happy, in the other they are sad. Then we give them one other picture of a different model who looks happy. We tell the child to "put with same." If the child matches with the wrong card we have two options:
I show the child what the correct match would look like

I move the sad card further away to set the child up for success.
Once they have mastered this, we move on to receptive labeling of emotions. This means we put those same two cards out on the table (one happy and one sad) but this time I say "touch happy." And we continue to grow from there.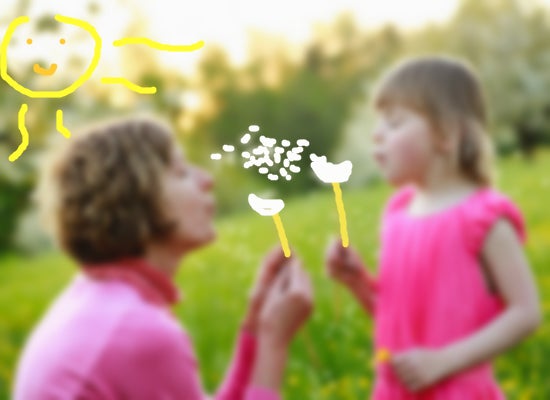 The Benchmark: Show an awareness of changes that occur in the environment
What it means: The child is aware of sudden change - such as a person calling their name.
I would start by teaching reference joint attention. This means I point to something in the room and say "look over there." I may help the child to follow where I am pointing with their eyes and head. Once they are following my finger, then I work toward saying "wow look" but I only move my face and eyes. I may even have other adults in the room so that they can model following my gaze with their own gaze.
It's important at this point to note that we must point at something motivation. For example, if the child likes balloons we might have a balloon "over there." When the child responds in an appropriate way to the prompts, we give them access to the balloon. Access to the balloon reinforces the behavior.
The goal is for the child to respond to changes in the environment, not just objects in the environment. So we would set the environment up to have a change occur.
For example, I set the child up with his toys with no distractions. Then I have another staff member walk in the room to ring a bell. I model and help gently position the child's head to respond to the bell by looking at it. We start by ringing the bell close to them and begin to move further away. We accept slight head turns before we start expecting the child to turn their full body around to look at the bell. A bell is just one example because some children are sensitive to noise. But we can introduce a variety of sounds to work toward a response to their own name. Please note we usually start with motivating sounds - such as the sound of a toy this child likes.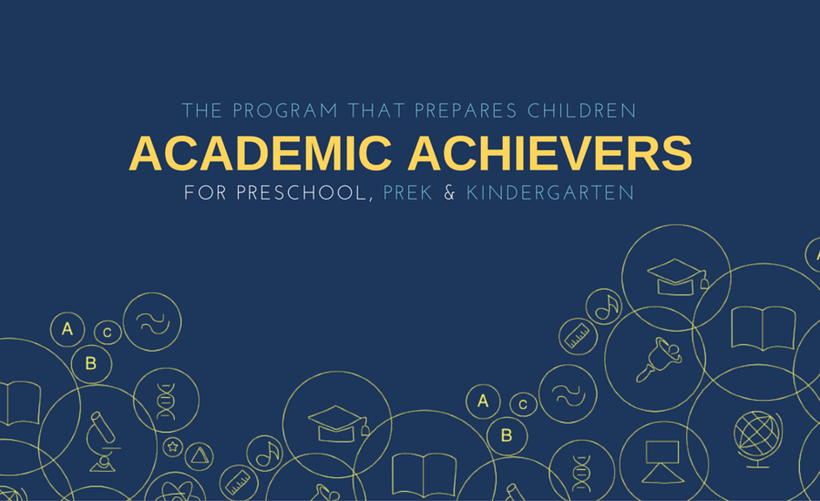 Prepare your child for Preschool, PreK, and Kindergarten.
Academic Achievers - a program designed by Board Certified Behavior Analyst and Early Educator - derives from the principles of Applied Behavior Analysis and the Common Core. We work with children who may not be ready to attend a traditional Daycare, Preschool, or Kindergarten classroom. Read More.
Co-Author and Contributor Leighna Fischer, BCBA: Leighna Fischer is a Board Certified Behavior Analyst and the Director of Behavior Analysis at Autism Family Center. Leighna has been working with individuals on the spectrum for over 10 years. She considers herself a Radical Behaviorist and a Chicago Bears enthusiast.
This post was published on the now-closed HuffPost Contributor platform. Contributors control their own work and posted freely to our site. If you need to flag this entry as abusive,
send us an email
.