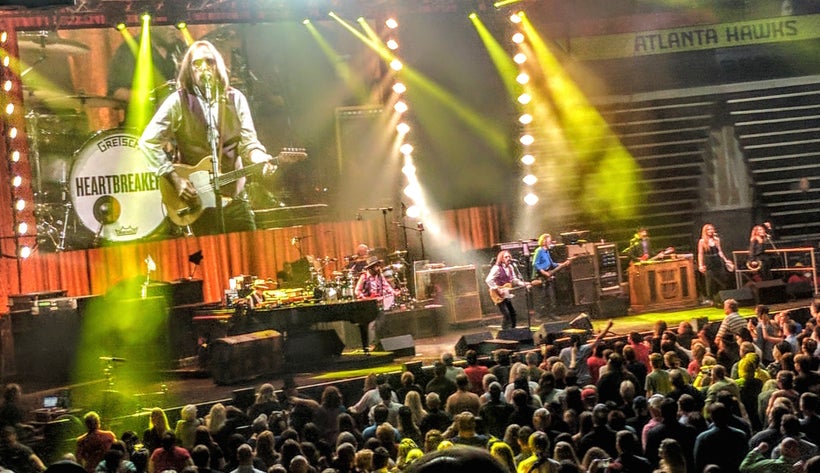 At their sold-out 40th anniversary show in Atlanta Thursday night, Tom Petty and The Heartbreakers proved they still rock hardest in the South. It's difficult to believe this band formerly known as Mudcrutch left Gainesville for Los Angeles four decades ago. Yet eons of shoulder-rubbing with Bob Dylan, former Beatles and movie stars like Johnny Depp and Anthony Hopkins never took the punch out of these Florida boys, whose string of FM radio hits in the 1970s, 1980s, and 1990s transformed them into some of the most decorated musicians of the rock era.
Over the years, The Heartbreakers weathered industry ups and downs, lineup changes, addiction issues, and even death. Now, Petty and original members Mike Campbell on guitar, Benmont Tench on keys, Ron Blair on bass, plus longtime drummer Steve Ferrone and multi-instrumentalist Scott Thurston, are celebrating survival – and enjoying perusing their massive catalog – during a summer tour that reminds us what a long, strange trip and truly fantastic voyage it's been.
At Philips Arena, the setlist began with the harmonies of 1976's "Rockin' Around (With You)" from the band's self-titled debut and ended nearly two hours later with a roof-splitting sing-along of "American Girl" from the same album. The middle meandered from 2014's bluesy ode about down-and-out Americans ("Forgotten Man") to the sparkling acoustic "Wildflowers" (2009), to a simple, powerful version of 1991's "Learning to Fly," and to the voodoo groove of "I Should Have Known It" (2010). An unexpected highlight: the 1982 MTV hit "You Got Lucky" rang out like an experimental space-age jam as Tench's percussive synth marked time for Campbell's freeform soloing, which recalled how the original steampunk-inspired music video for the song instantly completed the band's evolution from college-town guitar slingers into big-time mainstream stars.
The Heartbreakers' ATL show recalled more than just musical memories. The evening felt like one fleeting moment of togetherness among a crowd of fans who represented a variety of ages, political views, backgrounds and professions (many folks had driven to the show from neighboring states). Anniversary concerts and reunions are a dime-a-dozen as the American touring circuit grows crowded with artists and bands in their 60s and 70s (Petty is 66). One wonders how many new groups in 2017 might make it to 2057 intact enough to lead their audiences in full unison? The best thing about Tom Petty and The Heartbreakers is that this band never plays as if it's searching for an anthem or immortality. Petty has always been propelled by a strong creative drive, but at the end of the day the band's jolt comes as much from kinship as kismet. Turns out, only lifelong friends can make sounds like these.
During a chat after the Atlanta gig, Benmont Tench – a gifted pianist who's made music with Petty since he was a teen – told me that The Heartbreakers' longevity is a rare mix of influences, timing, will and talent which happened during a unique bubble in music history. Current pop and rock scenes may or may not yield the same results in the future. "I've been blessed since the day Mudcrutch started," he says. "Today, there are cool artists with the 'band' spirit and ethic, but I don't think anybody [who is listening] wants to be startled anymore. There isn't music with the same unifying power and shock of joy that an Elvis Presley, James Brown or the Beatles had. I don't know when that will come again."
This post was published on the now-closed HuffPost Contributor platform. Contributors control their own work and posted freely to our site. If you need to flag this entry as abusive,
send us an email
.