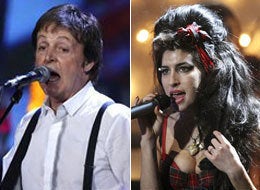 From the Daily Mail's lengthy rundown of the Brit awards, the UK's Grammy-like celebration Wednesday night in London.
For many, the best act of the night was Sir Paul McCartney who closed the show after accepting his award for Outstanding Contribution to Music, which he dedicated to his first wife Linda, who died from breast cancer ten years ago.

"I was privileged to be in The Quarrymen, The Beatles and Wings." he said. "I just think British music is the best."

Throwing aside the hellish court battle with his soon-to-be-ex wife Heather Mills, he gave a vintage rendition of some of his greatest hits.
Paul sang "Live and Let Die" and "Hey Jude" while a montage of photos, late wife Linda included, played behind him. He had the crowd on its feet.
Watch:
Slinky Amy Winehouse stole the show at last night's Brit awards after stunning fans with a sizzling live performance.

Strutting on stage with trademark beehive pinned firmly in place and wearing characteristically figure-hugging clothes, the Rehab singer was met by rapturous applause.

Her first appearance was to perform a duet with superstar DJ and producer Mark Ronson, fresh from picking up Best British Male.
Watch:
She then sang, on her own, "Love is a Losing Game"
Watch:
Kylie Minogue performed "Wow:
Leona Lewis performed "Bleeding":