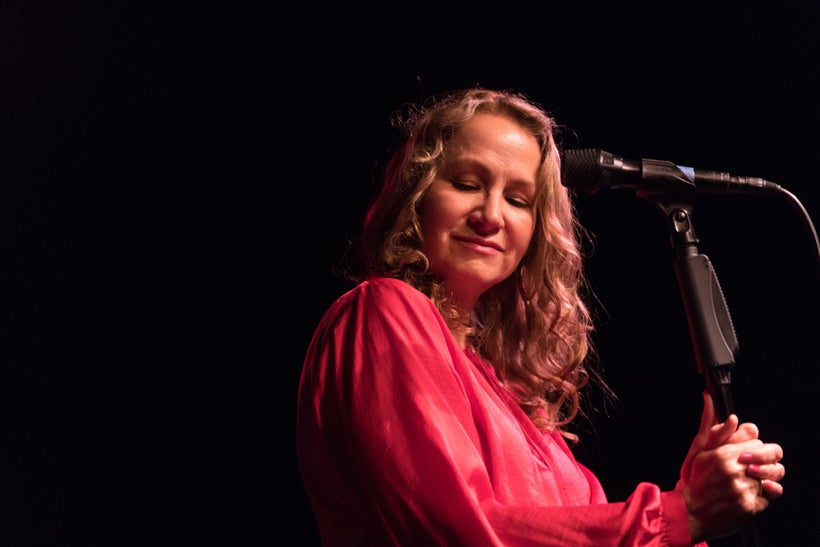 I've been a devoted Bob Dylan fan for nearly 50 years, and other than Jimi Hendrix's brilliant version of All Along the Watchtower, I've never cared for anyone covering Dylan's work. Until now.
Joan Osborne, (at the Café Carlyle through March 11th ) has a powerful bluesy voice that -- coupled with some fabulous arrangements -- makes for an unusually unique evening in a legendary venue. The Café Carlyle is often home to jazz singers, but Ms. Osborne can fill a cathedral, and does so with a voice reminiscent of Janis Joplin and Bonnie Raitt.
Ms. Osborne's set is wildly eclectic, and I was especially taken with her covers of Rainy Day Women #12 & 35 and Leopard-Skin Pill-Box Hat. She is backed up admirably by Jack Petruzzelli on guitar and vocals and Keith Cotton (sounds like Ray Manzarek) on keys and vocals.
I've always considered Dylan one of our greatest lyricists, and listening to his words interpreted by a woman with a big soulful voice is a rare treat. Ms. Osborne does not deliver a standard Carlyle show like Steve Tyrell or John Pizzarelli. There is no witty banter or repartee with the audience. She is strictly business and packs the show with a 13 song set, covering every Dylan decade.
Joan Osborne is a welcome change to the Café Carlyle. Click the link for my radio interview with Joan on AM970 The Answer.
This post was published on the now-closed HuffPost Contributor platform. Contributors control their own work and posted freely to our site. If you need to flag this entry as abusive,
send us an email
.