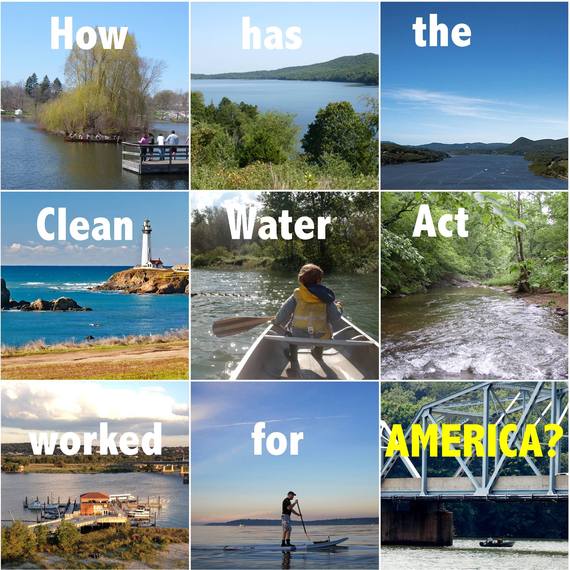 No longer a fire hazard, Cleveland's Cuyahoga River is now home to wildlife. The Boston Harbor has gone from "Dirtiest in America" to a "Great American Jewel." And the Willamette River in Oregon has stopped serving the role of public sewer.
These are just a few of the successes highlighted in new report by Environment America Research and Policy Center: Waterways Restored: The Clean Water Act's Impact on 15 American Rivers, Lakes and Bays.
The series of case studies shows clearly that the Clean Water Act has restored polluted rivers and threatened bays across the country. But to protect and preserve our waters for generations to come, we need to ensure the law covers all of our rivers, streams, and wetlands.
On the heels of the 42nd anniversary of the Clean Water Act, the report comes as the U.S. Environmental Protection Agency considers a new rule to restore protections under the law for 60 percent of the nation's rivers and streams.
All of the waterways documented in our collection of success stories, from the Puget Sound to the lesser-known Anacostia River, are guaranteed protection under the Clean Water Act. Yet more than 2 million miles of the nation's rivers and streams are not, thanks to a loophole in the law secured by developers and other polluters nearly a decade ago.
In March, the U.S. Environmental Protection Agency proposed a rule to restore protections for the headwaters, streams, and 20 million acres of wetlands left in legal limbo by the loophole. But oil companies, agribusinesses, and developers are campaigning bitterly against it.
Just in time for the Clean Water Act's birthday, last week opponents of the restored protections stepped up their efforts in the form of angry letters, calling for the entire rule to be withdrawn.
But Environment America and our allies are stepping up our efforts, too. Last Wednesday along the banks of the Anacostia River, together with U.S. Sen. Ben Cardin of Maryland, we delivered more than 740,000 public comments in favor of the rule, and we're pushing to gather even support in the next three weeks. Our organizers are out in the field from California to New York to Georgia, recruiting small businesses, farmers, clean water groups, and others across the broad range of constituencies to voice their support for clean water protections. We're on social media calling out the opposition, and we've even created our own clean-water inspired Buzzfeed quiz.
The fact is, despite the success of the Clean Water Act, polluters still dump about 200 million pounds of toxic chemicals into waterways nationwide each year. That's why we should be doing everything we can to protect all of our waters for the next 42 years. And that's why, if you haven't yet, you should tell the EPA you choose clean water.