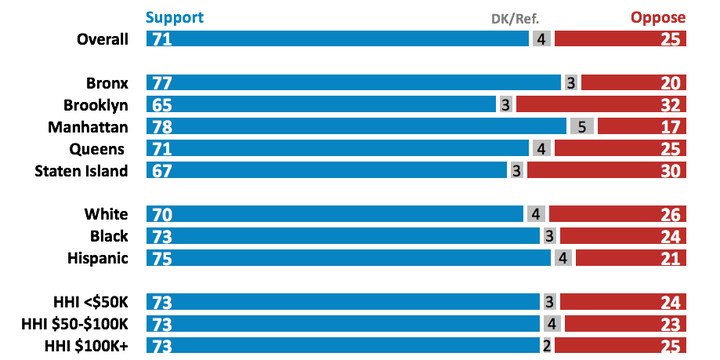 Parenting is all about making choices. Those that range from big choices with far-reaching implications, like where to live or where to send children to school, to smaller ones, like what to cook for dinner. But parents should never have to decide between stability at work or safe and reliable care for their kids.
Many parents depend on child care, after-school and summer programs to keep their children safe and engaged when they're at work. Without those programs, parents throughout the five boroughs would have to alter their often inflexible work schedules, and some would have to leave their jobs altogether. That could become the reality for the parents of 6,600 New York City children for whom after-school programs are at risk.
New York City Mayor Bill de Blasio's proposed budget for the upcoming fiscal year eliminates $16 million in funding for elementary after-school programs. This cut would come on top of steep reductions in proposed federal support, with the President's budget calling for the elimination of all federal funding for after-school programs.
These cuts would accomplish just the opposite of the increased investment New Yorkers want to see in the city's children – and we have the data to prove it.
Citizens' Committee for Children of New York, in partnership with the Campaign for Children, commissioned a poll to understand how New York City voters feel about child- and family-related issues. The results show that New Yorkers want more programs that keep children and youth engaged, healthy and learning – like after-school, summer programs and free- and reduced-priced child care – even if that means paying more taxes.
High-quality child care, summer and after-school programs are critical for children's long-term prospects, especially for children exposed to risk factors such as poverty, food insecurity, health problems, and a host of other issues. New Yorkers agree – 91 percent of survey respondents said that pre-K programs help give children a fair shot at success in school, and that investing in early childhood education, after‐school and summer programs improves academic outcomes for children.
Mayor de Blasio has taken several important steps to build on the programs that support economic stability for families and academic success for children, like expanding full-day prekindergarten for all 4-year-olds and after-school for all middle school students. And most recently, the Mayor announced his plan to create free pre-k for 3-year-olds.
New Yorkers recognize and appreciate this, with more than three out of four agreeing that the mayor is working to improve the lives of New York City's families and children. But the poll also clearly shows that New Yorkers want and need more programs for children and families – not less.