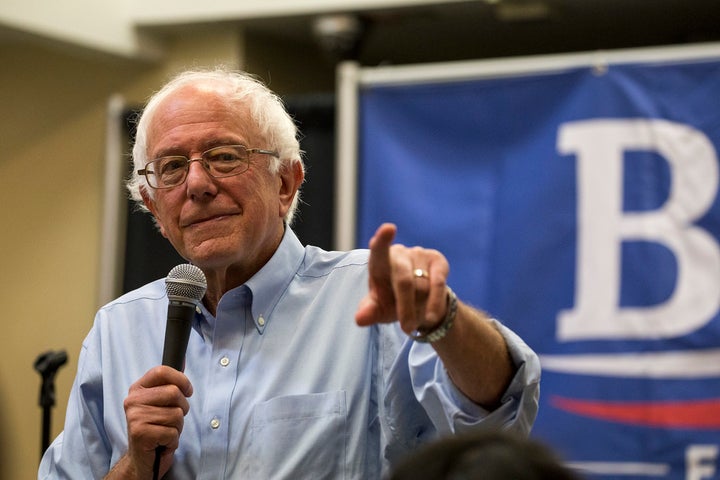 As dissatisfaction grows among Democratic voters, the establishment wing of the party continues to resist the increasingly vocal grassroots movement that is pushing for progressive change within the party.
A Washington Post-ABC news poll released this week found that 67 percent of Americans believe that the Democratic Party is out of touch with everyday citizens' concerns, compared to only 58 percent of people who say the same of Donald Trump. More significant, though, is that fact that nearly 44 percent of Democrats believe that their own party is out of touch with everyday Americans' concerns.
Meanwhile, Bernie Sanders remains, by far, the most popular politician in America. A Fox News poll released last month showed that 61 percent of Americans held a favourable view of him, compared to 32 percent who did not. His net favourability rating among independents was at a massive +41. These numbers are consistent with surveys released over the course of the past year, which show that Sanders becomes more popular as more of the public learns about him.
One would expect these numbers to propel any party to rally behind such a candidate, especially one who has agreed to take part in a 'Democratic Unity Tour' organized by the same establishment wing that actively undermined his campaign at every turn during the Democratic primaries last year. Instead, they have continued to ignore his calls for change, and to resist his supporters' grassroots energy and their growing frustration with the party.
First, the establishment wing aggressively supported Tom Perez for the DNC Chair position against Keith Ellison, the candidate that Sanders supported and campaigned for. Perez barely won the election after a fiercely contested race in which he managed to garner just enough support from the Democratic establishment.
The party then went a step further by denying another Berniecrat, James Thompson, nearly any support for his bid to win a Kansas Congressional seat. He narrowly lost the race after the state Democratic Party refused to send him $20,000 in financial support. Thompson still raised nearly $300,000, of which 95 percent came from individual donors.
Democratic Party leaders have repeatedly failed to acknowledge the mistakes that the party has made during the past and prior elections. Debbie Wasserman Schultz, whose leaked emails displayed her hostility towards the Bernie Sanders movement, insisted on March 30 that the Democratic Party was already a grassroots party. Yet, it seems that the party is doing everything it can to resist the grassroots movements that Debbie Wasserman Schultz claims to embrace.
Politico ran a story last month that showed how Democratic Party officials regarded the Bernie Sanders wing of the party as an impediment rather than an asset in the Southern governorships elections. Some of these officials, however, seem to fail to realize that winning over Sanders' supporters in many of these states would actually make the difference between election success and failure, particularly in Georgia, where the party is dealing with a very narrow window of voters.
The Democratic Party has also refused to take on giant corporations in the public sphere, and can even be blamed for the failure of a bill, introduced by Bernie Sanders, that would have challenged Big Pharma and brought down pharmaceutical prices. The bill failed by a vote of 46 to 52 because thirteen Democrats opposed it— twelve Republicans voted for the bill.
The DNC then blocked a further attempt to reinforce an Obama-era rule that prevented the party from receiving donations from lobbyists and political action committees, again proving the party's lack of sincerity when it comes to limiting special interest influence in Washington. According to the Washington Post, the DNC has already named a new finance director who will be responsible for PAC donations— he recently emailed prospective donors to let them know that they can now contribute again.
The personal attacks on Sanders have also newly resumed. Last week, Hillary Clinton loyalists attempted to vilify and paint the Vermont senator as a 'cultural reactionary who is willing to sacrifice women's reproductive rights in favour of his populist economic agenda'. This was a continuation of an election campaign strategy to portray Sanders as a one-issue candidate who shows little concern for issues that concern gender and race.
Clearly, despite it being obvious that the great majority of the country is tired of the establishment and regards the Democratic Party as being out of touch with reality, the party leadership continues to resist the winds of change. In Sanders' own words: "There are some people in the Democratic Party who want to maintain the status quo. They would rather go down with the Titanic so long as they have first-class seats."
It is time the DNC truly embraces the young and energetic grassroots movement that grew out of Bernie Sanders' campaign if, by the time the 2018 midterm elections come around, it has any chance of once again attracting some of those who have become disillusioned with the party's increasingly corporate image.