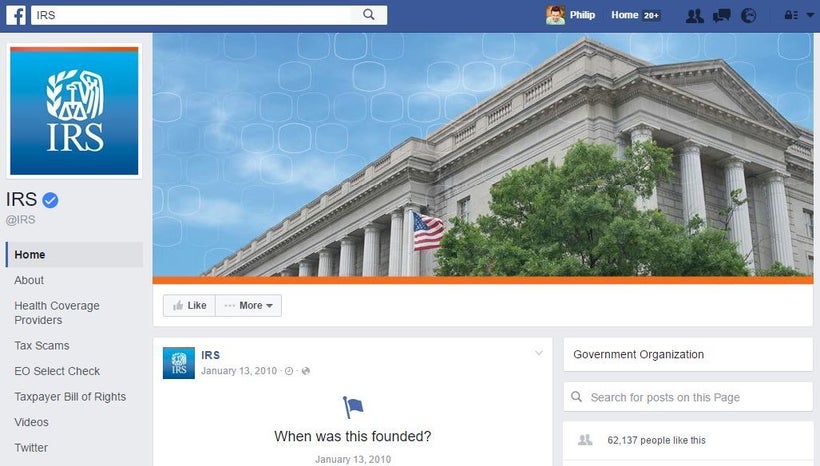 If you are an American taxpayer living abroad, filing a U.S. tax return every year from overseas (as you're obligated to do!) can be nightmarish. A big part of the challenge is, of course, finding helpful and accurate information on the U.S. tax rules – which are simply some of the most complex rules known to mankind.  Without the right info, correctly filing from overseas and paying the right amount of tax is, for many, a bit of a longshot.
Can you get a full credit for foreign taxes paid? Have you maximized the benefits of the foreign earned income exclusion? Do you owe U.S. tax on your investment income and foreign pension earnings? FBAR, PFIC, and FATCA – oh my?! U.S. tax return is fraught with ticking tax time bombs.
The IRS on Social Media
Recognizing this, the IRS has finally started inserting itself into social media to provide overseas taxpayers with at least some basic information. IRS social media sites now include a YouTube channel and Tumblr.
This filing season, the IRS informed taxpayers on its website that it had added six new YouTube videos that deal with common issues that international taxpayers face.
Ok, so we're still a ways from calling Uncle Sam social media savvy. But the new information can't hurt, or can it?
New Information a Poison Pill?
Access to helpful information is certainly good news for U.S. expats in many respects. After all, tax knowledge is compliance power.
But with all good things must come some bad – and here's the bad news for expats, or more specifically, tax-delinquent expats that haven't yet come back into compliance with the IRS.
For several years now, the IRS has taken relatively kindly to non-filing taxpayers abroad who want to come clean.  Under the current "Streamlined" program, which was made more lenient in a 2014 revamping, participating U.S. taxpayers abroad are only required to file the prior 3 years of tax returns and 6 years of so-called "FBAR" forms, and they must fill out a certification of non-willfulness.  A delinquent U.S. expat who complies with these procedures does have to fork over previously unpaid taxes with interest, but is generally not subject to penalties – a great deal for taxpayers who would otherwise be subject to potentially enormous penalties for non-compliance.
At the time of the Streamlined program's revamping, IRS Commissioner John Koskinen wrote in a statement, "We're expanding the Streamlined Procedures to cover a much broader group of U.S. taxpayers we believe are out there who have failed to disclose their foreign accounts but who were not willfully evading their tax obligations."
A Hardening of the IRS's Heart
Despite the IRS's positive disposition overall towards those coming clean in recent years, recent comments by Commissioner Koskinen represent what could be a significant shift in the IRS's attitude towards expats and their pleas of ignorance.  The Commissioner stated, "At some point, we will have assumed that people have had enough notice that they should have become voluntarily compliant… At that point—after some period of time and you're not compliant—it will be assumed that logically you are purposely not compliant."
The Commissioner added that the Streamlined program will in fact end completely at the point in time when there are no longer any taxpayers who couldn't have heard about the process.  This would in theory eliminate the possibility of unintentional non-compliance.  The unfortunate foreboding highlights the somewhat self-defeating nature of the Streamlined amnesty program.  The more that taxpayers abroad are informed and encouraged to participate in the program, the greater the likelihood that the program will cease to exist.
The acting assistant attorney general of the Department of Justice ("DOJ") Tax Division, Caroline Ciraolo, echoed the IRS's sentiments when she remarked earlier this year at the annual meeting of the Federal Bar Association Section on Taxation in Washington., "After three very well-publicized voluntary disclosure programs, nearly 200 criminal prosecutions, ongoing criminal investigations, and the increasing assessment and enforcement of substantial civil penalties for failure to report foreign financial accounts, a taxpayer's claims of ignorance or lack of willfulness in failing to comply with disclosure and reporting obligations are, quite simply, neither credible nor well-received."
Based on these comments, we can it least say that the more information that is out there, the harder it will be for delinquent expats to claim non-willfulness and qualify for the friendlier of the IRS amnesty programs. Further, one could argue that the more information that the IRS disseminates to expats via social media, perhaps the greater the chance that its amnesty programs will come to an unfortunate end sooner rather than later.
What the Expat Experts Are Saying
Expat tax return preparers have been keeping an ear to the wall in order to anticipate any changes that might occur to the tax amnesty programs.
Joshua Ashman and Ephraim Moss of Expat Tax Professionals, a leading firm in the field of expat taxation, remarked that, "While we've seen a huge upswing in clients approaching us for help entering into the Streamlined program, it's clear that there remains a large segment of the expat community that should be taking advantage of IRS's unique offer, before the IRS changes its mind."
Moss and Ashman added that, "since 2009, the IRS amnesty programs have undergone several overhauls, mostly in expats' favor, but there's no telling whether the next overhaul will involve restrictions on the programs or even the ending of the programs altogether.  We certainly hope not.  But we encourage late filers to move quickly to enter into the amnesty program that best fits their tax profile."
This Ever-Changing World in Which We're Living
There's no doubt that social media is a game changer – in so very many aspects of our modern lives. While the IRS has been a bit slow in catching up to the social media game (I'm pretty confident I'm not the first person to include the words IRS and slow in the same sentence), it looks like they've recently made some progress.
While making tax information easily available to expats is generally a good thing, delinquent expats beware - taxpayer ignorance won't be bliss forever.
This post was published on the now-closed HuffPost Contributor platform. Contributors control their own work and posted freely to our site. If you need to flag this entry as abusive,
send us an email
.