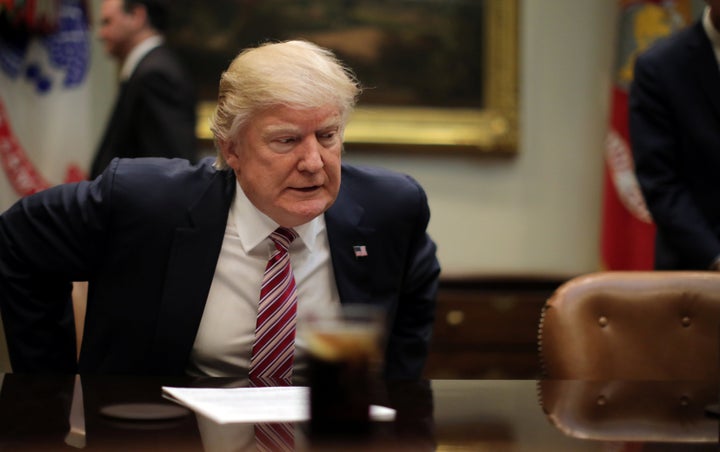 TOP STORIES
(And want to get The Morning Email each weekday? Sign up here.)
NOTE TO MORNING EMAIL READERS: Lauren Weber is on vacation this week. HuffPost Hill Editor Eliot Nelson is on TME duty today. If you're not totally offended by what you read, why don't you sign up for HuffPost Hill? 
PART OF TRUMP'S 2005 TAX RETURNS LEAK "A portion of President Donald Trump's 2005 tax return was published Tuesday. Reporter David Cay Johnston says he found the first two pages of Trump's 2005 federal income tax return in his mailbox. Johnston published a story on his website, DCReport.org, and appeared on MSNBC's 'The Rachel Maddow Show' on Tuesday to reveal details from the document, including that Trump earned more than $150 million that year." [HuffPost]
DID TRUMP LEAK HIS OWN RETURNS? "Pulitzer Prize-winning journalist David Cay Johnston suggested Tuesday night on MSNBC's 'The Rachel Maddow Show' that President Donald Trump himself may have been the unknown source who sent two pages of his 2005 tax return to the journalist... 'There is absolutely nothing improper about journalists — if you haven't solicited something — getting it over the transom. Let me point out, it's entirely possible that Donald sent this to me. Donald Trump has, over the years, leaked all sorts of things.' Johnston didn't indicate he has any actual evidence Trump was the source, but he does know Trump's tendencies well after decades of covering him." [HuffPost]
THE NETHERLANDS HEADS TO THE POLLS, WILL IT ELECT ITS OWN TRUMP? "Millions of Dutch voters headed to the polls on Wednesday to elect a new government, as the rest of Europe watches anxiously to see whether the far-right populist Party for Freedom will become the largest in the Netherlands. Voting in the Dutch national election started at 7:30 a.m. Wednesday and, according to the public broadcaster NOS, turnout was on pace to be only slightly higher than in previous elections. Among the first to arrive were the often-tense election's two key figures, Dutch Prime Minister Mark Rutte and Geert Wilders, the flamboyant far-right leader known for his anti-Islam and anti-immigration rhetoric." [HuffPost] 
BREITBART TARGETING PAUL RYAN "Breitbart News has noticeably blamed Ryan for any problems with the Republican bill to replace Obamacare, known as the American Health Care Act. The site has portrayed the bill as part of an effort by the speaker to mislead the president into supporting legislation that betrays conservative principles. Still, Breitbart's opposition to the health care bill ― which it has called 'Obamacare Lite' and 'Obamacare 2.0' – runs the risk of antagonizing Trump, who publicly supports the bill, and administration officials arguing on its behalf." [HuffPost]
TRUMP TARGETING OBAMA-ERA ENVIRONMENTAL REGULATIONS "Trump is expected to reveal his plans during an appearance Wednesday at the American Center for Mobility in Detroit where he'll challenge the Corporate Average Fuel Economy (CAFE) emissions targets that were a centerpiece of former President Barack Obama's strategy to combat global warming. The rollback underscores the Trump administration's rejection of mainstream climate science in an effort to boost economic growth." [AP]
NEIL GORSUCH HAS HIS OWN SUGAR DADDY But, hey, who among us doesn't have a "web of ties" to a "secretive billionaire?" [NYT]
MEET TRUMP'S ANTI-ENVIRONMENT CRUSADERS They used to work for the Senate's top climate denier (the one who brought a snowball into the Senate). [WaPo]
STEVE KING'S RACIST PAST His views aren't new, but his support from the White House is. [HuffPost]
COAL COUNTRY REPUBLICANS ROLLING BACK MINE SAFETY REGULATIONS Laws in West Virginia and Kentucky could be potentially harmful for miners there. [HuffPost]
THE CULTURE WARS ARE GETTING WORSE And it might be because we're not going to church anymore. [Atlantic]
MIKE PENCE ONCE OPPOSED PI DAY The guy who thinks smoking doesn't cause cancer probably thinks it's 3.13. [Gizmodo]
IVANKA TRUMP SEEMS TO HATE BUYING AMERICAN - She imported 53 metric tons of foreign goods in one hour. [HuffPost]
CORRECTION: Tuesday's Morning Email incorrectly stated the Kushners are set to earn $400 on a New York City real estate deal. If only. They are set to earn $400 million. We regret the error.