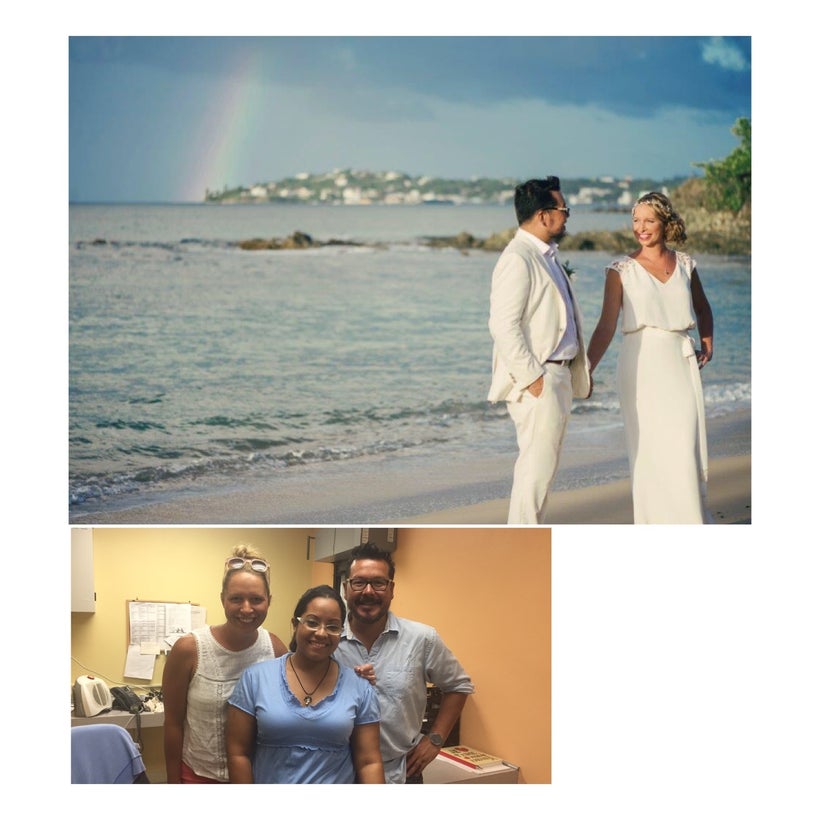 Alright, pay attention! I'm only going to explain this one time. If you need more help than what I'm providing here, you should probably hire me to help you plan your wedding. This is literally a step-by-step guide for couples who want to get their marriage licenss in Puerto Rico. And as of today, it's completely up-to-date and current.
IT IS SUPER EASY TO GET MARRIED IN PUERTO RICO. For everybody. Gay marriage is legal. There is no residency requirement, other than that you have to get your butts to the demographic office to get the marriage license before you head down the aisle. No bloodwork required!!! If you bring all the paperwork you're supposed to present to them, THE ENTIRE PROCESS TAKES 15 MINUTES!!!
Why am I yelling this at you? Because I get at least two emails a week from confused brides and grooms who are considering getting married in Puerto Rico, but are terribly worked up about the paperwork part of things. Why are they so frustrated? Because there are far more links to the wrong instructions on the Internet than links to correct, up-to-date directions on exactly what to bring, and where to go, if you want to get married in Puerto Rico. So that's why I was yelling - I'm frustrated too!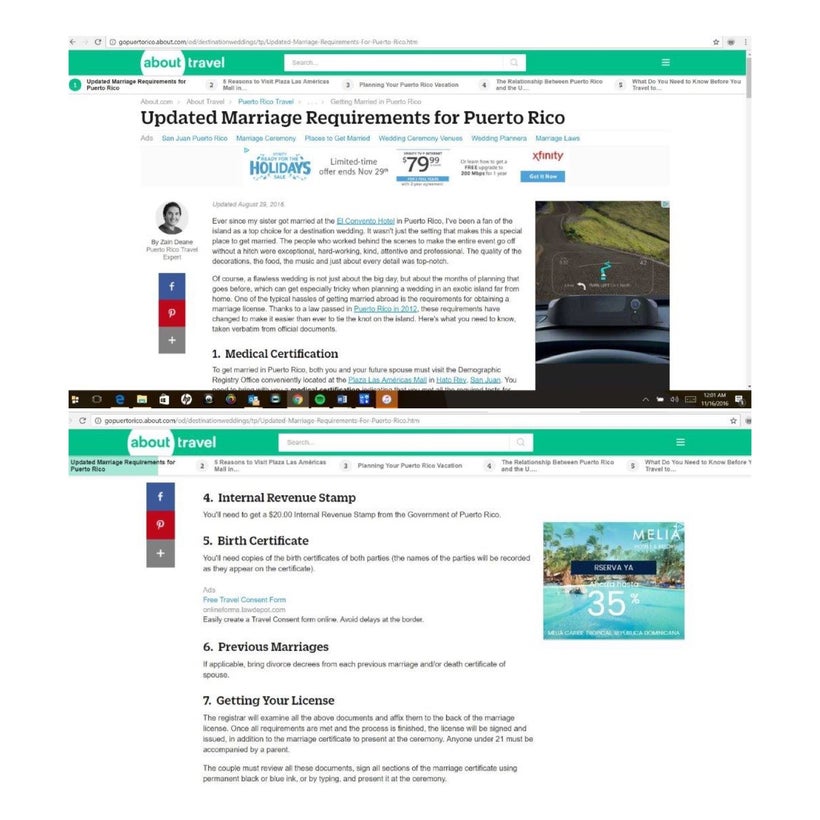 If you've hired either a wedding planner or a minister, one of them should have provided you with the information I'm about to share. The minister knows exactly what is required because he or she has to file the paperwork after they marry you, with all the things attached. If something's missing, the demographic office will decline it, and you'll only have a few days to complete the file. But, just in case the minister you've hired doesn't provide a specific list to you, go ahead and print this out.
Important: It's very trendy to have a friend or family member get ordained online to marry you. However, Puerto Rico requires that all ministers be registered with its Hacienda office (like a state department). They pay a small fee, and are granted a license that they must renew every two years. Registration isn't that difficult IF YOU LIVE IN PUERTO RICO because, as anyone who lives here knows, standing in line is a way of life. With that said, a day trip to the main Hacienda office in San Juan is really the best way to become a registered officiant expeditiously. It's possible to do it by mail, but if you've ever tried to communicate with the Puerto Rican government via mail, telephone, smoke signal, or carrier pigeon, you know it is a terribly painful process with little hope of success within the same calendar year. Fortunately, the folks who run the demographic offices are much more organized, and pretty easy to work with if you follow my tips.
I'd strongly recommend you hire a registered officiant in Puerto Rico to legally marry you, and take care of the paperwork. You can always have your friend perform the ceremony in front of all of your wedding guests, but have a private ceremony with the legal officiant that includes only your witnesses.
Here are the important deadlines and numbers to remember:
You may get your marriage license at a demographic office up to 10 days before your wedding date.
The marriage license must be filed at a demographic office by the officiant within 10 days after your wedding date.
You cannot pay for your marriage license paperwork (or the copies of the actual license afterwards) with cash or credit cards at the demographic office. You must purchase stamps at a "Colecturia" ahead of time. Some demographic offices are located next to or nearby a Hacienda Colecturia office, but make sure you find out about this in advance so you don't end up in a pinch when you go to get your license.
You do not need to bring your witnesses to the demographic office, but they do need to be present at your wedding ceremony to sign the license for the minister.
You must bring the following items to the demographic office with you:
A $150 stamp to pay for the license
Your driver's licenses (must be valid)
A passport if you're not a U.S. citizen
TWO copies of your driver's licenses or passports
A copy of your birth certificates
An original letter from each of your doctors stating that you are in "good health" to get married, dated within 10 days of your wedding date. It's okay for it to be a printed-out signature, if your doctor's office is digital. It just needs to be a legitimately-marked original document.
A notarized affidavit that says you live in whatever state you live in, and how long each of you has lived there, stamped within 10 days of your wedding date.
Copies of divorce decrees or death certificates, if you have been previously married. Be sure to bring all divorce decrees, not just the most recent.
VERY IMPORTANT NOTE: Make sure that you get all of your paperwork back from the clerk at the demographic office when they hand you the license to give to the minister – they shouldn't keep anything. They should clip it all together with the marriage license and give it back to you (be prepared with a file or large envelope to protect it). You need to give ALL of that paperwork to the minister so that he can file them, and pick up the actual licenses for you afterwards).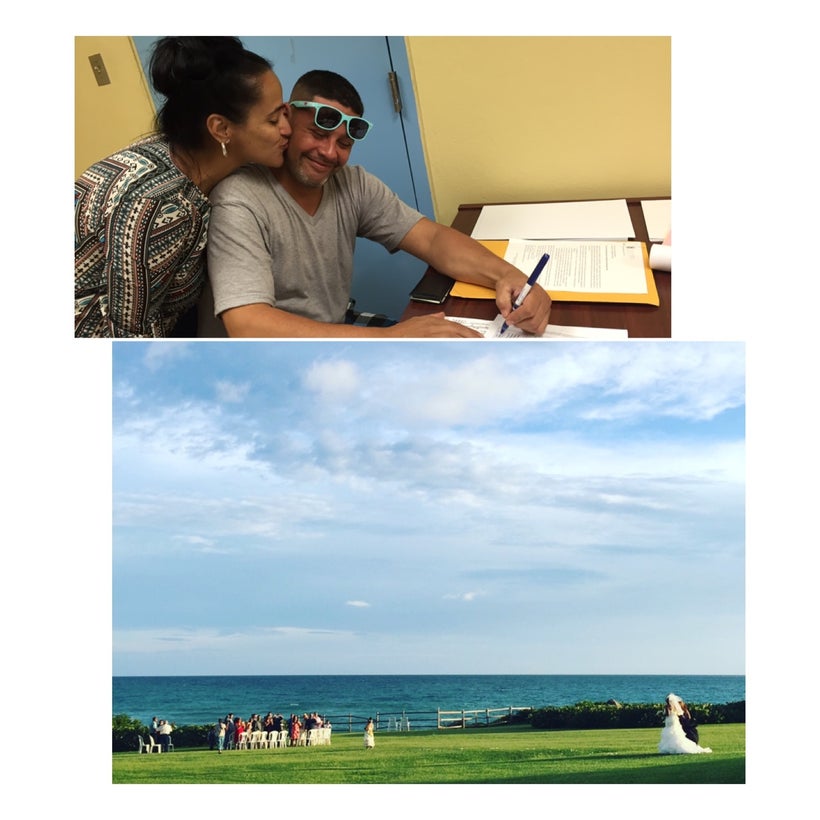 You should also ask the clerk at the demographic office for a copy of the form to release copies of your marriage license to somebody else. You will need to sign and attach that form to copies of your driver's licenses in order for anybody to pick them up in your stead. Don't worry about completing the form (it's in Spanish) if you can't figure it out, but the signature and ID copies are important.
Please note when I say "original" versus "," in the instructions – it's important to know that they are going to keep all of the paperwork you give the minister. As it's a nuisance to get new originals of all of these documents, don't forget to make and bring the copies with you. They're not going to copy and return them to you at the government offices.
You can ask your wedding planner or minister to help you make an appointment at the demographic office closest to wherever you're getting married, but many couples opt to take care of all their paperwork as soon as they get to San Juan, because there are two offices there that have better hours, and staff used to dealing with destination brides and grooms on a regular basis. Not every municipality has a demographic office that is open during normal business hours on a daily basis. Almost everybody has to pass through San Juan to get married anywhere in Puerto Rico, so taking care of the legal details as soon as you land is often the easiest choice.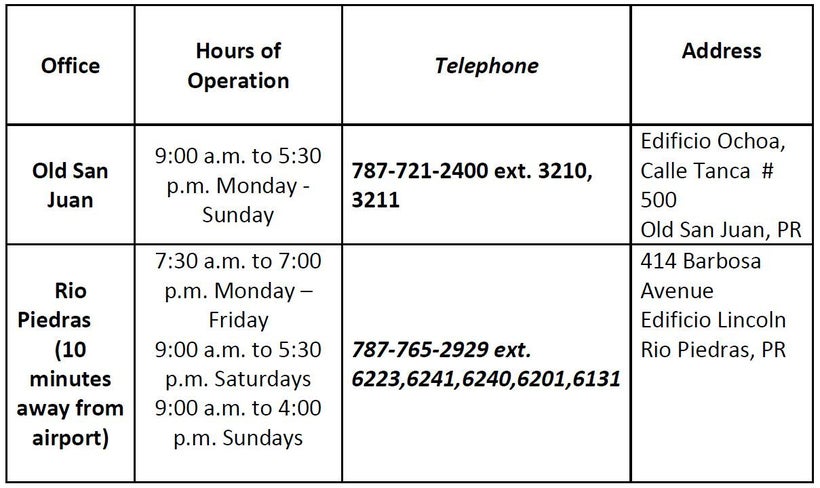 In addition to the paperwork you need to bring, there's some information you might not have off the top of your head that you'll need to provide to the minister before the paperwork is complete to be filed. Make sure you know:
Your parents' full birth names (make sure you know your mother's complete maiden name)
Your parents' places of birth (city, state, country)
Your children's places and dates of birth
Your places and dates of divorces, annulments, and deaths
The addresses of both witnesses signing your license
The name of your officiant
You'll give all the paperwork from the demographic office to your minister before the wedding ceremony, and after the wedding, you'll sign the paperwork again for the minister (you'll sign it the first time in front of the clerk at the demographic office – consider it your first wedding photo opp), and your witnesses will sign the license, and your minister will sign it to seal the deal. But you're not actually married until that paperwork has been filed with the demographic office, within 10 days of your wedding date.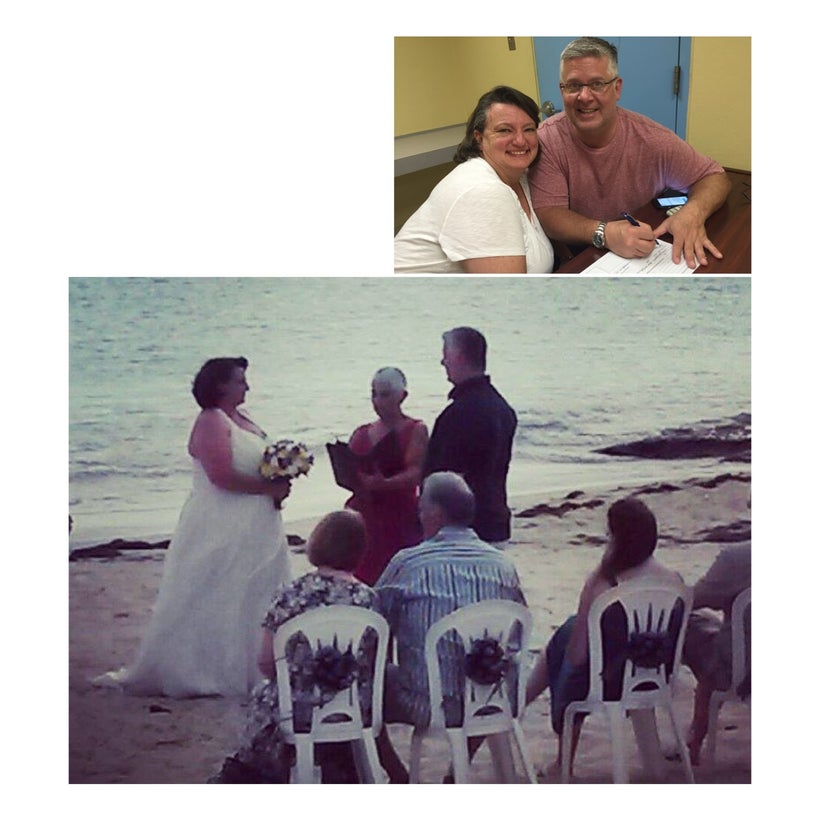 Once the paperwork has been filed, you can request copies of your actual marriage license. Your best bet is to have your minister or wedding planner pick up copies for you, and mail them to you back home. The stamps are $10 per copy, with a maximum of three copies allowed. You'll only need two, really, as long as you put one in your safe deposit box immediately. The other one you'll make color copies of to send to your insurance companies, employers, banks, credit card companies, etc. And you'll take that original with you to the social security office and the DMV, if you're going to change your name. They won't keep it, but you must show an original. Sometimes it's a good idea to get three copies and stash a third in another safe place so that you're never in the position of having to track down a copy years down the road. If your original wedding vendors aren't in business or available to assist you, you'll be in a true pickle waiting for help via mail or phone from government offices.
For the record – a Puerto Rican marriage license is just like any marriage license from any other state, and you should have no trouble submitting it at any stateside offices, or to any of your financial institutions. It's in English and Spanish.
Just make sure that whomever is picking up copies of your marriage license has the stamps, the signed release form, and copies of your driver's licenses, or they won't release the certificates to them. And if you're on a hard deadline to provide a copy of your marriage license prior to a health insurance enrollment deadline with your employers, make sure to tell whomever is getting your copies so that they don't dilly dally. Puerto Rico is frequently on "island time," and sometimes, that includes government offices and wedding vendors.
Maybe you've just read all of this and are thinking "she's crazy – this sounds like a nightmare." Wrong. It's not. It's very, very easy. You have to provide most of the same paperwork anywhere you get married. And many states and municipalities are now requiring ministers to be registered – a hazard of the onslaught of ministers-in-can ordained online. All you have to do is follow the checklist I provided, and go to one of the demographic office locations provided in the graphic above, and you'll have no trouble getting legally married on the island.
Back when I got married in Puerto Rico in 2004, the process was difficult. We had to arrive early to have lab work done and processed before they would issue our marriage licenses. Now, all you have to do is prove you're not a citizen of Puerto Rico (that's the affidavit), and bring letters saying you're healthy from your doctor. As long as you bring copies of all the other paperwork I've listed, and you're prepared to answer the questions I told you about, you'll be in and out of there in less than a half hour. If you are a resident of Puerto Rico, you do have to get lab work done, but on the upside, you pay a lot less for the marriage license paperwork. The confusion kicks in when wedding couples search for the correct information online and find that not everything is always updated in a timely manner on the government pages, and that there's a lot of misinformation out there from people who swear they know what they're talking about. They don't.
There are telephone numbers provided on the demographic office chart above for the two different San Juan offices you may choose to visit. They encourage you to call ahead and let them know you'll be coming in. Both offices usually have an English-speaking clerk available, but if you call in advance and tell them when you're planning to be there, they are very helpful. The same goes for getting your paperwork done in other municipalities.
A point of cultural etiquette – don't show up at the demographic office in your bathing and cover-up. Most Puerto Ricans dress more business casual when visiting government offices. Shorts and t-shirts are fine, but men should avoid wearing tank tops, and women should avoid showing too much cleavage. They won't toss you out if you're dressed wrong, but you might find people are even more helpful when you show respect for their offices. You wouldn't show up to get your marriage license in New York or Chicago in a tank top and sarong, right? Just because you're in the islands doesn't mean there's anything less official about getting your legal paperwork.
Puerto Rico remains one of the most popular destination wedding locations in the Caribbean because of it's part of the United States. Your guests don't need passports. It's U.S. currency. Most of the folks you'll encounter as a tourist speak more English than most Americans speak Spanish. And there are direct flights from many major U.S. cities.
Don't let the fear of paperwork stop you from having your names on the wedding register in the beautiful destination where you've chosen to get married. It's a real book – the wedding register – I've actually seen it. And there's something very special about being able to legitimately say you got married in paradise.
How long will this information be accurate and correct? Your guess is as good as mine. The rules on the island tend to be somewhat fluid, and they usually change without warning. With that said, I've provided good telephone numbers for confirming the information ahead of your own destination wedding. Be sure to double check!
This post was published on the now-closed HuffPost Contributor platform. Contributors control their own work and posted freely to our site. If you need to flag this entry as abusive,
send us an email
.