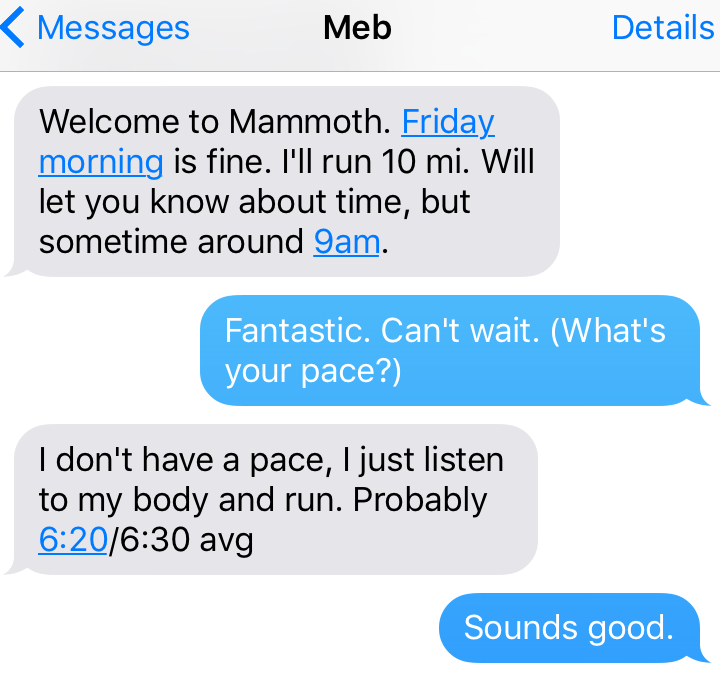 This summer during the Olympic games in Rio, Bill Murray suggested that "every Olympic event should include one average person competing for reference." Maybe that's a better idea for some sports than for others, but it would be the opportunity of a lifetime for that one average person. How might that person feel? Terrified? Exhilarated? Humiliated? I know all too well.
One month before he left for Rio, I joined Meb Keflezighi, Boston Marathon Champion, New York Marathon winner, Olympic medalist and one of the greatest marathoners of all time, for an "easy run" in Mammoth Lakes, California.
"What's an 'easy run,' Meb?"
"What's the pace?" I ask.
"I run based on feel, but probably 6:20-6:30."
I became irrationally optimistic. Meb runs "easy" at about 6:30 per mile. I've raced at 6 minutes per mile, so this seemed doable. Not "easy," per se, but I was confident I could keep up for at least 8 miles.
"Great! Thanks so much, Meb. I look forward to catching up."
Little did I know how absurd those words would sound later.
But in the moment, flush with expectation, all I could see was the image of Meb and me, bounding through the woods of Mammoth like a pair of greyhounds. I picked up the phone to hire a photographer.
I am going to frame a poster. It will hang above my desk. I will call it, "Meb and me."
Before I know it, Meb and I are driving up a mountain, en route to our 10-mile run around Lake Mary. I'm in town attending a Westin Escape. He's there to train at altitude. We're 9,000 feet above sea level. Meb looks over at me.
"You're like a linebacker, man!"
I cannot wait to tell my wife this. Meb thinks I'm a linebacker!
Meb starts rubbing Tiger Balm on his legs while his longtime mentor, Bob Larsen, watches us with a bike helmet strapped to his head. Bob Larsen is a legend. I feel honored.
Does my photographer know Bob? Bob should be in the poster.
Meb finishes applying the Tiger Balm, and I ask for some, quickly, before he has time to put it away. He obliges. I've used Tiger Balm after many a run, but never before it. This changes everything.
Whatever you do today, Meb, I'm going to do too.
We're ready to run. Meb hands Bob his water bottle and picks up his earphones. He pauses and looks at me with a grin, "You're staying with me, right?"
"Yeah. I hope so… I mean I can feel the altitude, but I should be good."
Meb puts the headphones around the side mirror of the rental car.
Meb believes in me. I believe in me.
Bob tells us to take the first couple miles super easy, then he'll join us on his bike around the 2 mile mark. Meb nods at Bob's directions, starts his Epson watch and looks at me with a smile, "All right, man. Let's go." He's always smiling. Until he's running and then he's not.
Within seconds, Meb's feet seem to have springs attached to their heels. I feel like an elephant. We're whizzing through trees. My eyes dart between Meb in front of me and the trail below to avoid tripping on a rock. Every 5 to 10 seconds, Meb's left or right index finger points down to the ground informing me of an upcoming object. He's cruising as if running downhill. I run like a piece of cardboard wearing running shoes.
Is he a gazelle? Is he actually a gazelle, not a person?
I can't breathe. Why are we running so fast already? I am a hippopotamus chasing a cheetah.
I do something I said I wouldn't do and peek at my watch. Surely, we're going too fast. Bob would want me to tell Meb we're going too fast.
7:45 pace. I shouldn't have looked.
At the one mile mark my Garmin beeps. Our first mile is a 7:48. I mutter some unprintable words and say to Meb, "I'm struggling. I can't breathe."
"It's not about your breathing, buddy! It's about your legs. Hang in there."
Does the altitude drop to zero after mile 2? Meb is not human.
Suddenly, our photographer appears behind a tree, and for a brief second I'm relieved. No matter what else happens, I will appear in my own poster.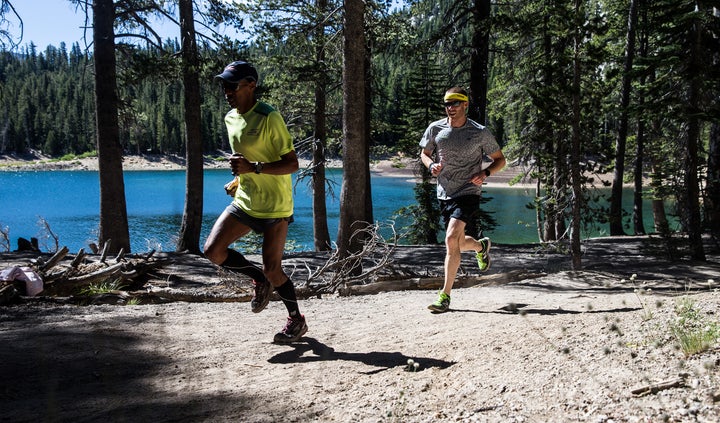 Mile two beeps on my watch: 7:08. I'm wishing I hadn't worn a watch. I could have sworn we just ran a sub 5-minute mile. This is a huge mental blow. I silently tell myself to stay with Meb, but a quarter mile later I mutter, "Meb. I'm done, buddy. I'm done."
Meb's feet are marshmallows and there is a campfire burning in my chest.
Meb doesn't slow down or miss a step. He just nods his head and continues running while the road below him seems to turn into pillows and clouds.
I should have been a football player. Maybe an offensive lineman.
I head back to the car trying to figure out why I can't breathe. Shortly after I get there, Meb and Bob are coming toward me for their second loop. Meb grabs his headphones off the side mirror and puts them around his ears. He seems to be running with even less effort than earlier, but somehow more quickly.
Bob says from the bike, "Try to get back in there, Chris."
Yes. Get back in, Chris! Fly like an eagle! You just had to warm up. Go. Go. GO!
I hop back in and last a whopping 2 more minutes before pulling out yet again, shaking my head in disbelief.
Meb went on to run a total of 12 miles that morning because he was feeling good. Meb is far stronger, swifter and smoother in person than he appears on TV. Bill Murray would have really enjoyed watching him run. I finished the workout having run 6 miles, broken up in three heats, punctuated by wheezing and an injured psyche.
Meb was about to begin his post-run stretches and drills when he sensed my embarrassment. Like an understanding father, he invited me to join him. We hopped, jumped and skipped. He was patient; he never ridiculed my short run with him despite my attempts to goad him by verbally bashing myself.
"Chris, I used to run through these trails at 6 minute pace no problem. Now? It's more like 6:30 or 6:45. But it's no use comparing myself to what I used to be able to do. I try to do the best I can today. And you did the best you could today."
Meb is human. I am human. I did do the best I could today.
We finished the drills, hopped in the car and the greatest runner I've ever run with let me take him out to breakfast along with his wife, three daughters and Bob. It was a morning I'll savor for the rest of my life.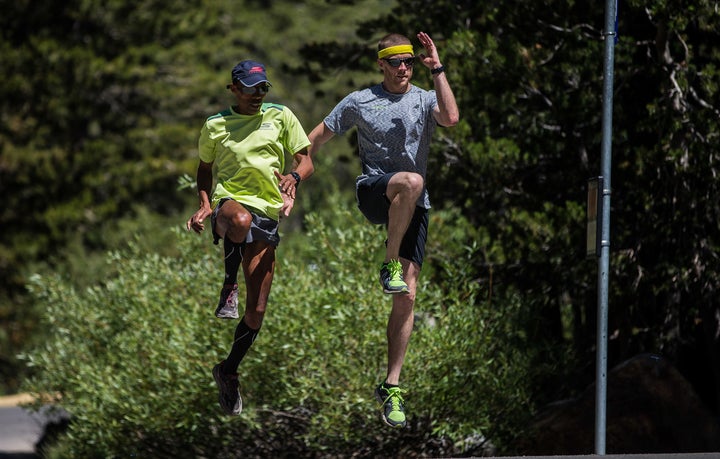 BEFORE YOU GO
PHOTO GALLERY
Best Photos From The Rio Olympics