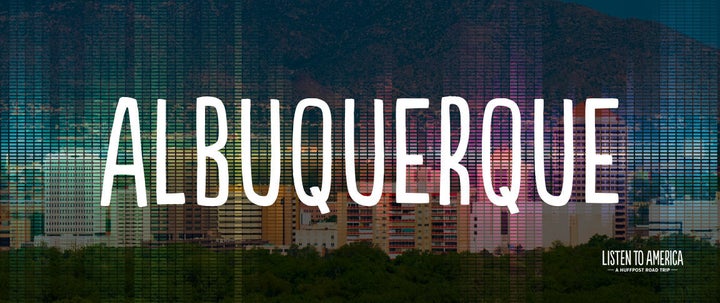 HuffPost is hitting the road this fall to interview people about their hopes, dreams, fears ― and what it means to be American today.
Spotify has curated playlists reflecting the local flavor of each stop on HuffPost's "Listen to America" tour using location-based data to find out what people are really listening to in 20-plus cities. Check back for more from Sept. 12 through Oct. 30.
Albuquerque stands out as one of the sunniest places around the U.S. (around 310 days per year!) but outsiders might recognize it best as the backdrop to the darkly comedic "Breaking Bad," where a certain house still keeps getting pelted by pizzas. Here is where The Shins ― which is sort of only James Mercer now ― formed in 1996, and where Ozzy Osbourne's drummer, Randy Castillo, got his start playing in a high school band. Other local acts have included the punk group Scared of Chaka, folk duo Hawk and a Hacksaw, and the '90s teen group The Rondelles, along with former alt-country group Hazeldine. Brokencyde also got going here, combining the "ever-so-slightly contrasting genres of screamo and crunk," per The Guardian.
But Albuquerque residents as a whole are big fans of country; Spotify found several acts including Brooks and Dunn, George Strait, Jason Aldean and Little Big Town getting noticeably more play here. People have also been remembering Selena, who would have celebrated the anniversary of her first album this week, and the recently deceased Tom Petty. Intriguingly, the song "Too Many Lemons in my Chicken," by the Albuquerque group Indie Pigeon, was the most popular. Top-streaming radio hits round out the list:
Spotify playlists for the "Listen to America" campaign were created by looking at each location's most popular songs (streaming in the highest numbers at time of publication), distinctive songs (currently being streamed more in this city compared to all other cities in the world) and tracks from local artists. While many picks are data-driven, some songs are handpicked from data lists to assure the playlists reflect a variety of genres and decades, as well as a healthy gender balance.
BEFORE YOU GO