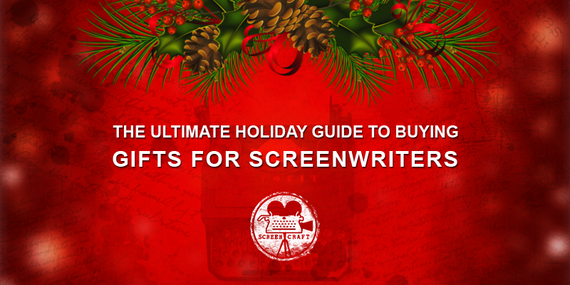 This Post originally appeared on the blog ScreenCraft. ScreenCraft is dedicated to helping screenwriters and filmmakers succeed through educational events, screenwriting competitions and the annual ScreenCraft Screenwriting Fellowship program, connecting screenwriters with agents, managers and Hollywood producers. Follow ScreenCraft on Twitter, Facebook, and YouTube.
The Holiday Season is upon us. As the Christmas music begins to play, as the decorations are adorned, and as Hanukkah traditions begin the gift giving season that carries on through Christmas and into the New Year, we begin the search for that perfect present for our significant other, family members, friends, and peers.
But what is the perfect present for that dear person you know that just happens to be a screenwriter?
We scoured the stores and the internet to find not just the most desired gifts that screenwriters would appreciate, but also those memorable ones that keep on giving.
So whether you're a screenwriter buying for yourself or you're buying for that screenwriter friend or family member, consider this guide as your festive compass guiding you to that perfect screenwriter gift.
Final Draft 9
Final Draft is the film and television industry standard screenwriting software. Many novice screenwriters opt for cheaper or free software, however, Final Draft will be offering it this holiday season for the lowest sale price of the year, $149 ($249.99 regular price). Whether you're a screenwriter treating yourself or buying for a family member or friend, this gift will be one that truly keeps on giving. Software upgrades from previous versions of Final Draft are now on sale for just $59 ($99.99 regular price), so if your screenwriting family or friend has an older version, they can enjoy the newer version with all of the updates.
Where to Buy It
The Final Draft website offers direct downloads, boxed versions, as well as a download and CD option.
Skullcandy Uproar On-Ear Headphones
Screenwriters often write in bookstores, coffee shops, and sometimes in a house full of kids as they escape to a corner for some writing time. Needless to say, ambient noise can be a writer's worst nightmare. Beyond that, it's often recommended that screenwriters write to music. ScreenCraft touched on this somewhat in 5 Habits to Get Those Creative Juices Flowing. Thus a quality set of headphones can be a story telling savior for writers.
Where to Buy It
Kohl"s is having an excellent Black Friday sale selling this model in multiple colors for over 40% off at $19.99. It will be available both online and in stores.
Standing Desk
If you're looking for a big ticket item for yourself or that screenwriter you know and love, consider offering them an alternative to sitting on the couch or at that desk for hours on end. Studies have shown that sitting for hours upon hours can be hazardous for your body and your health. Standing Desks offer the benefit of better body positioning for your neck, back, wrists, hips, hamstrings, and spine. They also offer the chance to burn calories while you write.
This is a gift that will not only help screenwriters conjure more amazing stories with ease, it'll also lengthen their life.
Where to Buy It
They can be very pricy, ranging from $175 to $500 and beyond for quality ones. Amazon is a good place to start.
Stephen King's On Writing
One of the greatest books ever written on the art and craft of writing. While the book is obviously geared towards the literary market, it has also become a staple for screenwriters as well. For a taste of what King offers, read ScreenCraft's 17 Must-Read Screenwriting Lessons from Stephen King where we take some of King's quotes from the book and apply them the art and craft of screenwriting.
Where to Buy It
Amazon will be having Black Friday and Cyber Monday discounts on books, and likely through the Holiday season.
Barnes and Noble's Black Friday deals offer 30% off any titles starting Thursday, November 26th through November 29th. This title is usually in stock in the stores as well.
Robert McKee's Story
Robert McKee's methods of screenwriting, taught through this book and his famous seminars, stands above normal guru screenwriting books that pitch secret formulas. Instead, he breaks down the principles of substance, structure, and style adaptable for any genres. Learn more about his approach in ScreenCraft"s Exclusive One-On-One with Robert McKee.
Where to Buy It
Amazon will be having Black Friday and Cyber Monday discounts on books, and likely through the Holiday season.
Barnes and Noble's Black Friday deals offer 30% off any titles starting Thursday, November 26th through November 29th. This title is usually in stock in the stores as well.
Writing Movies for Fun and Profit
A hilarious and quite on point look into the business of Hollywood screenwriting by two of the film industry's most successful studio writers. Screenwriters will get a look inside Hollywood and how the business side of screenwriting is. Robert and Thomas offer funny anecdotes, advice, and hard truths. While not everything they write is true for every screenwriter's journey, this book is an excellent way to understand what it's like if and when screenwriters actually make it.
Where to Buy It
Amazon will be having Black Friday and Cyber Monday discounts on books, and likely through the Holiday season.
Barnes and Noble's Black Friday deals offer 30% off any titles starting Thursday, November 26th through November 29th. This title is usually in stock in the stores as well.
How Not to Write a Screenplay: 101 Common Mistakes Most Screenwriters Make
This book was written by a former studio script reader, giving screenwriters a look behind-the-scenes in development to learn the basic guidelines and expectations that Hollywood has for screenwriters. It's insightful with hard but helpful truths and some of the best practical and easy to implement screenwriting advice out there.
Where to Buy It
Amazon will be having Black Friday and Cyber Monday discounts on books, and likely through the Holiday season.
Barnes and Noble's Black Friday deals offer 30% off any titles starting Thursday, November 26th through November 29th. This title is often found in the store, but not always.
Airbnb.com Gift Card
Sometimes the best way for a screenwriter to really hunker down and make those deadlines is to get away from it all and lock themselves in a getaway house, cabin, room, etc. Whether a screenwriter is writing solo or cramming with a writing partner, a getaway for a night, weekend, or beyond is key.
Airbnb offers people a chance to do so on a budget. Even if it's a local cabin or cottage for $90 a night, the seclusion can offer screenwriters the chance to put full focus on the screenplay at hand. So $25, $50, $100 or whatever you want to offer can stand as a message to that screenwriter that they can and should get away from it all and have some time to themselves to get that screenplay completed.
Gift cards can be given any amount, big or small. While they'll still have to pay some out-of-the-pocket money to go on the trip (unless you buy a whole night, weekend, or week for them), the gesture can often be all they need to just do it.
IMDBPro
IMDBPro is a film and television industry standard online tool. Screenwriters can utilize it for research on movies, television shows, production companies, studios, agencies, management companies, etc.
In the end, it's one of the greatest tools that screenwriters can have, as we featured in 3 Essential Online Tools for Screenwriters.
Where to Buy It
IMDBPro.com for the annual price of $149.99 or $15.95 per month.
Writers Store Gift Card
The Writers Store is a screenwriter's candy store of knowledge with software, DVD collections, books, and courses. Offering a gift card to the Writers Store would give the screenwriter the ability to choose their own gift in the end, based on their own needs and wants.
Where to Buy It
Writers Store Gift Cards can be purchased for any amount and are sent through email.
External Battery Pack for Laptops and Other Devices
The daily life of a screenwriter often involves trips to the local book store or coffee shop in search of those prime table locations where they can plug in their laptops or Macs. Unfortunately, there are all too often more writers at these places than there are outlets.
An external battery pack can buy your screenwriter family or friend hours of writing time.
This RAVPower model in particular stands out as one of the best available.
Where to Buy It
Amazon has it listed at $99 for Amazon Prime members, which is $100 off the original price.
Streaming Devices
Screenwriters need to ingest as much as they can. One of the simplest way to learn about screenwriting is to watch movies. Plain and simple. Even when seasoned screenwriters are in a rut, the best antidote is watching movies. Therefore, whatever it takes to get them into the hands of your screenwriter family and friends could very well be the best gift that you offer them. With the likes of Amazon and HBO alone offering cheap monthly streaming memberships (among many others), a streaming device is a gold mine for screenwriters.
In this case, we go with any and all streaming devices, many of which will be on sale come Black Friday.
Where to Buy It
Kohl's, Shopko, and likely other retailers have them listed in their Black Friday ads or will have them readily available for sale. They can also be ordered online through Amazon.
Movie Theater Gift Cards
The home theater doesn't always have the magic that the cinema has. Screenwriters often need a little magic so buying them gift cards for their local movie theater chain is an amazing way to get them amped up about their writing. Movies inspire and influence screenwriters. They are a go to source, thus, you're likely not just giving them a night out at the movies, but possibly the fuel to get through some writer's block.
Where to Buy It
You can get any gift cards at any local theater chain. All too often, you can also pick them up at most big retail stores on their endcaps. If you don't know what theater to buy them for, you can always go the Fandango route where they can buy tickets online to almost any theater chain.
Hard Copy Screenplays of Their Favorite Movies
We live in a digital world so it's not too often where screenwriters have hard copies of screenplays anymore. If you know your screenwriter family or friend, you'll likely know their favorite movies. What better way to make a gift more unique and personal than buying them a hard copy script of those favorite movies?
Where to Buy It
Script City is the best place to buy hard cover copies of screenplays to movies both old and new. If they are aspiring to be a television series writer, Script City has a plethora of teleplays as well. Prices are usually $14.99 per script unless it's for a miniseries or something of that nature.
The Best of the Rest
Starbucks Gift Cards. However, if your screenwriter family or friend writes in a Barnes and Noble coffee shop, know that they do not take Starbucks Gift Cards. They only serve their coffee and aren't official Starbucks establishments. In that case, buy…
Barnes and Noble Gift Cards.
DVD and Blu-rays. Black Friday sales at major retailers like Best Buy, Target, and Wal-Mart usually contain a plethora of discounted movie bins. You can find these throughout the stores during Black Friday and into the holiday season.
Wireless keyboard and mouse. Laptops often don't offer the best ergonomic experience, thus it's nice for any writer to have a wireless keyboard and mouse.
Offer to pay for screenwriting contests. Screenwriters are always looking for a way to break into the film and television industry. One way for them to do that is to enter some of the more connected screenwriting contests. The Nicholl Fellowship runs a prominent program and of course there are the ScreenCraft Genre Screenplay Contests.
Find niche items from movies they love. Most screenwriters are movie buffs. They'd love that collector's action figure from their favorite science fiction movie or that framed poster for their favorite classic Alfred Hitchcock movie. Or maybe you go online and find props on sale from those favorite flicks. Don't be afraid to ask them what they're favorite movies are and just work from there.
More from ScreenCraft: