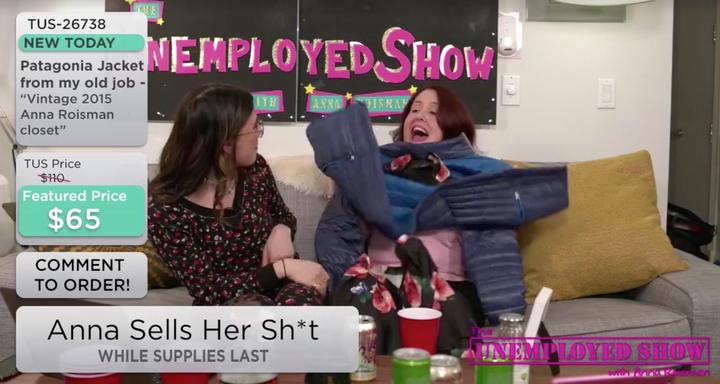 "It was the first time in my New York life that I had no job, and I thought, now's the time to make some content," says Roisman.
The web series officially began in February, in the wake of a relentless post-election news cycle. Seeing the deluge of "political posts, horrifying news stories, and emotional rants" on her Facebook feed, Roisman thought this could be the break she and the internet needed. 
"I wanted to do the show from my couch, in pajamas, drinking and snacking, as an unemployed person has the liberty to do," she said.
But this isn't some half-assed social media stream. Thanks to tech director Brian Russo, "The Unemployed Show" is a three-camera show with graphics, guests and audience interaction.
"The Unemployed Show" airs every Thursday live on Facebook at 3 p.m. ET, and though it runs like a morning show, the features and themes change weekly.
Segments have included "Anna Sells Her Sh*t," a QVC-style segment where the host tries to make some extra money ... selling her s**t. Another time, Roisman sculpted penises out of clay from dick pics that were sent in to the show. And on another episode, there was the live job interview she completed on the phone while playing a drinking game with her friends.
On Friday, "The Unemployed Show" will broadcast its Matchmaking Special at 3:30 p.m. ET. The show had previously set up two people and had them go on a date. Now we can all find out if they totally fell in love and are going to have babies.
Next week, for the show's Season 2 finale, Roisman is welcoming seven unemployed women she knows named Lauren, aptly called the "Lauren Special."
BEFORE YOU GO
PHOTO GALLERY
Aww, Trump Doesn't Even Want America, He Just Wants To Play With The Box!