Important as the home office has become in recent years, the traveling office has almost become a companion piece. It's one thing to work in the comfort of your residence with its oh-so-easy commute, but so much work today is done on the road -- and technology has gone along for the ride. Today, you can as much pack your office in your suitcase, or even attaché, and head off. And with summer right around the corner and its associated traveling and family trips, here are just a few of the many options to help.
• iTwin
• Kingston Wi-Drive
• Macally mHUB
• ZAGGkeys Flex Keyboard
• Scosche freeKEY Keyboard
• Macally USBpower
• Aviiq Portable Charging Station
There's been a growing field of "cloud" products over the past few years, for sharing documents, photos, music and all manner of files that you can access from anywhere in the world over the Internet. Pogoplug devices were one of the first, and services like Dropbox and SugarSync have followed, along with Microsoft's Skydrive, and Apple's iCloud. The iTwin fits in with all these, though in a very different way.
With most of these products, you can access your files by opening a browser and logging into your account. It's simple and effective, though slow for big files. Most are free with limited capacity - for more space, you pay a monthly fee. Pogoplug has no fees, but you buy the device.
The iTwin, however, is like a cross between online cloud sharing and a USB Flash drive that you carry with you. It's a tiny device that splits apart into two "keys. When the keys are connected, you plug it into your computer, which "pairs" them - meaning they'll recognize each other, and only each other. Then, after disconnecting them, you plug one end into a USB port on your main computer, and hold onto the other key until you're ready to plug it into whatever other computer you want, which "links" the two. Think of it as connecting two online computers with a cable - but not requiring a cable.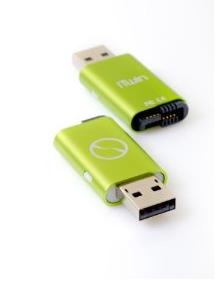 You can use the second key for yourself, so you can have access to your home files anywhere, or give it to a partner, so you can work on the same material together.
The disadvantage of the iTwin (compared to online sharing or a USB Flash drive) is that the device has to be plugged into your main computer, which must be on, and you need to have that other key plugged in, as well. But the advantages are huge: there is no capacity limitation, and you can have full access to your main computer, if you wish. And, it's immediate. Further, when you're at a remote computer and are working on a document on your main computer...you are working on the actual document, not a copy of it. So, there's no having to remember to copy back the work version onto an original file, or create links between files.
(The iTwin operates under either Windows and Macs, and you can also work on cross platforms simultaneously.)
When you initially "pair" the two iTwin keys together, a box pops up that asks you to register a name for what will be on the iTwins. (For example, you could call it, "Work project.")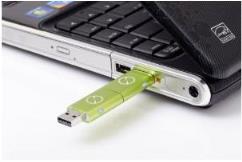 You're then given the option to register an email address - if you do, a code will be sent to you to use for disabling the iTwin if you lose one of the devices. (More on this later.)
When the iTwin screen opens, you'll see Windows Explorer. The iTwin will show up there as if it's just another external drive. You then simply copy whatever files you want in the Windows Explorer window. There's no file limit. In fact, you can copy the entire hard disk. (By the way, know that you're not really copying it, you're just providing access to it, so the whole process is near instantaneous.)
Whatever has been "copied" to your iTwin will remain active until you decide to break the pairing and re-pair the two keys. It's simple to do: just connect the two keys again, that's all. This will wipe out the information and let your create a new pairing. Then, you run through the same plug-in/launch Windows Explorer process as before.
Okay, so your iTwins have been paired, and you've "copied" the data to it that you want. On any other computer, plug in the second iTwin key. The other computer will recognize that this key has been paired with the key in your home computer, and you'll have access to everything that has been "copied," whether it's just a single project, all your photos, or your entire computer. You can then work on files back-and-forth, near instantly, between the two computers.
The iTwin a good deal of security built in, with a variety of authentication that includes high-grade AES-256 encryption. If you lose a key, though, you can protect yourself by disabling the device online. Go to iTwin.com/Support. Select "De-Activate iTwin." And then enter that code you were sent. It's strong protection, but the downside is that you have to remember the code, and the code will change every time you re-pair the iTwin. So, you have to remember the code each time. But there's a better, easier way to protect yourself - you can create a password and always use the same password that you're like to remember. Rather than iTwin popping up immediately, you just type in the password first.
(Also know that if you lose a key, you can simply unplug the other iTwin key from your computer. That breaks the connection, and it's impossible for anyone to access the material. With nothing plugged in, there's nothing to connect to.)
I liked iTwin quite a bit - but it's not for everyone. Many people will prefer the simplicity of using a free cloud service, whose limited capacity is enough. Or some might prefer the easy online access and massive capacity of Pogoplug. But there are those for who iTwin is a truly wonderful solution.
It gives you unlimited capacity, it can provide access to your entire computer, it's near instantaneous fast, and you're working on the actual files on your home computer, not a remote synched copy. These are no small things.
The biggest quibbles are that you have to remember to plug the iTwin key into your home computer before going out (though, of course, you can simply leave it in all the time), and you have to remember to keep your home computer on - not an issue during the course of a day, but a consideration if you're out of town for any lengthy period. Also, there's no slot for convenient carrying on a keychain.
At the time of writing, the iTwin retails for $99.
One of the limitations of handheld devices and particularly the iPad and other tablets is their small capacity. You may find yourself without enough space to copy all the music files, photos videos, data and more that you'd like to carry around.
Last year, I reviewed on solution for that, the Seagate GoFlex Satellite, a 500 GB portable hard drive that can connect to a handheld device via Wi-Fi. The Wi-Drive is somewhat similar, with some impressive advantages, and some things it doesn't do quite as well.
The most notable thing about this portable Wif-Fi drive is that it's Solid State. As such, there are no moving parts...and it's incredibly small and light. Stick it in your shirt pocket, and you're set. It comes in three flavors - holding 32 GB, 64GB and one for 128 GB.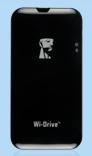 The device has to first be charged. You then download a free iPod/iPhone/iPad app. (An Android app exists, but is only in beta test form). After this, you attach the Wi-Drive to your computer with a USB cable, and transfer files to it the same as you would any external drive, like a Flash drive.
And then, you're done. To operate the device, you simply turn it on, connect your iPod/iPhone iPad to a Wi-Fi network the same as you would do with any Wi-Fi Network - this will show up as "Wi-Drive" and launch the app on your iPhone (or whatever). Your handheld will see all the data on the Wi-Drive and think it's on the device itself. You just play the music, look at the photos, play the videos as you would do with anything.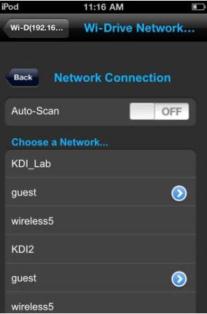 It works very easily and very smoothly. The best thing about the Kingston Wi-Drive is, as noted, how small and light it is. A product is only good if you're willing to use it, and the Wi-Drive is as light and convenient to carry around as an iPod touch. You can stick it in a pocket, or toss it in a book bag and you won't know it's there.
There are a few downsides. I found that it took a while to load photos - they didn't instantly appear, which might be a bother to some, though that depends on how many photos you're loading. Music and videos though were immediately accessible. (There are settings for "All Photos," "All Music," and "All Video," though I never got a response from them, just a "waiting" icon, though this didn't affect my accessing everything on the drive.) Also, you might find that you've got so much content that even 128 extra GB isn't enough. In that case, the 500 GB of the Seagate GoFlex would serve you better. But an extra 128 GB is close to plenty for most people. (So is the "lowly" 32 GB.) And the Seagate, while easily portable isn't remotely as no-brainer to carry around. Finally, while the Seagate does have iPod and Android apps to operate, as well, you can also run it on your device's browser, which add another level of convenience, particularly if you have an Android smartphone or tablet, especially one that can't access the Android Market to get the app.
The two different, but similar devices serve different needs. But are valid ways to expand your portable handheld's capacity. But I give an edge to the impressive lightness and small size of the Kingston Wi-Drive. If your needs require especially high capacity, the Seagate GoFlex Satellite is a solid option.
At the time of writing, the 32 GB Wi-Drive can be found for $70. The 64 GB model was available for $75 (a great deal), and at the high end, the 128 GB Wi-Drive could be found for $130.
Taking your notebook with you on the road has become the travel equivalent of having your home office with you wherever you go. But there is slight limitation that can come with it. The one notable problem with notebooks is limited USB ports. So, if you have a lot of required connections - a mouse, speakers, Bluetooth connection, printer and more - you could be out of luck.
Macally makes a very nice portable, high-speed USB hub that can expand your system with three additional ports. (It actually has four ports, but you'll need to use one to connect to your computer.)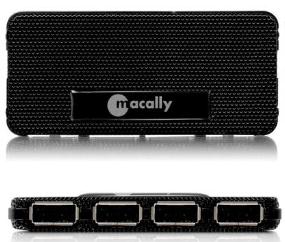 There are two particularly nice things about the mHub - beyond it being very solid made. One is that that's extremely slim, which makes for easy portability. The other is that it will work either without an AC adapter (for low power devices), or if you need to connect a device that needs extra supportive power, an AC adapter is included. My only quibble is that the prongs on the wall adapter don't fold up, like so many today, which would have been preferable for something that's intended to be portable.
It retails for $20, but could be found online for $14.
Okay, so you leave your home with your cell phone or tablet. If you want to just surf the Internet and play around with apps, you're all set. But if you want to, God forbid, work with it or do serious typing of any sort, you're in a quandary. Sure, they all have built-in keyboards, and they're incredibly handy. But the ones on a tablet just don't work as well as a real, manual keyboard, and on a cell phone you generally won't want to send more than a few sentences. Of course, using a real, manual keyboard is out of the question because they'd be ridiculously bulky to carry around.
Enter the world of portable keyboards. There are some on the market that fold up small, but the ZAGG is a regular, flat model. But it's very thin and extremely light - you want to carry it in your pocket, but it is small enough to easily fit in your briefcase. You connect it to your handheld device via Bluetooth.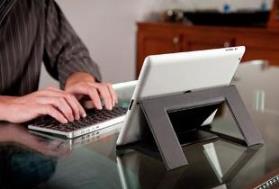 By and large, the keyboard works quite well. It has a light touch and inputs text very well. It's definitely small, but not cramped. (Of course, that depends on your fingers.) There are many special function keys that help make the keyboard convenient - they'll start a photo slide show, or start music playing, and can even move between tracks and provide volume control. There's also a switch that lets you alternate between Apple and Android devices, if you're a cross-platform household. I was also able to get it to work on a Windows-based tablet I tested.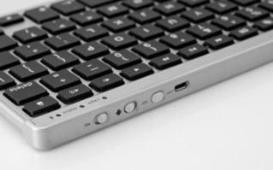 On the downside, there is no Home/End key (though in fairness, this is common on small portables). And although it has a solid feel, it does not have the stability one gets with a desktop keyboard. Of course, that's what makes it so portable. It also doesn't appear to work on devices running Android 2.3 or below. Again, however, this is not uncommon for pairing tablets and keyboards with Bluetooth.
The keyboard fits in its included carrying case, which can fold into a convenient stand for your cell phone or tablet. Most people probably don't need an external keyboard for their tablet or phone, but for those who do use such things more heavily, the ZAGG travels easily. At the time of writing, it retailed for $80, but was available online for $58.
SCOSCHE BLUETOOTH freeKEY KEYBOARD

Scosche offers a very different kind of portable keyboard for any Bluetooth-enabled device. It's not just that it's rubber/silicone and waterproof (for those of you who spill a lot...) - but it rolls up for easy, tiny storage. At under 4 ounces, needless-to-say it's very small, light and portable. How portable? You can stick it in your pocket.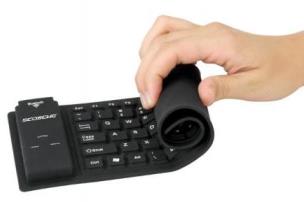 Pairing is very easy - you activate Bluetooth on your device, wait for it to be "discovered" and simple enter a pairing code that pops up on screen. (It will work with Windows, Mac, iOs and Android, but like many portable keyboards I'm come across, it will only works with Android Honeycomb 3.01 or above.) The keyboard has a very good range of at least 30 feet, which is far more than enough given that it's most effective with portable devices that have small screens, rather than as a desktop replacement. It should charge with the included retractable cable in about two hours.
The keys are somewhat small, but comfortable. Its layout is basic, though includes F-keys and a Windows key, which is very helpful if you use it with a Windows device, however there aren't many additional special function keys. (As with many portables, there are no Home/End keys.) Also, know that on Mac or iOs, the NumLk won't work - however, you can use the basic keys on the number row instead.
The feel of a keyboard is totally subjective. For myself, I found the freeKEY to have a light and easy touch. Sometimes, though, it was a bit too light, which caused a related issue - if you hit keys harder to make sure they show up, that can cause the repeat-key to kick in. I found that if you basically "punch" the keys rather than glide over them, it worked well. (It was sort of a combination between touch-typing and hunt-and-peck.) Because of the total flexibility of the keyboard, it needs to be on a flat surface. Laying it on your lap will lead to an effort of futility.
I had a couple of other quibbles, though none is a deal-breaker. One is that there's no carrying case. It rolls up easily, but there's no way to keep it rolled up. However, wrapping a basic rubber band does the trick. Also, there's a tab that you pull off to access the On-off switch and battery charger port. However, this tab isn't connected and is very small, and therefore it's very easy to lose.
The freeKEY retails for $60, but at the time of writing it was available for as low as $42. It comes with a one year warranty. I didn't find that this would work well as a keyboard replacement for a desktop, but if you type a great deal with your portable device and want a keyboard - and one that is incredibly portable - it's worth seriously considering, while keeping the above-noted issues in mind.
Not to be confused with a portable charger pack, the USBpower is a universal charging adapter for your portable devices. It's most useful for traveling internationally, or when traditional home power sources aren't available. The USBpower works in two different ways. Most prominent is a small unit that has a slot for attaching the included international plug adapters; change the plugs depending on the socket requirements of your location. Its USB port where you then attach your portable device. The package additionally comes with a separate, basic car adapter to plug into a cigarette lighter and draw the vehicle's DC electricity, while connecting your handheld device into the car adapter's USB port.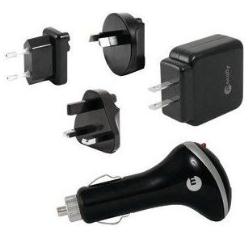 The "plug adapter" unit is particularly well designed, and having a car adapter nicely extends the device's usability. However, it's a little limited in function. Most any international adapter would work as well, and those provide for plugging in normal appliances, in addition to USB. (In fact, Macally itself makes a good international adapter, reviewed here last year.) However, its strength is the compactness, which can be important when traveling, combined with the car adapter as a bonus. The USBpower retails for $45, but can be found for $24.
AVIIQ PORTABLE CHARGING STATION with BATTERY PACK
Aviiq is a company that makes interesting and very well-designed tech products. One of those is their Portable Charging Station, which is a way for travelers to resolve the problem of going on the road and needing lots of chargers. It's a wonderful device that has gone through several incarnations. What I find fascinating is that with each new version they company keeps improving the thing...yet also taking a step backward at the same time (including one head-scratching one).
At its heart, Aviiq's charging station is lets charge up to four USB devices at the same time using just one wall outlet, without needing to carry around power blocks for each device. It comes in a zippered pouch that keeps things well-organized. Four removable racks" hold the cords for each of your device. A hub has with four USB charging ports, and there's a removable AC charger with a cord that plugs the hub. The big addition this time around - and it's a noteworthy one - is that the hub also can serve as a 5200mAh portable charger, meaning you don't even have to plug it into a wall socket for it to work. You can charge from anywhere on the road.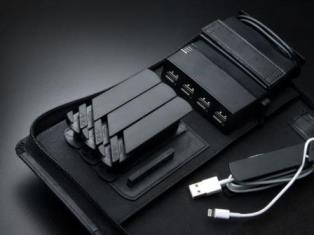 The racks can be removed, and you wrap your cord around them for convenient storage. It takes a little bit of dexterity, and there are no instructions on how to do it in the best way, but it's not terrible problematic. I find that things are still a little jammed together and not as elegant as pictures suggest, but it still works fine. Ultimately, we're just talking about wrapping cords, so it's not rocket science.
The charging block is held in place with a wraparound strap. Just slide it out when you're ready to plug it into a wall socket. I particularly like that the charger has foldable prongs for easy storage. (And it's a worldwide charger, so with the proper adapter plugs it will work internationally.)
That big change is the inclusion now of a portable charger. Where once it was a simple hub for charging devices, it's now dual-purpose. As a charger, it works the same as any portable charger, and at 5200 mAh, it holds a lot of juice, basically the equivalent of charging a Smartphone 3-1/2 times. You just have to remember that the power cord is plugged in on one side for charging the hub itself, and connected on the other side when you want to charge your devices. It's not removable, but snuggly fits into the pouch. As noted, there are four USB ports in the hub, meaning you can charge up to four devices at one time. The adapter hub provides up to 15W of power. This allows you to charge either three small devices at the same time, or a tablet (which generally uses 10W) and two small devices.
Simply stick the USB tip from the cords you've wrapped around the racks into the USB ports on the hub. It's very easy, especially if you're only charging one device. When doing more than one at a time, you might find you have to do a little maneuvering. Again, though, it's easy.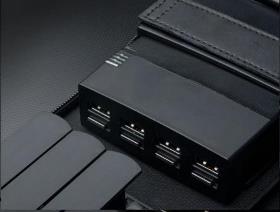 It all works well. It all does what it's supposed to do. It's all very effective and efficient. But a few quibbles creep in.
The first is at least understandable, because of the addition of the battery pack. What is designed to be a travel companion, and once upon a time fit nicely into a suitcase and even a briefcase has now grown in size. It's still thoroughly portable for a suitcase, but takes up notably more space and weight, to the degree that you might not want to take in an attaché - it's quite thicker and longer than the previous version (which was bigger than the original). The pouch when closed up is now 11-inches tall and almost two inches thick, as well as just over five inches wide. And it weighs 1-1/2 pounds.
The other change appeared in the last version, and continues here, and for the life of me I don't even begin to understand it, particularly from a company that is so wonderful at design. It's not "bad," just incomprehensible, and misses a huge opportunity -
All the charging apparatus is on the left side of the pouch. On the right side is...well, nothing. Absolutely nothing. The first generation had pockets which were extremely convenient. You could stick in spare cords or adapters (for instance like the new Apple Lightning adapter), or anything you want, papers, notes. Now there's nothing - it's not problematic at all, just an odd, huge waste of space. Maybe one day they'll return the pockets.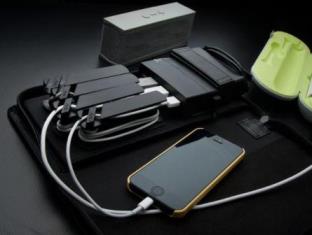 It's worth mentioning that Aviiq still sells either of the two earlier versions, along with a fourth new one, so you can pick and choose which fits you best. Version one is the smallest, but doesn't have the racks which are a significant improvement. The second version has the racks, but no pockets - it's bigger than the original, but smaller than this third incarnation. Also introduced now is a "mini" version that doesn't come in a pouch at all, but rather wraps up and is kept in place with a strap. No racks and no battery. But small.
The Portable Charging Station with Battery Pack is very well-constructed and comes in a very nice-looking leather pouch. It's not inexpensive, setting retail for $170, though it can be found on Amazon for $140. If you have a lot of cable and charging needs and travel a lot, it's a very good device to look into, especially now with the battery pack - but also look at some of the other versions to see if they fit your needs better. When Aviiq can get the size back down a bit, and also add pockets again to the right side of the pouch, it will really be a gem.
*
To read more from Robert J. Elisberg about other matters from politics, entertainment, technology, humor, sports, and a few things in between, visit Elisberg Industries.