Demonizing Israel's 36,000 African asylum seekers and expelling them doesn't behoove a Jewish state, created as a refuge for Jews who have been called "dirty," "sneaky," "filthy," undesirable."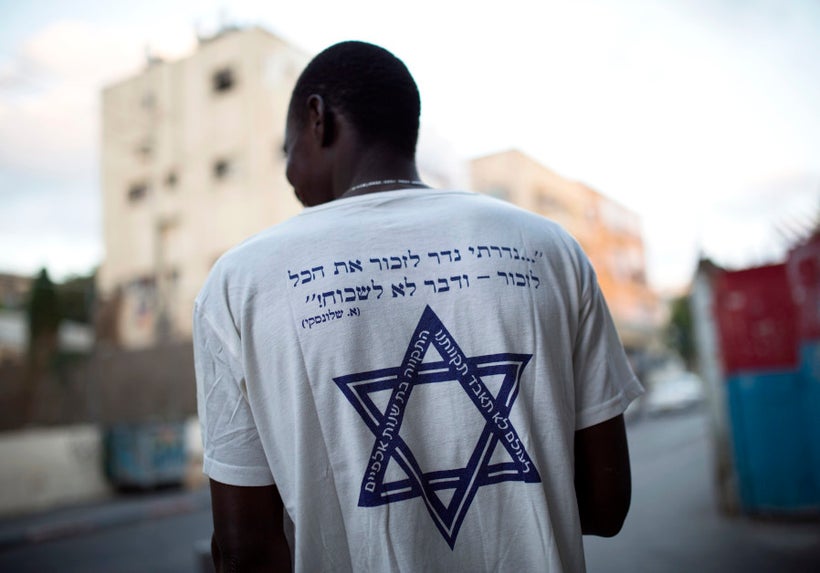 Mistanenim, infiltrators, is an ugly word – suggesting stealth, filth, threat. It suits terrorists and thieves – not people fleeing dictatorships, seeking better lives and providing Israelis with clean homes, washed dishes, staffed restaurants and hotels. Demonizing Israel's 36,000 African asylum seekers and expelling them doesn't behoove a Jewish state, created as a refuge for Jews who have been called "dirty," "sneaky," "filthy," undesirable." It violates our Torah which preaches "be kind to strangers." And it pits this Likud-led government against its founders' core ideals.
In June 1977, the Jewish world was reeling. Menachem Begin's Likud Party victory over the Labor Party turned the chattering classes into the mourning masses. Proper-thinking people knew Begin was a fascist, a thug, a terrorist, a totalitarian, an embarrassment to the Jewish people.
On June 10, Meir Tadmor, captaining the Israeli freighter Yuvali, spotted 66 people languishing on a boat. Five other ships had passed. But Tadmor and his crew acted ethically, Jewishly, Zionistically.
They took the risk of saving these South Vietnamese Boat People – only to have Japan, Hong Kong and Taiwan refuse them basic medical treatment.
Taking office June 20, Begin offered these people asylum – the first of many decent and statesmanlike moves he'd make.
"We never have forgotten the boat with 900 Jews [the St. Louis], having left Germany in the last weeks before the Second World War... traveling from harbor to harbor, from country to country, crying out for refuge," Begin explained to US president Jimmy Carter. "They were refused.... Therefore it was natural that my first act as prime minister was to give those people a haven in the land of Israel."
Begin wasn't just reacting to the Holocaust, he was modeling "hadar." Begin learned from his mentor Ze'ev Jabotinsky that Jews must ennoble themselves and the world. His actions embodied Jewish values.
He showed who we are as a people. And he illustrated what Zionism means – not just establishing a Jewish refuge but a model democracy.
If in 2012 Prime Minister Benjamin Netanyahu had not sealed Israel's southern border with a functional fence, and hundreds of thousands of refugees were overwhelming Israel's resources and Jewish identity, the African refugee problem would be more complicated. But Netanyahu did what healthy sovereign nations do and what America and Europe keep failing to do: secure the nation's borders and identity, while regulating entry into the country reasonably.
Having contained the problem, Netanyahu – and Israel – can now model a mature Zionism to the world. Today, 8,790,000 Israelis can prove that ours is not a ghetto Zionism or a garrison Zionism – but an expansive Zionism.
Prof. Irwin Cotler, Canada's Mr. Human Rights and the founder of the Raoul Wallenberg Centre for Human Rights (of which I am a Senior Fellow), notes that many of these refugees' children "know only one language, Hebrew, and one identity, African Israeli." Cotler reports that "92% of asylum seekers in Israel come from two countries: 73% from Eritrea and 19% from Sudan," both brutal dictatorships.
Yet instead of welcoming these people, Israel slaps a "19% withholding tax, which is as punitive as it is confiscatory," makes it "difficult for asylum seekers to work" and "has prevented access to medical and welfare services."
These policies embarrass Israel and betray Zionism.
These actions are not "based," on what the Declaration of Independence calls "freedom, justice and peace as envisaged by the prophets of Israel."
Israel should offer three options: conversion with automatic citizenship; temporary residency with eventual citizenship; or the $3,500 it's providing with flights elsewhere.
By treating these people properly, with hadar, Israel could be a living laboratory for the West regarding how to integrate refugees constructively.
Let's duplicate schools like South Tel Aviv's Bialik- Rogozin School, which educates more than 1,150 students from 1st to 12th grades, mostly from that immigrant population, producing proud, literate, functional Israelis. Let's fund and spread the Israel Center for Educational Innovation's Whole School Improvement Program which puts books in Ethiopian- Israeli students' hands, making their schools centers of success. And let's encourage more Israeli institutions to mimic the Shalom Hartman Institute which ran the Hartman-Elifelet Refugee Day Care Center for two years, transporting different students, researchers and administrators daily from Jerusalem to Tel Aviv to hug and teach and play with 25 kids aged three to six from 1:30 p.m. to 6:30 p.m., as their parents – pardon the candor – served us.
Let's tap Israel's goodness and creativity – not for anyone else's sake but our own. Good policy makes good politics – and great pr.
Simultaneously, being realistic, the police must crack down on crime in southern Tel Aviv. Crime is manageable – learn from New York, where the murder rate just hit historic lows. Treating the immigrants properly while fighting crime aggressively will make policy-menschlechekit politically palatable.
So, let's call upon MK Benjamin Begin to defend his father's heritage on this issue. Let's call upon President Reuven Rivlin – within constitutional limits – to bring out our best, most welcoming selves. Let's call upon Naftali Bennett to showcase religious Zionism at its finest, bringing the Torah's teachings to life in our land. Let's call upon Moshe Kahlon to take his party's name literally – Kulanu – all of us – and serve all of Israel's "inhabitants" justly. And, finally, let's call upon Netanyahu to stop rabble-rousing on this issue; he's better than that. Expelling 36,000 wannabe Israelis won't just tarnish his reputation – it will poison his soul – and ours.
Gil Troy is the author of The Age of Clinton: America in the 1990s. His forthcoming book, The Zionist Ideas, which updates Arthur Hertzberg's classic work, will be published by The Jewish Publication Society in Spring 2018. Professor Gil Troy is Distinguished Scholar in North American History at McGill University.
This post was published on the now-closed HuffPost Contributor platform. Contributors control their own work and posted freely to our site. If you need to flag this entry as abusive,
send us an email
.