A year ago this week, Stop Street Harassment, Defend Yourself, and the Rape, Abuse & Incest National Network (RAINN) launched a resource in English and Spanish for people who experience street harassment or those concerned about someone else experiencing street harassment: A national hotline, available 24/7.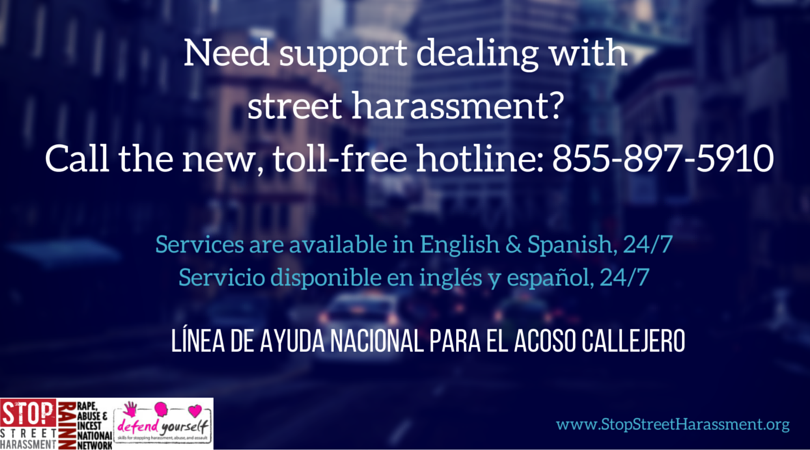 Earlier this month, the acting head of the Office for Civil Rights (OCR) at the U.S. Department of Education, Candice Jackson, made headlines for her dangerous remarks about college sexual assault. Jackson was quoted in The New York Times as saying, "Rather, the accusations — 90 percent of them — fall into the category of, 'We were both drunk, we broke up, and six months later I found myself under a Title IX investigation because she just decided that our last sleeping together was not quite right.'"
These were just the latest damaging statements from an administration that's shown contempt for civil and women's rights. And it's undoubtedly not the last.
In an environment where some may feel more emboldened than ever to harass women, LGBTQ people, and other vulnerable communities — in part because the administration has endorsed it — it's important for resources like these public sexual harassment hotlines to be known.
As Stop Street Harassment noted when the hotline launched last July, "A growing body of research shows that street harassment negatively impacts women emotionally. It can be traumatic for them, especially for survivors of sexual abuse. 'Mild' street harassment can escalate into physical harassment without warning and many women and some men have an underlying fear that verbal harassment will become physical."
While events like the Women's March and subsequent rallies, marches, and protests have lifted many of us up, it only takes one incident of street harassment or sexual violence to quickly, and destructively, tear someone down.
This post was published on the now-closed HuffPost Contributor platform. Contributors control their own work and posted freely to our site. If you need to flag this entry as abusive,
send us an email
.