This thief's incredible apology is simply the best, bar none. 
A porcelain dog, lovingly dubbed "Cecil," was stolen from Sweet Afton Bar and Kitchen in Belfast, Northern Ireland, last week. And while the establishment's staff was devastated at the loss of their porcelain pup, the item was returned on the bar's doorstep with a typed apology note so great, the restaurant couldn't help but forgive the perpetrator. 
"[I was] concerned for their welfare with being in a drinking establishment where they maybe weren't getting the attention they required," the culprit wrote, explaining the reasoning behind the porcelain dog "adoption." "As an animal lover my intentions were always pure ... Please accept my sincere apology for any upset or offense caused by my drunken antics."
The perpetrator mentioned in the note that he or she had had a bit too much to drink that day. After some time passed, the "adoption" didn't seem like such a good idea.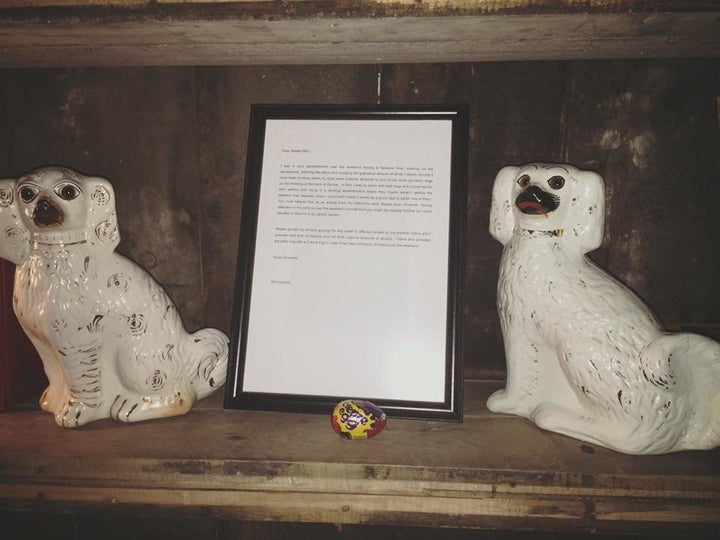 "I was in your establishment over the weekend having a fabulous time, soaking up the atmosphere ... when my eyes were instantly attracted to your lovely white porcelain dogs," the culprit wrote. "Having reflected on my actions over the weekend, I wondered if you might be missing him/her so I have decided to return it to its rightful owners."
The establishment staff was happy to see the dog returned. They explained that Cecil holds a special place in their hearts. A staff member told The Huffington Post that the dogs have been with the bar since its opening this past October and were purchased in a charity shop.
According to a statement from Linen House, the conglomerate to which Sweet Afton belongs, Cederick had been stolen but never returned so the restaurant had to replace it. They were upset to find that Cecil was also kidnapped, especially as they were just getting used to Cederick's replacement. 
"Trepidatiously, the staff began to warm to this new arrival, letting their hearts open again after being so brutally ripped apart by Cederick's disappearance," the statement read. "I'm sure you can understand the sadness felt throughout the building as we realized late Saturday night that our dearest Cecil had been snatched from beneath our noses!"
Thankfully, all is now well and the porcelain buds are back on the shelf.
"Cecil is back to where she belongs and loving life once again!" the statement noted. 
So, in case Biebs was still wondering, this definitively proves it's never too late to say sorry. Especially if you do it in such a perfect way. 
Read the full text of the apology note below. 
Dear Sweet Afton,

I was in your establishment over the weekend having a fabulous time, soaking up the atmosphere, admiring the decor and enjoying the gratuitous amount of shots I clearly shouldn't have been drinking when my eyes were instantly attracted to your lovely white porcelain dogs on the shelving at the back of the bar. In fact, I was so taken with said dogs and concerned for their welfare with being in a drinking establishment where they maybe weren't getting the attention they required, when I convinced myself it would be a good idea to adopt one of them. You must believe that as an animal lover my intentions were always pure. However, having reflected on my actions over the weekend I wondered if you might be missing him/her so I have decided to return it to its rightful owners.

Please accept my sincere apology for any upset or offense caused by my drunken antics and I promise next time I'll behave and not drink copious amounts of alcohol. I have also provided the other dog with a Creme Egg in case it has been pining for its friend over the weekend.

Yours sincerely,

Anonymous
PHOTO GALLERY
Dog Explores Abandoned Places