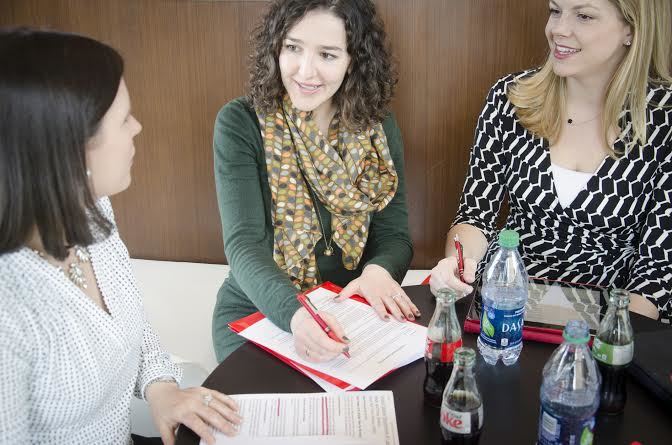 I have known Melina Baetti Vezirian for as long as I can remember given that we grew up together. Both of us participated in any and all extracurricular activities we could possibly partake in. Given that, I was not surprised to learn that after college Melina moved to Paris to further her career, sense of global community and how she could best participate in making the world a better place. In other words, I have always known her to have a cause that she cared deeply about.
I had the pleasure of reconnecting with her a few months back at a mutual friends wedding, where when asked, "what's new with you?" she passionately described an initiative she was working on with the Coca-Cola Millennial Voices team. Even after not seeing her for a number of years, my memory of her and her essence did not fail me.
In April, Coca-Cola announced that they will offer a more enhanced parental leave - for moms, dads, same-sex partners, adoptive and foster parents. I was instantly thrilled for not only Melina and her team members hard work paying off, but also that an initiative such as this one potentially sets a precedence for corporate America culture. As soon as the news broke, I contacted Melina to congratulate her and also to learn more about her experience during the - pun completely intended - birthing process of this initiative.
Heather: Describe your participation with the new Coca-Cola Paid Parental Leave.
Melina: Last summer, I started working with a small group of young women here at Coca-Cola on proposing a Paid Parental Leave Policy for Coca-Cola employees in the U.S. After talking to a lot of our friends and colleagues who had grown their families over the past few years, we saw an opportunity to make our Company a better, more supportive place to work. Over a six month period, we met with senior leadership and crafted a business case for why a policy like this one would be a great investment for our Company - not only in the health and well-being of our people, but also aligned with efforts to make us more competitive in recruiting and retaining the best millennial talent. Our case included everything from bench-marking, proof points, and financial forecasting to recommended timeframe for communication and implementation. We presented our proposal to the CEO of The Coca-Cola Company and his Operating Committee at the end of last year, and it was accepted. After months of planning, we were so excited to share our news! We are most proud of the fact that our new policy is inclusive of ALL parents, regardless of gender or sexual orientation. It also includes moms and dads who become parents through adoption or fostering. We know it is so important for dads to be part of caregiving and we believe it will help with equality in the workplace and the home.
Heather: When you moved back to the States after spending five years in Paris, what European aspects of business did you bring home with you?
Melina: I got my career start working in Paris, and it definitely opened my eyes to other points of view, ways of working, and approaches to problem-solving. While over there I worked at a PR agency in a role where I wore many hats - it didn't really matter if something was "your job"- if it needed to get done, we'd work together to do it. In a corporate setting here in the U.S., there is a bit more of an expectation that everyone should stay in their own lane. That's why this effort around Parental Leave was so different - our small team took on the work in addition to our day jobs, because we were passionate about it and dedicated to getting it done. Thankfully, through Millennial Voices, we were heard and our leadership embraced that ideas can come from anywhere and our case was solid, and a great move for the Company.
Heather: Is there as much emphasis on the millennial generation in Europe as there is here in America?
Melina: I think there is more of an emphasis on the millennial generation here in America, in particular because of the media focus on the segment (and even more so in this election year). I have been back in the U.S. now for four years so that may have changed while I have been gone - in general, there is a much stronger push to engage millennials here in the U.S. - whether that's in the private or the public sector. Get out the vote movements, for example, know they need to connect with millennials to be successful, and companies know that millennials will make up the majority of their workforce in the next five to ten years, so they need to prepare for that.
Heather: In your opinion, how does this initiative fit into the grander landscape of corporate America?
Melina: I think that more and more Companies are realizing that their younger employees are motivated and inspired by the idea of doing well by doing good. They do not have to be separate things, and corporations that harness this and lean into it will keep succeeding into the future. I hope that other big companies (beyond the tech and banking sectors) see that policies that truly support their employees are not only necessary for healthy, productive, and happy employees but also the right thing for their business.
Heather: Knowing you, I know you must have another game changer plan waiting in the wings - now that you have participated in this amazing accomplishment, what's next on your list for bettering the world?
Melina: There is so much I'd like to tackle! Here in the workplace our next step is to look at ways to make the return-to-work period for moms a better and less stressful one. Lactation support, better childcare solutions, and flexible working opportunities all come to mind! Separate from parental leave, I'm really focused on this election year and making sure people (and especially Latinos) get registered to vote and go vote! I just became aware last week of the Voto Latino organization that Rosario Dawson co-founded. As a Latina, I want to help empower women (and men!) to make their voices heard by being civilly active and pushing for change. A great way to start is through voting - but then staying engaged throughout the year on issues that matter, particularly to women and young people. Another easy way is if you see something you can have a say in that you are passionate about, encourage people to take action, like we did at Coca-Cola.
Melina reminded me that it all boils down to what you're passionate about - and taking the action to follow said passion. If that is what millennials are all about, then I'm in.
This post was published on the now-closed HuffPost Contributor platform. Contributors control their own work and posted freely to our site. If you need to flag this entry as abusive,
send us an email
.