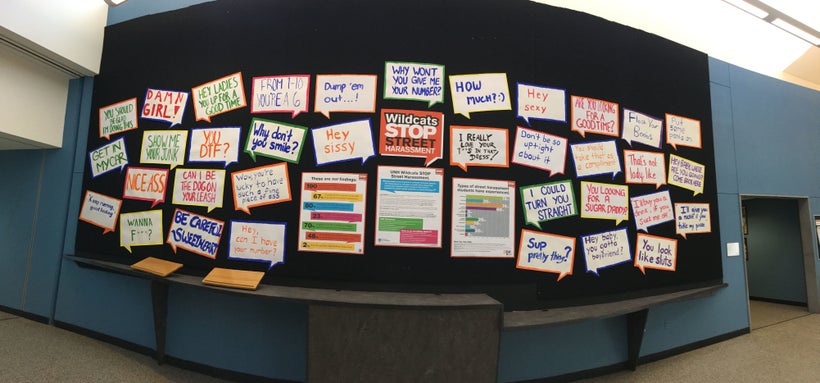 University of New Hampshire freshman Jordyn Haime, a community educator with her school's Sexual Harassment and Rape Prevention Program (SHARPP), experiences street harassment often. And she wanted to do something about it.
"I think I started carrying a pocketknife with me when I was 16, I bought myself a can of pepper spray for my 18th birthday, and my mom bought me a new container of mace before I went off to college," Haime told me via email. "So I think that speaks a lot to what young people are expected to deal with on college campuses or just walking down the street."
Back in December, SHARPP began planning a campaign called "Wildcats STOP Street Harassment" and asked 190 students about their street harassment experiences. The survey found that 67 percent of UNH students had experienced some form of it. While the survey was informal, its findings are consistent with Stop Street Harassment's national report on the issue in June 2014. According to the report, 65 percent of women and 25 percent of men reported experiencing at least one type of street harassment in their lifetime.
SHARPP used actual quotes from UNH students to create a display for the Memorial Union Building (MUB), which SHARPP uses every spring. They ran the idea by MUB, and it was approved. They even adjusted some of the original language to make it more palatable, like changing "hey fag" to "hey sissy" and "nice tits" to "nice boobs."
The project was installed by SHARPP staff on March 17 while Haime was on spring break. Within hours, she received an email telling her it had been dismantled.
"Since the wall was installed during spring break, it is unlikely that a large number of students saw the display. Many people have said that they wish they got to see it for themselves before it was removed," Haime said. "I was very disappointed because of the months of hard work we had put into the project, only for it to be removed before students even had a chance to see it."
Haime said she understood that some students may have been offended, but she said she would encourage them to try to understand the perspectives of students who regularly experience harassment. 
"Imagine those same hurtful comments you see on the wall yelled at you by a stranger, maybe at night, when it is dark outside and you're alone" she said. "I think the appropriate reaction to our display is offense, because those are real things that students experience on this campus all the time. The point of this project was to start a dialogue, and we should be upset that it is happening so that we can try to change it."
A revised version of the display will be going back up, but with quotes that were handpicked by the dean. While Haime is glad the project will be available in some form to raise awareness and provide resources, she said that it "distorts the reality of street harassment and silences survivors who were brave enough to share their stories with us. These are real things that happened to our students, and by censoring a display to fit the way the administration wants these issues to be portrayed, it is not helping the problem at all."
"We have been in and out of meetings with administrators, as well as others on campus who are interested in helping host the original display in other venues," Haime said.
SHARPP has other events planned for Sexual Assault Awareness Month. They're doing a street harassment poster campaign with quotes, statistics, and resources from the original wall display. They're making a video featuring UNH students discussing their street harassment experiences and ways to help stop it. And on April 13, they're hosting their annual anti-violence rally and walk.
The administration silenced her original project. Nevertheless, Jordyn Haime is persisting.
In response to her project's dismantling, Haime wrote an op-ed for UNH's independent student newspaper, which is available here.
This post was published on the now-closed HuffPost Contributor platform. Contributors control their own work and posted freely to our site. If you need to flag this entry as abusive,
send us an email
.