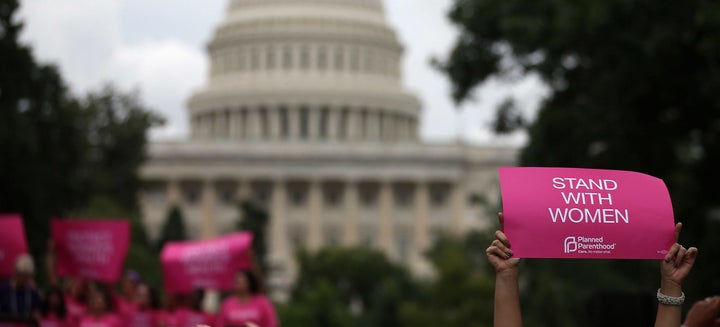 A young woman just made it very clear how she feels about anyone who thinks Planned Parenthood should be shut down.
On Sept. 18, Pittsburgh-native Ambarie Stacey Schiefer posted a photo on Facebook of herself from 2013 in a hospital bed holding her middle finger to the camera.
"The middle finger I proudly hold high here was a preemptive 'f*** you' to any and all who want to make it damn near impossible for someone such as myself, without insurance, to find out that I needed such a surgery and then make it possible for me to get that very important surgery," Schiefer wrote under her picture. 
Schiefer was only 23 years old when she had to get surgery to remove potentially cancerous cells in her cervix, according to her Facebook post. Without insurance, she was worried she wouldn't be able to get the operation she needed. Planned Parenthood helped her get that surgery.  
The post quickly went viral with over 35,000 likes and over 18,000 shares.   
Sadly, Internet trolls quickly found her and started commenting on her post with some absolutely horrible messages. "Truly astounding how many people see a picture of a woman and the words 'Planned Parenthood' and IMMEDIATELY assume 'abortion,'" Schiefer later wrote wrote on Facebook. One person even reported her photo to Facebook for "containing nudity."  
Schiefer did receive a lot of support after posting her picture, describing most of the feedback as "incredible." "So many people have reached out to thank me for sharing my story, and been awesome enough to share their own stories with me," she wrote on Facebook. "It has been truly amazing. So many kind words and good wishes... We are not alone as long we don't choose to be alone."
We stand with you, Ambarie, and Planned Parenthood. 
PHOTO GALLERY
Women Who Changed Our Health