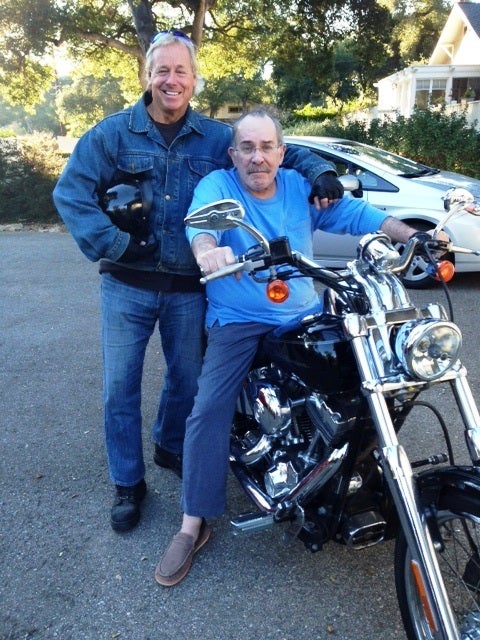 The world lost a great author last week, I lost a good friend, and life goes on. I met Thom Steinbeck fifteen years ago as a consequence of working with his wife Gail on issues affecting artists' rights. Over time he and my two young sons also became acquainted and thus began a quasi-familial relationship that saw us weather the stresses and strains of life in the twenty-first century.
My sons are grown now and a continent away, I have written two books and numerous political commentaries that we shared on contemporary events, and Gail assiduously pursues her passion to ensure that artists' rights are protected. Thom had been sick for some time and his condition steadily worsened over the years. Finally, mercifully he has now gone to the other side where if there is justice in the universe he can share stories with his famous father.
It is a mystery in life why some folks naturally are attracted to or befriend others but for some reason Thom was interested in my writings and took a particular interest in the lives of my two sons. I did not know his father, of course, but I am told that not only did he resemble him in appearance but had a special knack for taking the oftentimes peculiar happenstances that occur in life and weaving stories that were not just interesting but prophetic in much the same way as his dad did.
My boys and I were lucky and honored to be on the receiving end of many of those stories and I took particular delight in his attitude towards and reflections upon contemporary and historical political events. He was haunted by his experiences in Vietnam and their darkness remained with him throughout his life.  They also helped shape a healthy dose of cynicism about political developments in the second half of the last century and the first decade and a half of the current one.
We did not talk much these past few years but we did have deep conversations on occasion and what I found most interesting was his appreciation for placing things into historical perspective. It was obvious that not only had he spent considerable time delving into the written words of others but also took great pains to incorporate into his thoughts and opinions the life experiences that he had also witnessed. Blending history with personal experience and observation is an essential precondition for thoughtful perspective.
His cynicism was not of the nature that all was lost as much as it was that we needed to be very cautious so as not to inevitably fall into hopelessness. Despite his blunt observations and gruff dismissal of opinions he did not agree with Thom was a thinker and God knows we need more of them. Like all of us he had his demons and he wrestled with them in an effort not so much to conquer but to coexist with them. It struck me that he was always seeking to make sense out of a world where quite often little sense could be divined, but it did not stop him from trying.
I will miss our discussions but I am sadder yet for the fact that my sons will not have the benefit from engaging further with a mentor who had much to offer. Coming from me it just is not the same, ask any son or daughter.
Too often we tritely comment upon the preciousness and precariousness of life when one passes. We once again commit to renewing a pledge to ourselves to live each day to its fullest and then lapse into the comfort of planning a life that might be.  And in a flash time disappears, projects sit idle, and commitments remain unfulfilled.
But there are experiences and moments that can never be dismissed or forgotten and those memories remain deeply entrenched in our minds. One of the last acts of kindness that Thom afforded me was to offer a testimonial on the cover of my recent novel, Fracktured, that will forever be enshrined on every copy that is either published and/or sold. Knowing my fondness for Upton Sinclair, muckraker extraordinaire from the early 20th century he penned the following:  
"Not unlike Upton Sinclair, Lance Simmens has created a work of fiction based upon the factual dark side of American politics. If Mr. Simmens intent is to push policy changes that may at the very least give the human species a chance of surviving just a little bit longer this book should awaken the moral conscience of a society mired in dysfunction." 
Thank you my friend, I hope you have found peace on the other side. We will miss you here but hopefully your spirit will live on in the words of friends and acquaintances, but just as importantly among authors you never met but influenced.
This post was published on the now-closed HuffPost Contributor platform. Contributors control their own work and posted freely to our site. If you need to flag this entry as abusive,
send us an email
.