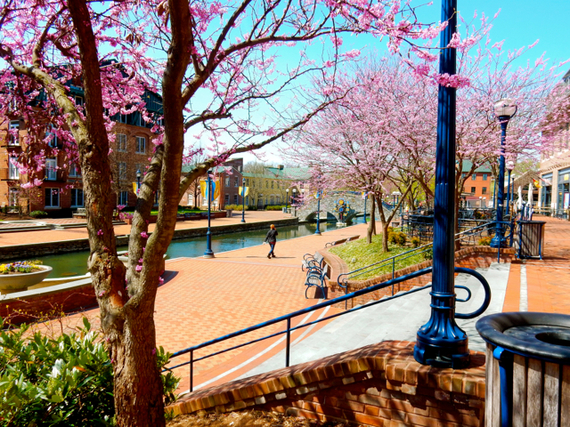 Time crunch and airport hassles have changed the face of travel. Rare is the person who has weeks to wander in a foreign land. We want to jump in the car, drive a few hours and be somewhere new, transportive, romantic, and perhaps a bit oddball, for just a couple of days. Max.
The Getaway Mavens continue to find the "Best Offbeat Escapes in the Northeast" - within a few hours drive of major cities on the East Coast. Here are three in Maryland, a US State that might be small in size, but is certainly big in history, food and the arts.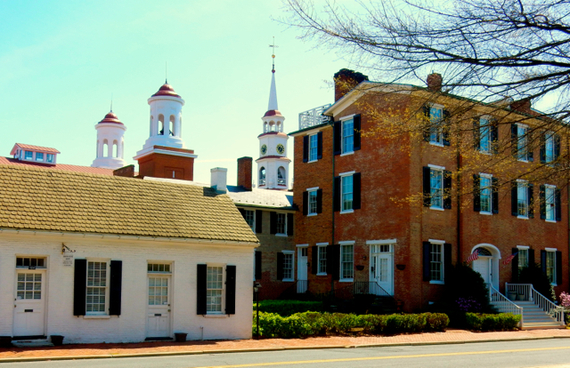 Maryland's second largest city (after Baltimore), Frederick MD, is perfect for a romantic weekend. Eminently walkable, Frederick's stunning canal-side esplanade swarms with locals on balmy days and nights, downtown is stocked with adorable boutiques and restaurants, and it's home to the best Museum of Civil War Medicine in the world. Begin at the excellent new Visitor's Center and then wander.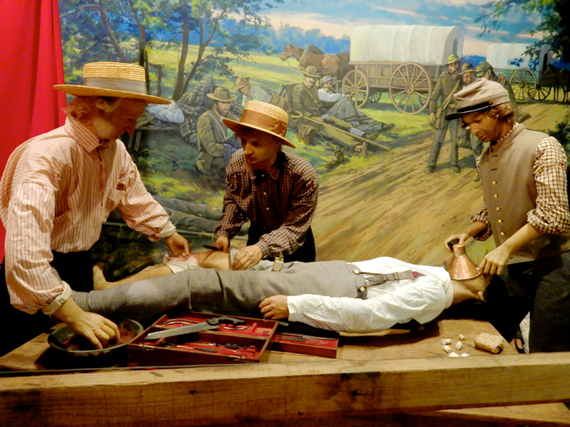 Major Draw: Frederick is best known for the engaging Museum of Civil War Medicine. During the Civil War, Frederick served as a large medical facility located at the center of Antietam, Gettysburg and Washington DC. Fans of the new PBS show, Mercy Street. will already be aware of some of the myths that this terrific museum dispels, such as the mistaken belief that there was no surgical anesthesia during that time. (In fact, doctors used chloroform and ether to knock out patients by the mid 1800's).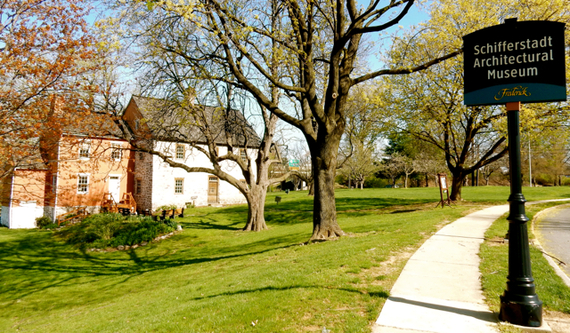 Offbeat Draw: Schifferstadt Architectural Museum. Built by Elias Brunner in 1758, this structure became a tenant farmhouse and was never updated or restored. So, unlike many continuously lived-in homes of that time, this one, left to seed, was ironically "preserved by neglect" and remains a study in how German homes were constructed in the mid 1700's. So, you'll see how wooden beams were joined through cutouts in two-foot thick sandstone walls, and original brickwork, doors and hardware - a perfect attraction for structural engineers and architects.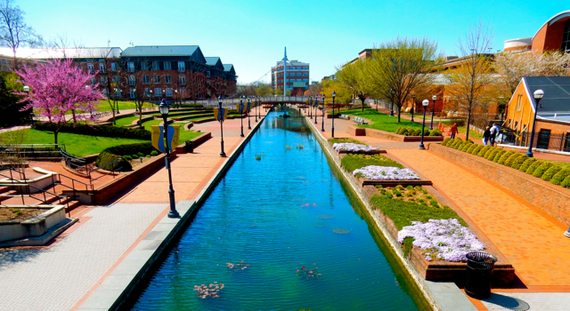 Pretty Space: Carroll Creek Linear Park. Can't get to Venice? This one-mile canal-walk, ribbed with stone and iron pedestrian bridges, will get you there - in mind at least. The "Community Bridge," a trompe l'oiel masterpiece, is the centerpiece of this marvelous downtown park, with several other ornate wrought iron bridges over a free-flowing canal, landscaped with Cherry Blossom trees, lily-pads and other colorful blooms.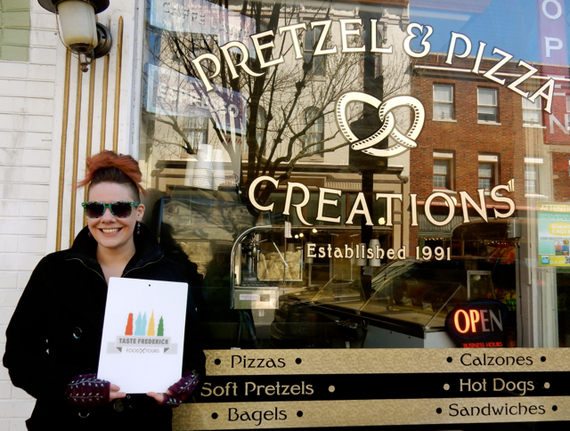 Best Tour: Taste Frederick Food Tour. This 3-hour history-food walking tour provides the perfect overview of a little city on the move. With tastes at six restaurants/markets and visits to Carroll Creek Park and other historic venues, this tour is perfect if you've got only a few hours to spare. You'll meet your guide (mine was the bubbly novelist, Jessica McHugh) at Pretzel & Pizza, and then head to other great eateries in town. You'll learn about Carroll Creek Park, the Theater District (the beautifully restored Weinberg Center for the Arts), pause in front of Town Hall to capture a photo of "The Clustered Spires" of Frederick's churches mentioned in John Whittier's poem, and stop at the "Spite House," erected solely to halt the construction of a city road on private property.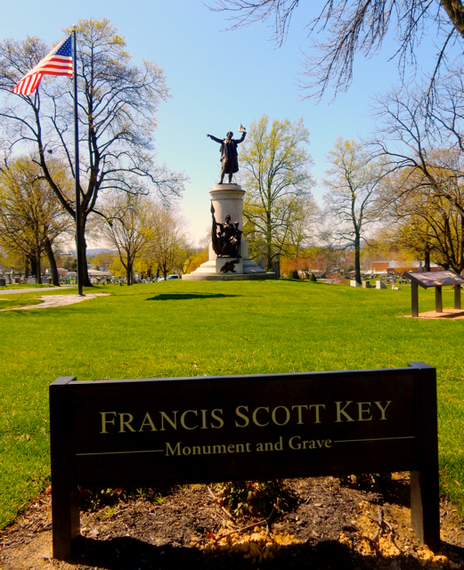 Notable Frederick Resident: Francis Scott Key might have penned the famous Star Spangled Banner 50 miles away in Baltimore, but he is buried here in Mount Olivet Cemetery. A monument to Key is front and center at this final resting place for Key and 34,000 others, including a whole host of soldiers buried in Confederate Row.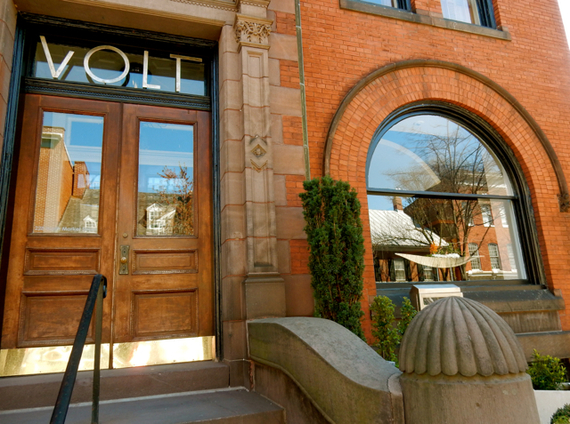 Celebrity Chef Restaurant: Volt. Bryan Voltaggio's hot spot, this is the restaurant that put Frederick MD on the culinary map. You can also choose from among 40 other restaurants. Every local seems to have his or her own favorite.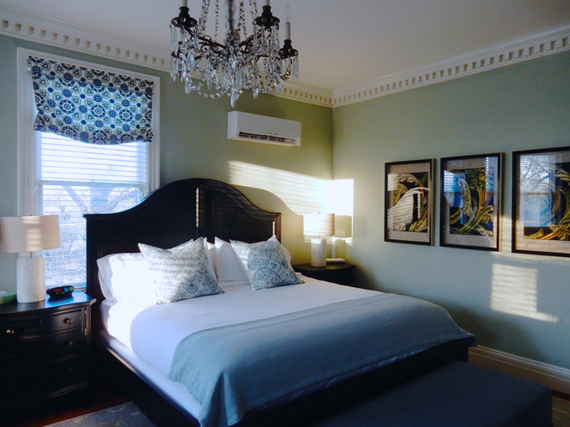 Stay: Frederick Inn B&B. It's 4 miles away, in Buckeystown (and in fact, was formerly the Inn @ Buckeystown), but very much worth the 10-minute drive. Owned by the exuberant and warm Pat and Kirk Horstman, this 1897 mansion on a hill was completely renovated by Frederick's Tuscan Blue Design and reopened as The Frederick Inn B&B in August 2015. Public areas are uncluttered and elegant, wood floors burnished to a gleam, and rooms, capped with small crystal chandlers, are chic and stunning.
Once a wealthy mill town, Old Ellicott City has been reborn as a unique shopping and restaurant district. Independently owned stores carry funky "upcycled" merchandise, locally designed apparel, and items you won't find anywhere else. Ellicott City also features the oldest B&O Railway Station (now a museum), the ruins of an elite pre-Civil War era girls school, a great old-fashioned French Restaurant and, in the bordering town of Columbia, one of architect Frank Gehry's earliest designs. Begin at the Howard County Visitor's Center - in the old Ellicott City Post Office - for info and a small gift.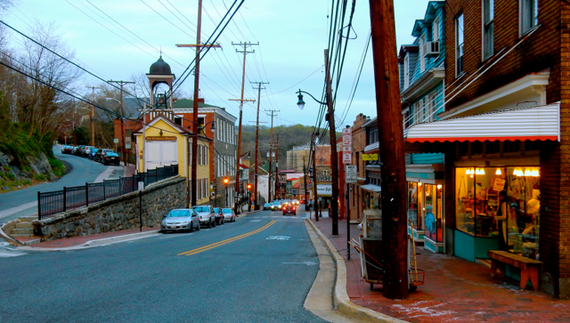 Major Draw: Shops on Main Street. Among the dozens of fantastic establishments, be sure to stop into Journey From Junk, for vintage and upcycled clothing and furnishings, Sweet Elizabeth Jane (in the former Caplan's Department Store),for innovative housewares, soaps, clothing, pillows, and tools you never knew existed, Cotton Duck Art and Apparel, for owner-designed graphic t-shirts, and the Wind River Outlet. Yes, the owner/founder of Wind River lives right here in Ellicott City. A little known secret, most items in the store are $5 and $10.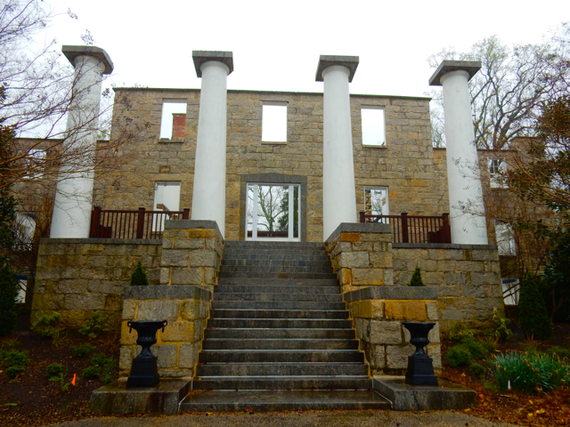 Offbeat Draw: Patapsco Female Institute. Now just stabilized ruins, this 1837 finishing school for girls ages 12-18 sat majestically atop a hill overlooking the mill town below. With a concentration on the sciences (mostly Botany), Patapsco was progressive for the early 1800's, but though the school's demise and physical deterioration could be documented over time, much of the building's use and history remains a mystery. There are some documents and at least one student journal discovered recently, providing glimpses into the ruin's first iteration as a Girls School, but for the most part, tour guides and historians can only surmise about the day-to-day life here. (Calling all those with ancestors who attended this school: if you find notes and letters that they were required to send home stashed among old papers, please contact the Howard County Historical Society post haste!).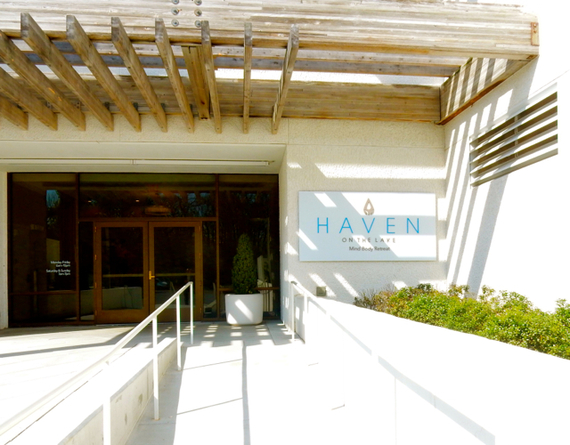 Celebrity Architect/Developer: Bordering Ellicott City, Columbia MD is a "Planned Community," conceived by local developer James Rouse in the early 1960's. Rouse went on to develop Faneuil Hall in Boston, Harborplace in Baltimore and South St. Seaport in NYC among other major complexes, but this town served as his headquarters. Rouse hired a young, as yet unproven architect, Frank Gehry, to construct his main office building, and the structure - more Frank Lloyd Wright rectangular than Gehry's signature deconstructed curves - now houses a fantastic Day Spa/Aquatherapy Center, Haven on the Lake, and a Whole Foods.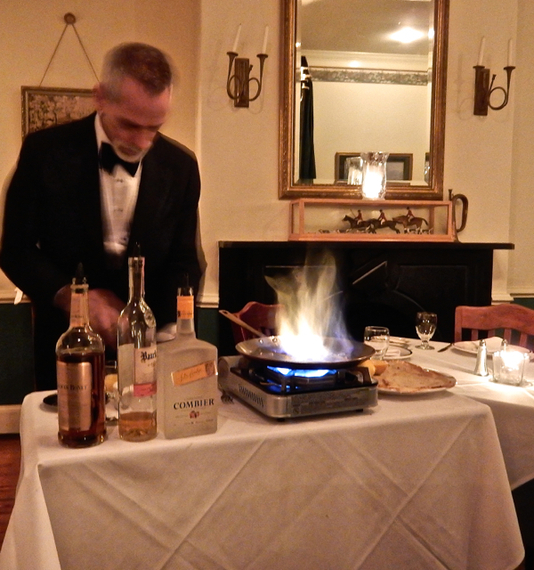 Landmark Restaurant: Tersiguel's. Imbued with French Country elegance, Tersiguel's has been Ellicott City's consummate fine dining restaurant for 40 years. Mastery of classic French cuisine is but one reason that Tersiguel has been in business so long. A close second is the restaurant's Old World vibe and tableside food prep, pre-dating "open kitchens" and bringing service down to the most intimate. If you're lucky, you'll get Charlie as your waiter/tableside chef - astute in wine and Crepes Suzette (a must dessert). You can order classics like Escargot de Bourguignon ($10) and Coquille St. Jacques ($36), but unless you're vegetarian, opt for a meat dish, which is cooked and carved tableside. And don't forget to leave room for those Crepes.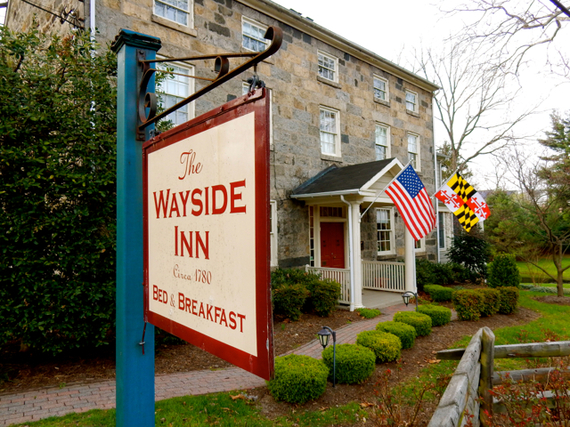 Stay: The Wayside Inn. You'll know you've arrived at Wayside Inn as soon as you see it. On a busy road lined with modest homes, this stately 1780 stone home, renovated in the late 1990's, stands out, as does the greeting you get from owner Dave Balderson as soon as you walk through the door. The host's warm and high-spirited demeanor is just as much a reason to visit as is the inn's location (two miles from Historic Ellicott City) and its lovely interior. Common rooms are Federalist-chic, with upholstered wingback chairs in plaid prints, wooden spindle seats, and floral rugs. The original staircase bears the mark of centuries; its narrow steps bowed and worn from over 200 years of use. If only these floorboards could talk.
Though National Harbor MD is confusingly named (ten miles from downtown Washington DC on the Potomac River, it is nowhere near the open water), it is a playground-suburb of our National Capital and a huge hit with families and young couples. Established in 2008 from a 300-acre abandoned 1800's plantation, National Harbor consists of several square blocks filled with shops (Peeps, Pepper Palace, Build A Bear, Harley Davidson, and the like), restaurants, nightclubs, apartments, condos, hotels, and recreational opportunities, like SUP's, kayaks, canoes, paddleboats, and walking paths.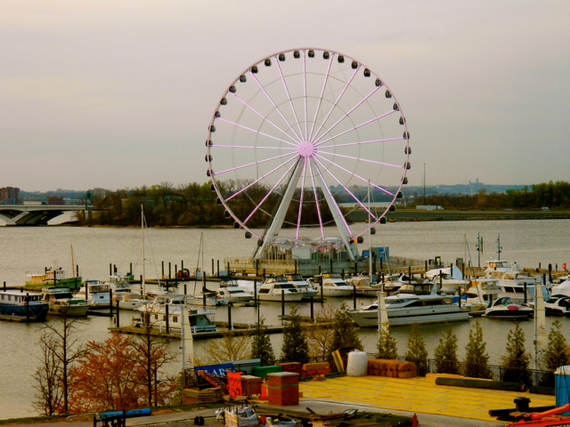 Major Draw: The Capital Wheel, National Harbor's signature Ferris Wheel is a gentle way to get a bird's eye view of the Capital Region. And new for 2016, the kids-favorite Baltimore Pirate Ship, Urban Pirates, is coming to National Harbor.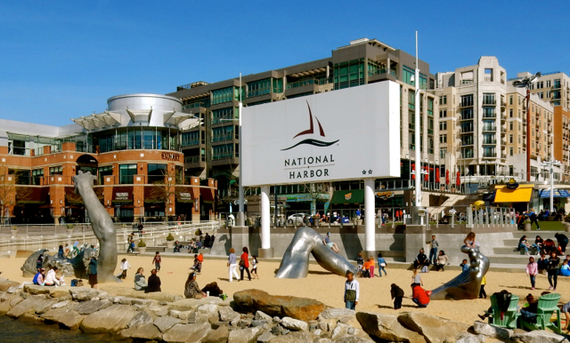 Offbeat Draw: The Awakening. Climb all over a massive sculpted man, head, arms and legs emerging from the sand on National Harbor's only beach.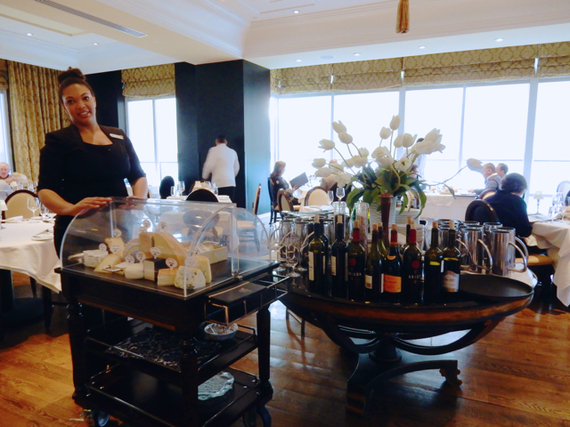 Landmark Restaurant: Old Hickory Steakhouse in Gaylord National Resort. Andrew Jackson, nicknamed "Old Hickory," was known for throwing White House parties featuring big wheels of cheese. In fact, your meal begins with a visit from the Maitre D'Fromage, aka "The Cheese Diva," who helps you choose several to try either before or after the main course. Be prepared to settle in for a phenomenal dry-aged steak or other dish in a room imbued with Southern charm, a surprisingly intimate place in this massive resort hotel.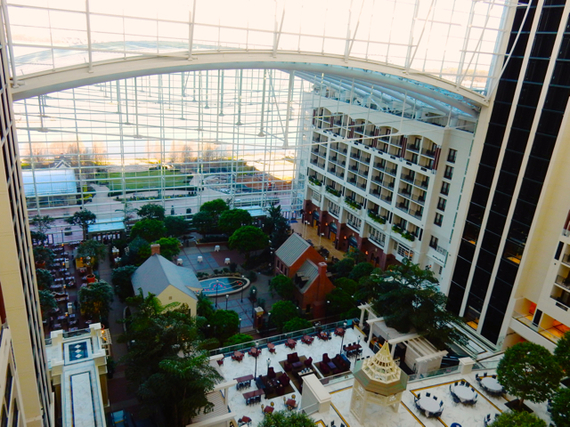 Stay: Gaylord National Resort is a city under glass, and perfect for those who want to eat, shop and recreate without leaving the premises. Rooms are newly refreshed and traditionally elegant. For those who'd like smaller and more contemporary accommodations, stay at the brand new AC Hotel. Neutral woodsy colors offset by shimmery golds, communal tables, Mac computers, rooms with hardwood floors, lots of modern art and guest laundry - AC is the modern-quiet yin to Gaylord's traditional exciting yang.