Historic Fredericksburg, Virginia is a slice of southern Americana 50 miles SW of Washington D.C. With a location exactly halfway between Richmond and the Capital, it's a little secret waiting to be discovered.
For anyone wanting to do more than merely scratch the surface during a weekend getaway, a plethora of historic and cultural sites dot the landscape in this steeped-in-history civil war region. A couple of days is a good start, but realistically, it would take a solid week to even make a dent.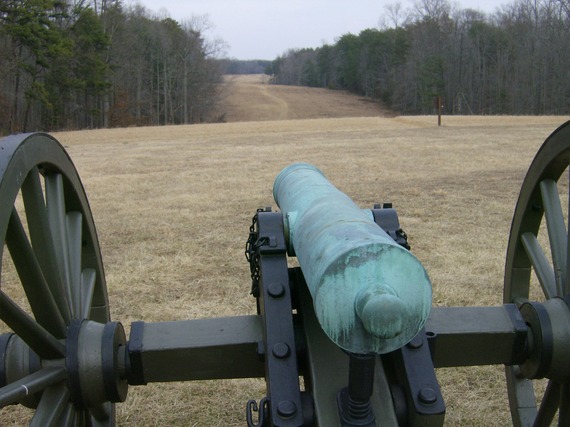 Take a tour of the battlefields and historic civil war sites with Hallowed Ground Tours
Due to the location between the capitals of the Union and Confederacy, Fredericksburg was dubbed the "crossroads of the Civil War," and this year marks the 150th anniversary. Located in town, Fredericksburg Battlefield (December 11-15, 1862) focused on the Stone Wall at Marye's Heights and was Lee's most one-sided victory. It ranks among the foremost landmarks in American Military history. After the war, 12 acres on Marye's Heights were set aside as a national cemetery for the 15,000 who perished in this area fighting for the union.
Willie's Room is upstairs on the right. To the left is the sitting room-Photo Credit: Andi Gabler
Check-in: Pull your car up to Schooler House , a lovingly restored Victorian B&B built in 1891. Located on Caroline Street, the two-story chrysanthemum-colored home with contrasting olive trim has two upstairs guestrooms, a downstairs parlor and dining room. Owner, Andi Gabler, and her husband, Paul, will extend a warm welcome, inviting you into their home decked-out in period antiques.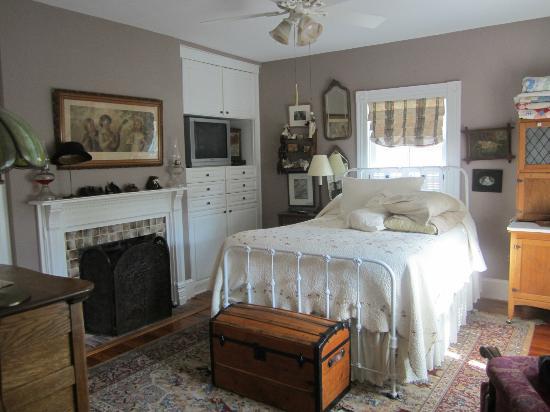 Willie's Room-Photo Credit: Andi Gabler
Stay in Willie's Room, named for Willametta Schooler, who inherited the house after her mother Mary's death in 1903. At the time, Willie operated a school in town on Hanover Street. In 1913, Willie closed the school, sold the house, got married and moved to Richmond.
The bright and airy room with gas fireplace, built-in closets and drawers overlooks Caroline Street. Take a peek out the window and spy on Rising Sun Tavern, built by George Washington's younger brother Charles around 1760. It was his home, and in 1762, became the only "proper" tavern in the bustling port of Fredericksburg. Pencil-in the costumed interpreter tour about 18th century tavern life on your must-do list.
You might have to use the step stool to climb into bed. Gabler discovered the wrought iron bed during her antiquing days in the '90s.
"The wrought iron beds in both guestrooms would have been made in the 1800's and I'd like to think Mary Schooler had them in her home," she said. "They are period pieces and allow for an open feel in the rooms."
Don't forget to bring a good book to curl up with in Willie's sitting room. You might be surprised to see the unexpected bonus room after passing through the modern bath. Gabler explained that the sitting room was most likely the summer sleeping porch.
"The bathroom would have been the trunk room with a door coming down the hallway. We believe the sleeping porch was enclosed in 1900, when the kitchen was added to the house," she said, a collection of mirrors decking Willie's walls. "The mirrors in Willie's sitting room are from the 1930s. I just really liked the look and thought they were fun."
A collection of black & white turn of the 20th century photos decorate the staircase wall. Andi found the photos at the Fredericksburg Heritage Center.
"It's a wonderful repository where people can donate all types of items relating to Fredericksburg," she said. "The organization does an amazing job cataloging ordinary items that can be treasures for those of us looking for the history of our homes and surroundings"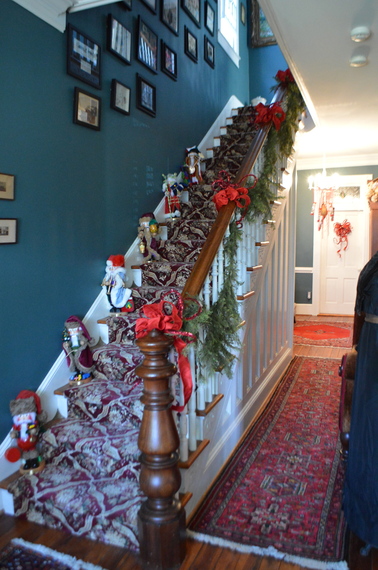 The original staircase at The Schooler House-Photo Credit: Andi Gabler
The photos on the wall were taken in 1900, 1901, 1907 and 1908.
"In 1892, Willie placed a notice in the Free Lance paper," she said. "It stated that she was starting a female school, however, there are boys in the photos. I am assuming she expanded to include boys."
The walled-in patio behind The Schooler House-Photo Credit: Andi Gabler
Go Sightseeing: For a historical overview of Fredericksburg, take a well-paced and seemless 75-minute narrated trolley tour. The trolley departs from the visitor center on Caroline Street and will take you to the famous Sunken Road, historic homes and 35 monuments, markers and attractions (pick up a downtown walking map at the visitor center).
Day 2: Wake up to sizzling bacon, homemade scones, poached pears in Chambord, overnight French toast made with thickly sliced Panera Country Miche bread or a hearty breakfast with sunny side up eggs nestled in hash browns and accompanied with sausage links. Andi will wait on you hand and foot, serving addictive Cuban coffee. The fireplace mantle deserves a second look.
"It's an Eastlake architectural and household design that was started by Charles Eastlake during the Victorian period," she said.
Afterwards, arrange a private and in-depth tour with Scott Walker of Hallowed Ground Tours. He'll meet you at Schooler House and take you on a personalized tour in your car. Scott started HG Tours after he retired from education.
"I started it as the sole guide and now have six tour guide extraordinaires. If you have only a one-day shot here I suggest a combo of Chatham and the Stonewall-Marye's Heights-Sunken Road area of the Fredericksburg battlefield," he said. "Remember there were four major Civil War battles here: Fredericksburg (1862), Chancellorsville (1863), the Wilderness (1864), and Spotsylvania Court House (1864)."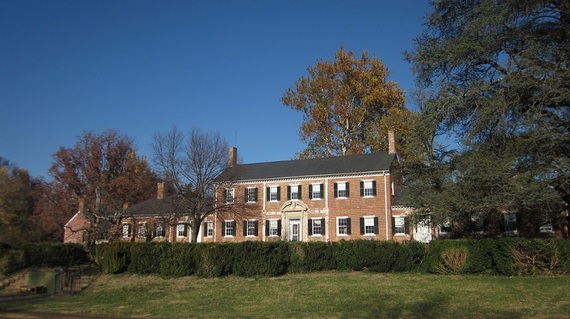 Chatham-Photo Credit: www.friendsofchatham.org
Chatham, a Georgian-style mansion built in 1768, is a stone's throw away from Fredericksburg. Sitting on a bluff on the other side of the Rappahannock, the stately brick home is best-known for the role it played during the Civil War. It served as Union headquarters during the battle of Fredericksburg and also served as a hospital; Clara Barton and Walt Whitman joined in the treatment of hundreds of wounded soldiers. Federal troops trashed the property, ripping out the paneling to use as firewood. Anything they could carry away, they grabbed when they rode their horses through the mansion. The home was restored to its original elegance, but by 1900, the estate had shrunk from 1,288 acres to a mere 30. In 1975, the last private owner, John Lee Pratt, died and willed the property to the National Park Service. Plan a trip in the spring to see the gardens designed in the 1920s by America's foremost woman landscape architect, Ellen Biddle Shipman.
Dinner: Locals and out-of-towners looking for a casual farm-to-table dining spot will find Foode to be right up their brick alley way. It's small, busy and serves up fresh food focusing on products grown and harvested in the region. If you ask Scott Walker which restaurant is his favorite, he'll point it out on his tour. In the center of town, on William Street, is Ristorante Renato.
"The Fettuccini Alfredo is great, the Oysters Rockefeller are fabulous, and the flaming coffee dessert--Café Diablo--is a slammer."
The entrance to FOODE-Photo Credit: www.foodeonline.com
Day 3: Walk off your B&B breakfast. Exit Schooler House through the front wrought iron gate and walk down Caroline Street to the center of town. Spend the morning exploring more than 100 boutiques, antique shops, art galleries and studios. You'll pass some of the 350 original 18th and 19th century buildings in the 40-block national Historic District. For an Italian lunch, stop in Castiglias on William Street. Sit by the window or in warm weather, outdoors. It's a casual, friendly, family-owned restaurant serving everything from pizza and pasta to salads and subs. It won't disappoint.
After lunch, hop in the car, drive across the river to Falmouth, and visit Gari Melchers home and art studio at Belmont. Melchers was a prominent and prolific American impressionist artist at the turn of the 20th century. His exceptional art studio has four art galleries with rotating exhibits of Gari Melchers' work. A visit to Fredericksburg isn't complete without a visit here.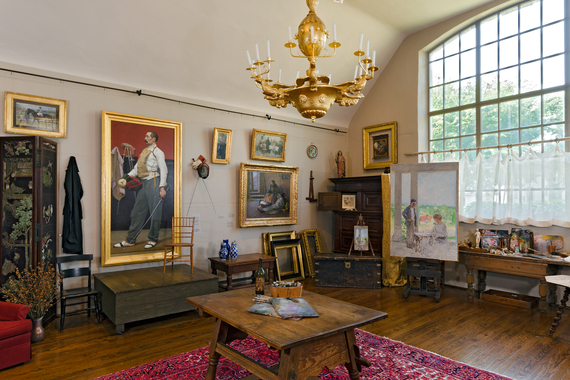 Gari Melcers art studio at Belmont
Day 4: Check out and before leaving Fredericksburg, visit George Washington's boyhood farm, Ferry Farm. Allow 45 minutes to take the self-guided tour. The property includes the site of Washington's house and seasonal archaeology digs (admission is free).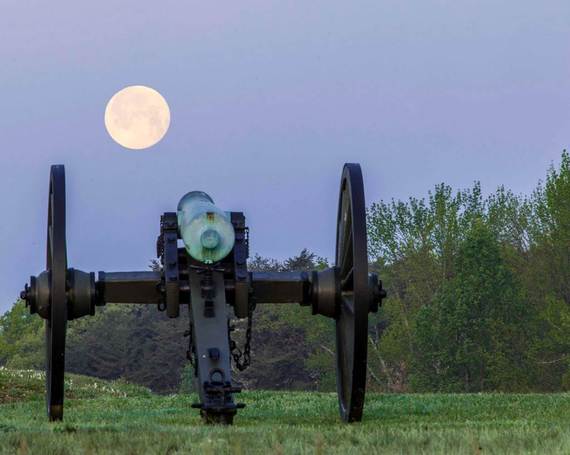 Photo Credit: Buddy Secor