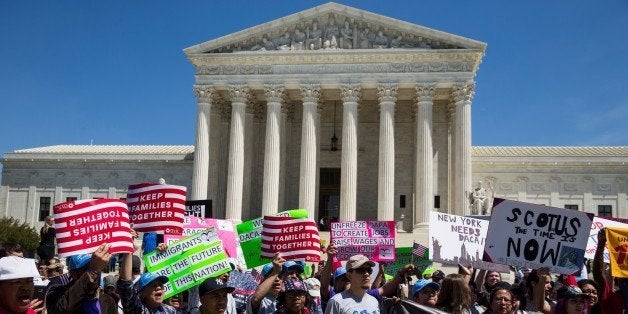 On April 18, the U.S. Supreme Court heard oral arguments in U.S. v. Texas, a case that will determine the fate of Deferred Action for Parents of Americans and Lawful Permanent Residents (DAPA) and the expansions to Deferred Action for Childhood Arrivals (DACA+), the Executive Actions announced by President Obama in 2014. DAPA and DACA+ would provide relief to an estimated five million undocumented people over whom antiquated immigration laws have cast shadows of illegitimacy and exclusion.

Centro Legal de la Raza was present at the Supreme Court in Washington, D.C. to represent Centro Legal in joining our voices with those of immigrants and allies from across the country, calling on the eight Justices to get on the right side of history. But also to reaffirm our commitment to fighting for reform from the bottom-up -- from every corner of our powerful work in Oakland, California.

Argued today were issues of standing and the grant of lawful presence and work permits to those eligible through the President's Deferred Action policies. The Justices asked probing questions that brought to light several points that support the constitutionality of the President's Executive Actions. Centro Legal is hopeful that today's oral arguments will result in long-anticipated reprieve for our communities. In the mean time, we will continue our active pursuit of freedom for the families that we serve daily.

Centro Legal knows that injustice in immigrant communities exists beyond the injunction on DAPA and DACA+. Today, anti-immigrant bigotry lives in local agreements that create fast-tracked pipelines to deportation and in ICE's cruel Christmas Eve rumors of raids on refugee families. It thrives in the prolonged detention of displaced asylum seekers in prison-like facilities. We are reminded of how pervasive it is when viable Oval Office hopefuls advocate for the murder of Mexicans at worse and the construction of impenetrable border walls at best.

While we continue to prepare and push for the implementation of DAPA and DACA+, we will also continue advocating for humane local, statewide, and federal legislation. We will continue to work day in and day out to release individuals from detention, to defend against deportations in court, and to reject local policies that criminalize our communities in our continue demand for freedom for our families.

Centro Legal was present at the U.S. Supreme Court during today's oral arguments to bear witness as we continue to cultivate, in the courts and in the community, the many paths towards the liberation of our immigrant brothers and sisters.