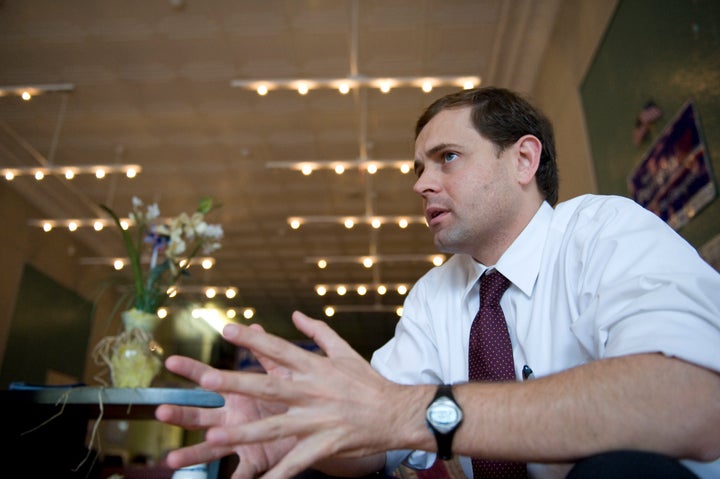 Former Rep. Tom Perriello (D-Va.) is considering running for Virginia governor, the New York Times reported Wednesday. Sources confirmed that report to The Huffington Post.
Virginia's gubernatorial race is likely to be the most closely watched of the 2017 cycle. While Democrats have won the governorship the last three out of four elections and currently hold both of the state's U.S. Senate seats, Republicans are eager to swing the state back to the GOP.
By entering the race, Perriello, a progressive Democrat, would end outgoing Gov. Terry McAuliffe's hopes for an uncontentious primary ahead of what's likely to be a close general election battle. Like most high-profile Democrats in the state, McAuliffe has backed Lt. Gov. Ralph Northam, who announced his candidacy more than a year ago. No other Democrats have jumped in the race. 
The Republican side, meanwhile, is already crowded, with four candidates currently vying for the nomination. They include former RNC chairman Ed Gillespie and Donald Trump ally Corey Stewart. 
Perriello was elected to Congress in 2008, and quickly became an ally of then-newly elected President Barack Obama. Despite representing a conservative-leaning district, Perriello voted in favor of Obama's stimulus package, as well as the Affordable Care Act. He also defended those votes at home, despite the occasionally hostile responses from his constituents. The president returned the favor by campaigning alongside him during his 2010 re-election bid ― the only campaign stop Obama made for a House member that cycle. 
Despite the presidential boost, Perriello lost that campaign to Republican state Sen. Robert Hurt. However, the race was remarkably close, particularly considering that many of Perriello's Democratic colleagues lost by landslides in the tea party wave of that year. He later landed a job in the Obama administration serving as the State Department's special envoy for the Great Lakes region of Africa.  
Ryan Grim contributed reporting.