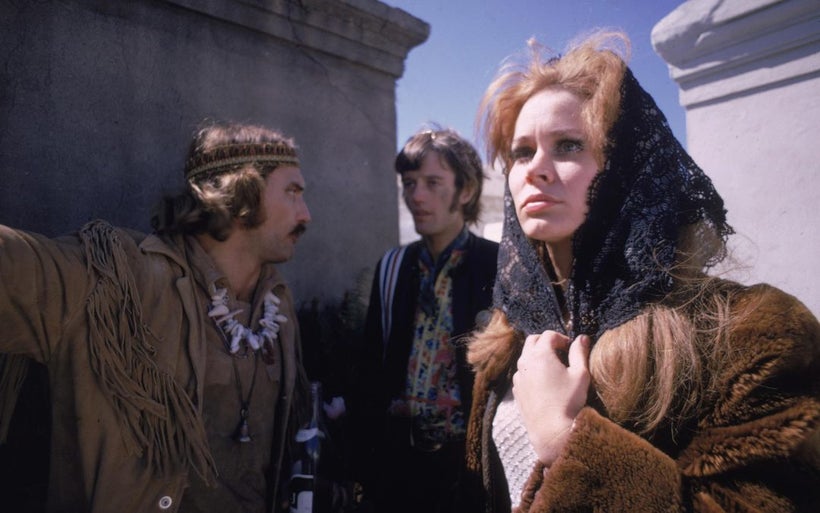 A NOLA-themed movie list wouldn't be complete without this one. Starring Vivien Leigh opposite Marlon Brando, this adaption of Tennessee William's play showcases some of Brando's best acting work. The Desire streetcar line once ran from the French Quarter down to its namesake street in the Bywater district, but the line was converted to a bus route in 1948.
This Dennis Hopper biker film has become synonymous with 1960s counter culture. In the film, Captain America (played by Peter Fonda) and Billy (Hopper's character) begin their epic ride in Los Angeles, with their sights set on New Orleans, where they hope to be in time for Mardi Gras. The movie features a famous scene of Peter Fonda in St. Louis Cemetery… tripping on acid. 
A quintessential 1980s crime thriller slash sultry drama. Dennis Quaid plays a young homicide detective who has eyes for Ellen Barkin, a sexy district attorney. The chemistry between the two is hot enough to distract viewers from Quaid's terrible cajun accent.
This flick remains controversial for its nude scenes featuring Brooke Shields, who was only 12 years old during filming. Set in the early 20th century, Shields plays a child prostitute growing up in Storyville, New Orleans' red light district.
In order to finish filming, Elvis Presley was able to defer his army conscription for 60 days before heeding his country's call. According to the King himself, this was the favorite film he made.
This adaption of John Grisham's legal/political thriller stars Julia Roberts and Denzel Washington. Roberts plays a Tulane Law School student whose theory about the murders of two Supreme Court Justices gets a little press with some help from Denzel Washington, a local news reporter.
In this odd-yet-classic screwball mystery, Joel McCrea portrays a newlywed who leaves his riverboat community in Pecan Point, Tennessee, to search for his runaway wife (played by Barbara Stanwyck) in New Orleans.
In this film, Mark Walhberg loses his innocence and gets caught up in municipal corruption. Sure, the script is mediocre and the plot is kind of predictable. The movie has redeeming factors, though, mostly in the form of star power. Catherine Zeta-Jones and Russell Crowe hold their own and well-shot exteriors of the Four Winds building in New Orleans' Central Business District add aesthetic value to the narrative.
Jamie Foxx delivered a phenomenal performance as American soul music giant Ray Charles in this biopic. Foxx accepted his 2004 Oscar just a few months following Charles' death at the age of 73.
Louis Armstrong. Billie Holiday. A fine, fine film. The title alone says it all.
This post was published on the now-closed HuffPost Contributor platform. Contributors control their own work and posted freely to our site. If you need to flag this entry as abusive,
send us an email
.