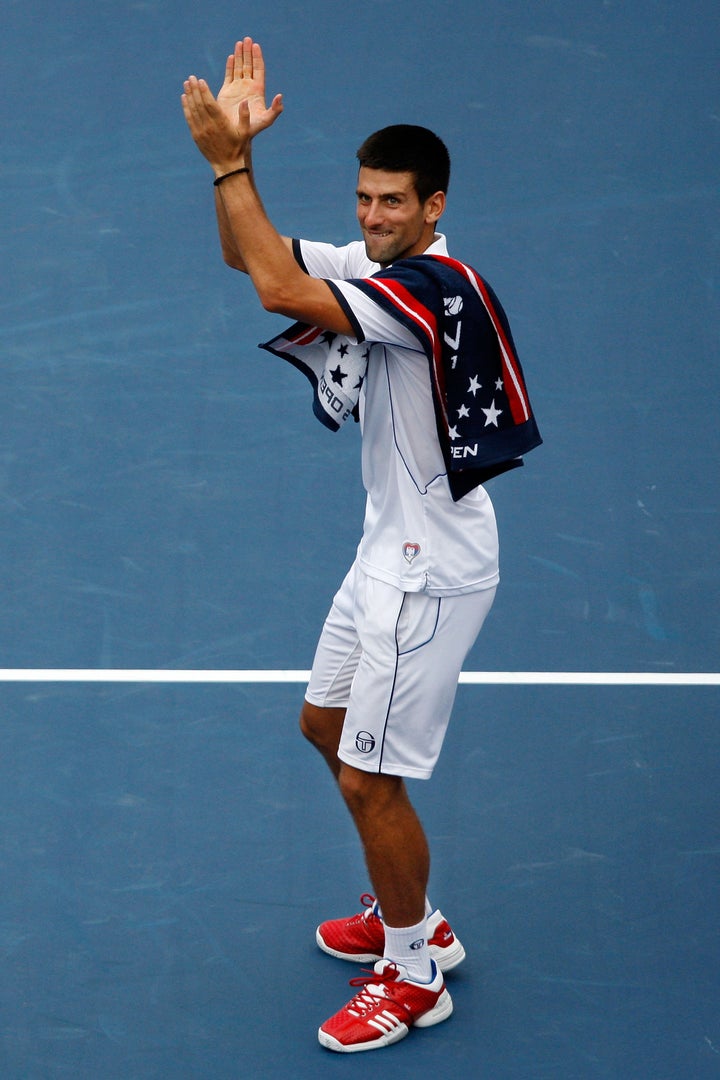 Happy Tuesday everyone, here's my Top 5 for September 13, 2011 from Len Berman at www.ThatsSports.com
1. Quick Hits
Novak Djokovic wins the U.S. Open in 4 sets over Rafael Nadal. Djokovic won 3 majors this year, all except the French Open.
Monday night football: The New England Patriots beat Miami 38-24 as quarterback Tom Brady threw for a team record 517 yards. Oakland beats Denver 23-20 as Raiders kicker Sebastian Janikowski ties the all-time NFL record with a 63-yard field goal.
Tampa Bay closes to within 3 games of the Red Sox for the wild card.
Former Red Sox World Series MVP Manny Ramirez is arrested in Florida and charged with battery in a domestic dispute.
The NBA has fined Charlotte Bobcats owner Michael Jordan for public comments he made about the collective bargaining process. That's a no no. The fine was a reported 100,000.
2. Fan Violence

If it isn't bad enough that most families can't afford to go to sporting events, now if they can, they have to worry about their well-being? Opening day at Dodger Stadium, a Giants fan was beaten. At a Raiders/49ers exhibition game there were brawls and shootings. And now at the Jets/Cowboys opener, a fan wearing a Dallas jersey somehow got a Taser into MetLife Stadium. He allegedly used it on a couple of fans during a brawl in the stands. An inconclusive video was posted on YouTube but you do hear a fan ask "How did he get in there with that thing?" Of course this comes on the heels of Jets coach Rex Ryan issuing his famous warning to fans wearing Cowboys gear, "It's probably not recommended that you wear Cowboys stuff, I would think." He later back tracked, but you have to at least wonder about cause and effect. In this era of heightened security, one would hope that a sports stadium could be a safe haven from the outside world.

3. Temper Temper

Serena Williams was fined $2,000 for her outburst against the umpire in the U.S. Open women's final. Again, she got off easy. She was on probation for her last explosion two years ago, but the Grand Slam committee decided this wasn't a major offense, so they gave her a pass. You can debate whether this incident was "major" or not, but you can't debate that there's no way they're going to take strong action against a star. Number 150 in the world, sure. But not Serena Williams.

4. Hat Trick

The Mets had a simple request. Since they were playing on national TV on the 10th anniversary of 9/11 they wanted to wear FDNY and NYPD baseball caps. The Mets and 9 /11 are forever intertwined. The Mets played the first game in New York after the attacks and beat the Braves on Mike Piazza's dramatic homer. That night, the players wore NYPD and FDNY caps. But Major League Baseball ruled no special caps this time. They wanted all the teams to be consistent. But all cities aren't equal. New York was attacked the worst. The fire department was the hardest hit. What a wonderful way to recognize them on the 10th anniversary of our darkest day. If you're scoring at home, that's one big "E" on your scorecard for MLB.

5. No Cats Allowed

It doesn't exactly rank up there with the "win one for the Gipper" speech. Coastal Carolina football coach David Bennett wants dogs on his team not cats. At least I think that's what he's saying.

Happy Birthday: Former Yankees center fielder Bernie Williams. 43.
Bonus Birthday: Actress Jacqueline Bisset. 67.
Today in Sports: The first New York City Marathon was held, as 127 runners ran several laps in Central Park. It was won by fireman Gary Muhrcke. 1970.
Bonus Event: Oy, look what they started. The United States government takes out its first loan. 1789.
To sign up for Len's free daily Top 5 email click here.