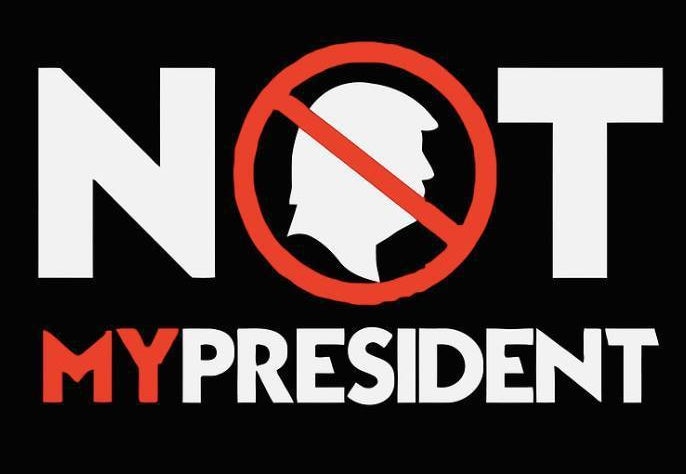 The White House is a freak show starring a tyrannical two-bit huckster as commander-in-chief. It is only a matter of time before we see a circus tent pitched on the South lawn of 1600 Pennsylvania Avenue to corral the motley crew of grifters, truth jugglers, and human curiosities the President has assembled to amuse himself and divert the public's attention. Given this administration's insatiable appetite for spectacle and allergic reaction to objective facts, our best hope to combat Trump's alternative reality is to stage a counteroffensive. That's precisely what artists across the nation, and beyond, will do on February 20 in a grassroots guerrilla theater initiative called Not My President's Day.
The leader of this rebellion is performance artist Holly Hughes, a highly decorated veteran of the culture wars of the 1980s and 90s. Hughes earned her stripes as one of the notorious NEA Four, a group of avant-garde feminist and queer artists (Holly, Karen Finley, Tim Miller, and John Fleck) embattled in a fight for artistic freedom against Senator Jesse Helms and the Religious Right that took them all the way to the Supreme Court. The plaintiffs won their court case, but not without significant collateral damage. The National Endowment for the Arts changed its funding parameters, discontinuing grants for individual artists. Hughes created a piece about that "show trial" titled Preaching to the Perverted (1999), directed by the incomparable Lois Weaver, co-founder of Split Britches and Women's One World (WOW) Café, the famed East Village incubator of lesbian and feminist art where Hughes, then a painter, came out of the closet as a thespian. Hughes and Weaver have banned together, yet again, for what may become their most important political act of resistance.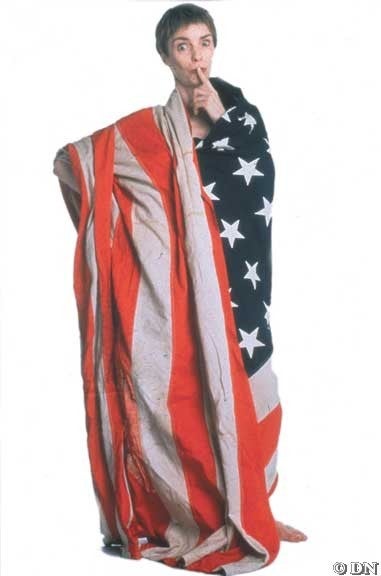 This collaboration began when Hughes, distraught about the election results, took to social media. "I posted an idle threat," she recalls, "which I often do on Facebook," to mount a protest in Ann Arbor, where she lives and teaches. The idea took off. People from across Michigan wanted to join in and friends around the country wanted to do something similar in their communities. "By the next morning, I was weeping," notes Hughes. "There were too many people for me to add to a Facebook group. I didn't know what to do with this level of enthusiasm. I'm used to having unpopular opinions and ideas." Two of the first people to respond were Lois Weaver and technology guru Mary Jo Watts.
They named their inchoate collective Bad and Nasty, a reference to the negative comments Trump made about Mexicans and women on the campaign trail. "We are re-appropriating bad hombres and nasty women from Trump's hate speech," notes Weaver. "This is what we've done, as oppressed minorities, in other instances. I call myself a dyke. I call myself queer. I call myself the things that others have wanted to call me, and this gives me power; this gives language a sting." This moniker, Hughes notes, "points to the disruptive, provocative quality of the performance traditions that Lois and I come out of," and "it calls attention to racism and sexism, two of the main reasons why we lost the election."
Their ranks soon swelled to 2,000 members plotting upwards of 55 events. "We wanted a decentralized, radically inclusive model," says Hughes, "because that is what we were familiar with from the WOW Café." For Weaver, it is important that people "interpret the call in any way they want, according to the needs and capacities of their community." Watts created a DIY technology toolkit, which made it easy to brand and market a Not My President's Day event anywhere in the world.
New Yorkers can take their pick of seven different protests, including the WOW Café where Penny Arcade, that "international icon of artistic resistance," teams up with satirical songstress Tammy Faye Starlite to read David Mamet's The Anarchist, in a production by acclaimed director Austin Pendleton. Across the street at LaMaMa, downtown denizen Nicky Paraiso will host an evening of curated performances featuring Karen Finley. A short subway ride to BedStuy leads to a benefit performance for Amnesty International, Anna Asli Suriyah (I Come from Syria), by Sarah Badiyah Sakaan, directed by Jessica Brater.
Bernie Sanders' home state boasts two electrifying events. Marlboro College presents Two Spirit Resistance featuring Kuna and Rappahannock Nations performer Muriel Miguel, Artistic Director of Spiderwoman Theater, the longest running feminist Indigenous theater company in North America, on a bill with visual artist Kent Monkman and Canadian dramatist Waawaate Fobister. Meanwhile Flynnspace in Burlington will mount Trumpuboo Rex (King Turd Revisted), an adaptation of Alfred Jarry's dystopian political allegory Ubu Roi. Revelers in the Lone Star state can catch "Pussyhood is Powerful," an evening of lesbian and feminist punk with Girls in the Nose, Les Nez, MyDolls, and Kegels for Hegel. The breadth of performances and the range of venues are quite astonishing. "The most animated responses didn't come from what we think of as the big cultural centers of the country, New York, Chicago, and big coastal cities," notes Hughes. "It was people in South Carolina, Oklahoma, Texas, and rural Virginia."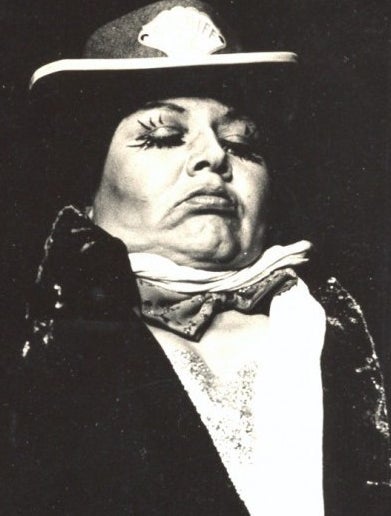 Watts looks forward to the cabaret in her hamlet of Ithaca, NY, where she'll get bad and nasty with thirty of her friends and neighbors (myself included) for a sold-out cabaret at the Kitchen Theatre in a benefit for Planned Parenthood and Ithaca Welcomes Refugees. The indefatigable Weaver is doing double duty in Los Angeles, a live performance with her Split Britches partner, the "menopausal gentleman" Peggy Shaw, at the Lyric Hyperion Theatre, and a virtual performance as her avatar Tammy WhyNot on Facebook Live. "I always say Tammy started as a country and western singer, skythen turned into a lesbian performance artist," chuckles Weaver. "And now I'm trying to be an Internet sensation."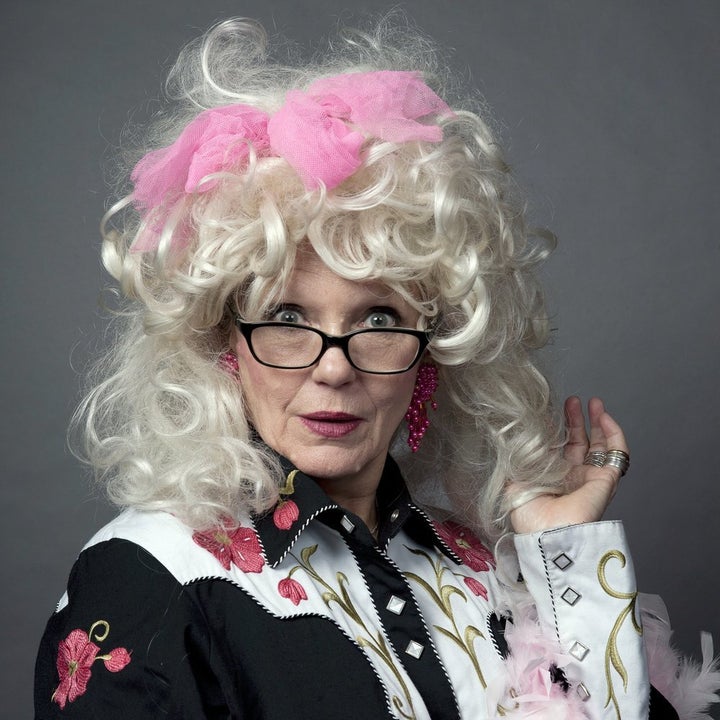 For her event in Ann Arbor, Hughes has opted for a "not my circus" theme. Flying their freak flag of resistance sky high will be some of the hottest talent in the Midwest, including Erin Markey, Lisa Biggs, and Lola Von Miramar (the drag persona of Lawrence La Fountain-Stokes). Hughes may feel the heat from her competition in Detroit, where the Lightbox is hosting an "evening of hellfire and brimstone that will lift the roof" right off the theater.
Bad and Nasty's Not My President's Day won't propel us into an alternative universe where the legitimate candidate, Hillary Clinton, is in the Oval Office, but it will help us channel our rage and promote solidarity. "I'm hoping that having a nation-wide day of performance will remind us that we are the majority," says Hughes. "More than three million people voted not to elect Trump, and that's in addition to the voter suppression and the Russian hacks." "If we can foreground our sense of humor and the playfulness of this protest," adds Weaver, "then we can ride out almost anything," even an Apprentice President and his hall of blunders.