Tapping previously untapped "invisible talent" is my passion. Having played in the NFL, I've been privileged to play alongside and against elite competitors. I know from first-hand experience that recruiting and cultivating talent is essential for a winning team. This is the lesson for America today. More contributions from more Americans are essential to maintain and improve U.S. global economic competitiveness. And let's face facts – economics is a game. Knowing how to play the game is fundamental. But recognizing, developing and recruiting talent is a key factor in winning.
I am pleased to have accepted an invitation to participate in this year's Close It Summit in Dallas, Texas, October 4-6. The Summit's focus will be on skills mastery and what is happening in competency-based education, training, and hiring.
I am especially interested in the event's final panel discussion featuring sportscaster and former Dallas Cowboys star Drew Pearson, along with top leaders from W.K. Kellogg Foundation, Rockefeller Foundation, and the Walmart Foundation. They will discuss "invisible talent," illustrated by Pearson's professional football career in which he was signed as an undrafted free agent and went on to become one of the NFL's greatest wide receivers.
The fact that the Close It Summit has taken up this topic is evidence of growing recognition that "invisible talent" must be made visible and empowered to successfully compete in our economy. The intersection of sports and the economy provides an excellent platform to accelerate these objectives.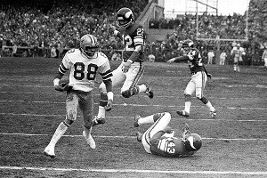 The sports enterprise (a combination of all sports across the sports market), extracts tremendous value from "invisible talent." To be clear, this talent does not haphazardly spring up from nowhere. Rather, it is nurtured by community systems focused on athletics, including little leagues, local recreation leagues, school systems, etc. For substantial financial gain, the sports enterprise goes to great lengths to capitalize on a nationwide community sports infrastructure to identify and raise up "invisible talent."
For the record: Anchored by Major League Baseball, Major League Soccer, National Basketball Association, National Football League and National Hockey League, the sports market in North America was worth $60.5 billion in 2014 and is expected to reach $73.5 billion by 2019. U.S. college athletics as a whole pulls in about $12 billion annually. With combined actual and likely projected revenue of more than $85 billion, the sports enterprise would rank 75th on the Forbes Global 500 index of the largest companies in the world and rank 31st in the U.S.
This economic pipeline is especially pernicious in college sports, which does not pay wages to its athletes. While "invisible talent" helps directly generate an astounding $12 billion within the proverbial four corners of athletic department balance sheets, there's also a substantial multiplying effect. This talent pipeline helps colleges and universities realize other benefits that result in tangible financial gain, including comprehensive campaign fundraising and other forms of giving, school branding, faculty and student recruitment and retention.
Invisible Talent Pipeline
The entire sports enterprise is considerably dependent upon "invisible talent" – expressly, Black and Latino – whose contributions disproportionately fuel it. Yet, other than the small percent of individuals who become professional athletes, the communities that feed this talent pipeline remain intransigently disconnected from our nation's best economic opportunities.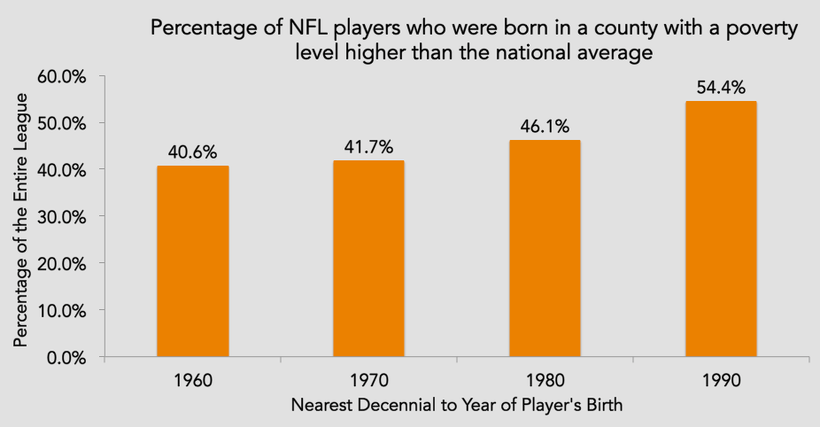 An examination of the real economic disparities between beneficiaries of the talent pipeline and producers of that talent reveals an open secret. Consider "average" wealth in America: in 2011, the median White household had $111,146 in wealth holdings, compared to just $7,113 for the median Black household and $8,348 for the median Latino household. To highlight the point, in August 2016 it was estimated that if current policies and strategies remain in place, it will take two hundred and twenty-eight years (228!) for Blacks to accumulate the same amount of wealth Whites have now.
What if Blacks and Latinos were realizing economic opportunities at a rate where they just kept up with the average? Think about the possibilities for greater prosperity for each of the nearly 10 million Black households and about 12 million Latino households that would occur with more than $100,000 of additional wealth holdings – about $1 trillion more wealth holdings for Blacks and nearly $1.2 trillion more for Latinos. Those numbers are positively transformative for families and the communities in which they live! Achieving average is not possible without pathways to access, compete for, and win a fair share of America's top economic opportunities.
Reflecting the zeitgeist of today, it's time that we develop new approaches to intentionally ensure that greater value from the sports enterprise inures to the benefit of the communities that foster and nurture the "invisible talent" pipeline.
My principal concern is for a particular value: Development of new community systems to improve productivity in our knowledge-based, tech-driven, Innovation Economy. In other words, in addition to high-performing sports athletes, I want to help these communities produce more high-performing, Economic Athletes with the skills mastery, creativity, agility, resilience and stamina to win in today's economy. These competitors can be our new stars – those who react to, and perform in, our volatile global economy in the same ways that successful sports athletes react to and overcome the unpredictability of their respective games.
The sports enterprise has a unique obligation with ample opportunity to return more value to the communities from which so much of our "invisible talent" hails.
By intentionally investing in economic inclusion and competitiveness systems in communities, the sports enterprise can help improve standards of living in those areas, while also meaningfully supporting our nation's global economic leadership.
Inclusive Competitiveness is about such intentionality. It is an interdisciplinary framework to create community systems that improve the economic productivity and quality of life of disconnected Americans in the Innovation Economy. Importantly, Inclusive Competitiveness is consistent with the competitive character of the sports enterprise. Creating more competitive people and communities are the desired outcomes.
The sports enterprise should lead the way, triggering an Inclusive Competitiveness Movement in economically disconnected communities across the U.S. to create new Economic Athletes to fill the dual pipelines of productivity that produce higher impact, intrapreneurial employees—those who pursue opportunities to make valuable contributions to their employers' businesses—and higher growth entrepreneurs who generate job-creating enterprises.
Inclusive Competitiveness Impact
We nurture competitiveness as a highly valued trait in athletics. Competitiveness must be nurtured throughout our society in order to grow more talented Economic Athletes who can strengthen communities and enhance our national economy.
An Inclusive Competitiveness thrust would provide new mechanisms to help convert disconnected and economically distressed communities' demonstrated sports competitiveness into a positive force for achieving broader academic achievement and realizing long-term economic success and improved quality of life.
Let's hope the discussion of "invisible talent" at the Close It Summit considers this opportunity. It could become the launching pad for new investments in communities that sow the seeds of "invisible talent," which the sports enterprise reaps.
This post was published on the now-closed HuffPost Contributor platform. Contributors control their own work and posted freely to our site. If you need to flag this entry as abusive,
send us an email
.