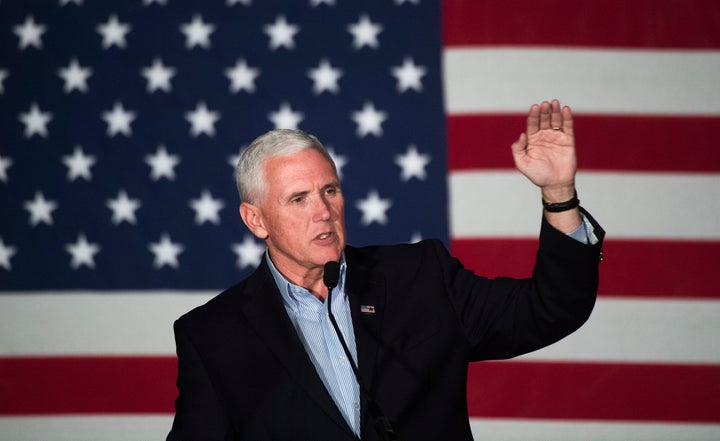 WASHINGTON ― A transgender man filed a lawsuit Tuesday against Indiana Gov. Mike Pence (R), Donald Trump's vice presidential running mate, over a state law that prevents him from changing his name because of his immigration status.
"John Doe," a 31-year-old legal U.S. resident, filed his suit through the Transgender Law Center and Mexican American Legal Defense and Educational Fund. It claims that a 2010 Indiana law requiring him to show proof of citizenship to legally change his name is unconstitutional. Pence wasn't the governor when the bill became law, but because he is now, he has to enforce it.
Doe, who has requested anonymity as his case proceeds, said the law causes him humiliation on a regular basis. He was born in Mexico but has lived in Indiana since he was 6. Doe was born female but has lived as male for all of his adult life. He was granted asylum in the U.S. last year, but because he is not a citizen, Indiana's law means he can't change his name on official U.S. documents to reflect his gender identity. 
"Sometimes I face harassment ... especially when I have to show my ID that doesn't show who I am," Doe told The Huffington Post. "A couple of weeks ago, I was trying to change some stuff on my health plan … and they didn't want to talk to me because they said the voice didn't match the name. I had to go through other means to be able for them to understand that was me."
He recalled another incident two years ago when he was in the emergency room for a neck injury, and his nurse kept asking Doe where her patient "Jane" was (that's also a fake name). Doe said he was "Jane," and the nurse left and came back with four more people, who just looked at Doe and then went in the hallway to talk about him. Doe could hear them talking.
"That obviously was really embarrassing," he said. "I was stressed and mad about it. But I really didn't want nothing, just medication. And I have to go through all that."
One of Doe's attorneys, Matthew Barragan of MALDEF, said no other state has laws that require a person to have citizenship in order to petition for a court-ordered name change. Then-Indiana Gov. Mitch Daniels (R) signed the law in 2010 amid a national wave of anti-immigrant legislation, Barragan said, using the rationale that undocumented immigrants were more likely to commit fraud and identity theft.
"The law is targeted at immigrants and it is discriminatory based on alienage, but the harms transgender people face are real," he said. "That's why we're proceeding anonymously. John shouldn't have to face discrimination, potentially violence, lose his job, because he's trying to protect his rights."
Barragan said the timing of the lawsuit ― two months before the election and at a time when Pence is on the national stage ― isn't related to the presidential race.
"We're not suing for political reasons," he said. "To the extent people are going to pay attention to this because it's Mike Pence, that's fine, but we were not motivated to file a case against him because he's running for vice president."
Kara Brooks, a spokeswoman for Pence, declined to comment.
"We do not comment on pending litigation," she said in a statement.
You can read the lawsuit below:
BEFORE YOU GO
PHOTO GALLERY
Twitter Tears Into Mike Pence's Many Science Fails With #PenceScience