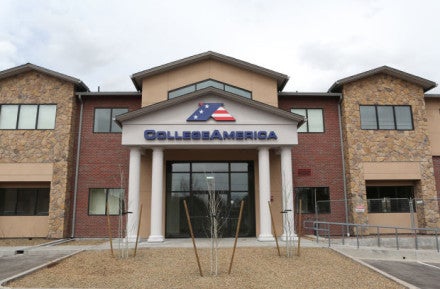 In August 2016, the Obama administration delivered a powerful blow to the CollegeAmerica/ Stevens-Henager chain of career colleges. The chain, previously a for-profit company, sold itself in 2012 to a small non-profit organization called the Center for Excellence in Higher Education and sought Department of Education approval to be freed of the federal rules that apply only to for-profit colleges.  But the Department concluded that despite the conversion, the chain was still operating to benefit its prior for-profit owner, the wealthy, conspiracy-spouting Ayn Rand disciple Carl Barney.
While the Barney chain contests that decision in court, it is also now facing multiple challenges relating to continuing concerns that the school operates in a predatory manner, misleading students and leaving many deep in debt and without the careers they sought:
--On October 16, the Colorado attorney general is taking CollegeAmerica to trial on a complaint that alleges the systematic, sophisticated fleecing of students and taxpayers by the school. The lawsuit asserts that CollegeAmerica staff consistently misled and lied to students about the selectivity of the school, the transferability of credits, the jobs they could obtain, the salaries they could earn, and more.
In one stunning example, the school, according to the Colorado attorney general, hyped its "Medical Specialties" associates degree as leading to lucrative careers in a range of medical jobs. The program cost $42,000 — more than four times as much as comparable degree programs at community colleges. But most of the jobs that graduates had a chance to get were low-level, low-paid positions did not require a college degree at all.  Once students had completed the program, CollegeAmerica employees would then sometimes disparage the value of the program and hype the next expensive program — a bachelor's degree in Healthcare Administration. But again, most graduates could only get low-rung jobs that did not require an associate's degree, let alone a bachelor's.
CollegeAmerica responded that Colorado's suit is "full of distortions, half-truths and false allegations." But in November 2015, a state trial judge soundly rejected the school's effort to have the case thrown out.
For trial, the Barney chain is bringing in Northwestern University economics professor Jonathan Guryan, a long-time favorite hired expert of the for-profit college industry, to present analysis that CollegeAmerica has been a good deal for students. The company also plans to call Diane Auer Jones, who cashed in on her role in the George W. Bush administration as assistant secretary for post-secondary education to become an in-house lobbyist for predatory for-profit college company Career Education Corporation before becoming an industry consultant. The Colorado attorney general's office has filed motions contesting the appropriateness of Guryan and Jones testifying as "expert" witnesses.
--In 2014 the U.S. Justice Department joined a separate employee whistleblower lawsuit charging that the chain paid its recruiters bonuses, commissions, and other forms of incentive compensation in violation of the federal ban on such payments. The suit further claims that CollegeAmerica employed faculty members who lacked the minimum qualifications required by the school's accrediting agency, and that CollegeAmerica officials falsified student attendance records and grades. Last year a federal judge refused to dismiss that case. As the lawsuit's endless docket sheet reveals, the Barney chain has been fighting in court ever since to conceal documents relevant to the case, even though the judge keeps ruling against it. The chain is claiming that, in paying the bonuses, it was relying on legal advice from its attorney, LinkedIn celebrator Keith Zakarin. No trial date has been set.
--In a third lawsuit, the U.S. Court of Appeals for the 10th Circuit, based in Denver, ruled earlier this month that the U.S. Equal Employment Opportunity Commission can pursue a claim that CollegeAmerica illegally interfered with the rights of Debbi Potts, a former director of its Cheyenne, Wyoming, campus. CollegeAmerica paid the departing Potts a $7000 bonus she claimed was owed in exchange for Potts agreeing not to disparage the school or to contact government regulators "with the purpose of filing any complaint or grievance that shall bring harm to CollegeAmerica." When another former employee told CollegeAmerica that Potts was claiming that the school was in trouble, CollegeAmerica sued, seeking its $7000 back. Now the EEOC's case against the school is headed back to a federal trial court.
--On June 1, the Colorado Commission on Higher Education, acting unanimously, revoked its authorization for CollegeAmerica's Denver campus ability to enroll any new students in its bachelor degree programs. The commission also placed two other CollegeAmerica campuses, Colorado Springs and Fort Collins, on probationary status. According to the minutes of the commission meeting, the decision came after the school's accreditor, Accrediting Commission for Career Schools and Colleges (ACCSC), took action against the school and "sent communication to the institution citing compliance with standards and requirements on a continuous basis as the main reason for the revocation." According to the minutes of the meeting, the affected BA programs are to remain accredited by ACCSC only for the purposes of allowed existing students to complete their programs.
In 2013, I obtained a letter that a Stevens-Henager employee wrote to government authorities alleging a lack of standards and integrity in the school's recruiting. It read in part: "Our admission representatives are required to enroll anyone and everyone. All entrance and diagnostic testing has been eliminated... Toothless and homeless people are not marketable and will never pay back student loans. We still enroll them....  Our director said, 'Get 40 people and I don't care what you say or do to get them.'"
Students who get deceived by college recruiters often end up worse off than when they started. CollegeAmerica schools have established records of leaving their students deep in debt. For example, as of 2009, 40.2 percent of students at the Flagstaff, Arizona, campus of CollegeAmerica defaulted on their loans within three years. The figure was 38.8 percent at the CollegeAmerica campus in Denver. For comparison, the default rate at Michigan State University was 4.3 percent.
This post was published on the now-closed HuffPost Contributor platform. Contributors control their own work and posted freely to our site. If you need to flag this entry as abusive,
send us an email
.