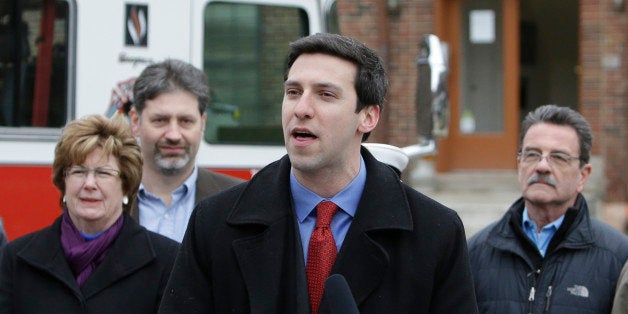 This is quite an election year. Trump, Cruz, Scalia, Bernie, Jeb, Hillary and way too many discussions about Republican penises. It's like we have a whole new verse to "We Didn't Start the Fire." So it's easy to lose site of all the important non-presidential races taking place right now. So, let's talk about one of them.
In Ohio, probably the most important swing state in the country, there is also a race going on for the U.S. Senate, one of maybe four or five that will determine who controls the upper chamber of Congress. The Republican, Rob Portman, is exactly the Jeb-like stooge you'd expect. He's George W. Bush's former trade negotiator and budget guy, someone who thinks defunding Planned Parenthood, opposing a minimum wage increase, blocking universal background checks on guns and refusing to do his job as laid out in the Constitution, to put a new justice on the Supreme Court.
But the real race here right now is in the state's Democratic Primary. While I'd rather not attack a Democrat, there is just too much of a difference between the young, urban-based, future-looking campaign of P.G. Sittenfeld, and the Blue Dog-ish, uninspiring, ghost-like campaign of the one-term former governor of Ohio, Ted Strickland. The former can beat Rob Portman, the latter simply has no chance, and will lose like he did his reelection campaign in 2010.
P.G. is a progressive's progressive in the mold of former senators John Glenn and the late Howard Metzenbaum, as well as current U.S. Senator Sherrod Brown. He's for scrapping the cap on Social Security. He supports universal background checks on guns, as well as forward thinking measures like microstamping of ammunition. He's for paid family leave, a $15 minimum wage and bold measures to do all we can to ameliorate the climate crisis. He's also fully, proudly and loudly pro-choice.
The DSCC endorsed Ted Strickland attacked Rob Portman rightfully for disrespecting Article II by refusing to support a new Supreme Court Justice, while refusing to debate his primary opponent. This is not a D-rated NRA supporter, like Bernie Sanders, but an A-plus rated NRA booster, who voted against every single gun-safety measure ever placed before him. He thought guns in bars were a good idea. And Stand Your Ground. And immunity for gun companies.
Strickland fought against paid sick leave; wouldn't raise taxes on the wealthy as governor because he said it would hurt the economy (so he cut mental health funding and library funding instead); he voted to get rid of Glass-Steagall, and got a 30 percent rating from NARAL at one point in Congress (which is considered anti-choice); and recently said he'd support a Supreme Court Justice who is anti-choice. Before having his spokesperson walk it back. He wanted a "pause" in Syrian refugees, opposes a $15 minimum wage and was a friend of coal as governor, who when asked about Keystone refused to take a position because it was "controversial."
Is this what Democrats think counts as leadership? Do Ohio progressives think this kind of cautious, hide-and-go-seek approach to important issues is what will inspire people? There are also the matters of he fact that Strickland is not someone who can sit in this seat for numerous terms, as someone who would be 75 years old when sworn in. And the fact that while P.G. is vivacious and charismatic, Strickland is halting and awkward.
This might be why the only two-term Democratic governor in the past 50 years in Ohio, Dick Celeste, has endorsed P.G. It honestly couldn't be clear who will be a better Senator, and he has a chance of getting there, unlike his opponent. More of the same isn't selling this election season.
This is too important a national race to let slide by without getting engage. Progressives should support P.G. Ohio Democrats must vote for him. We should all contribute what we can. He is the ascendant Obama coalition; let's make sure he ascends right now.
Best yet, P.G. Sittenfeld received the endorsement of Breaking Bad and Better Call Saul actor Jonathan Banks.
The Bob & Chez Show is a funny, fast-paced political podcast that doesn't take itself too seriously. The twice-weekly podcast is hosted by Bob Cesca (Salon.com, The Huffington Post, The Daily Banter, The Stephanie Miller Show), and CNN/MSNBC producer turned writer Chez Pazienza. Follow the show at www.bobcesca.com with special thanks to ​Edward Tayter.