WASHINGTON ― Immigrant rights advocates are urging undocumented young people to hold off from rushing to reapply for deportation relief ― or celebrating too much ― after a federal judge ordered the Trump administration to reopen much of the Deferred Action for Childhood Arrivals program on Tuesday.
The preliminary injunction issued by U.S. District Judge William Alsup was a victory for immigration activists and officials who say President Donald Trump acted unlawfully by ending DACA, a program created in 2012 to provide two-year work permits and deportation relief to so-called Dreamers who came to the United States as children. Under Alsup's order, young undocumented immigrants who held DACA status on Sept. 5, when Trump rescinded the program, should be allowed to apply to renew those protections.
But in some ways, it created more confusion. Adrian Reyna, a Dreamer and activist with United We Dream, said that he received a call after the ruling from his sister, who asked whether everything was "fixed."
"The devil is in the details," Reyna said he told her, recounting the conversation on call with reporters on Wednesday. "Of course not everything is fixed. "
It's not even clear when the decision will begin to help Dreamers ― or if it will at all. As of Wednesday evening, U.S. Citizenship and Immigration Services (USCIS), which administers DACA, couldn't provide any information as to when and how it would begin to accept renewal applications.
The Department of Justice, which is led by the adamantly anti-DACA Attorney General Jeff Sessions, said after the ruling that it would file an appeal, which could lead to the injunction being overturned.
"This decision may not actually ever get implemented ― we just don't know yet," Marielena Hincapie, executive director of National Immigration Law Center said on the same call with reporters.
Hincapie said that although the ruling was a positive sign, advocates are worried that Dreamers will send in applications, including a nearly $500 fee, and be rejected if USCIS has not yet implemented a process to accept renewals. She said Dreamers should also be wary of notarios, individuals who present themselves as immigration lawyers or legal experts to defraud immigrants.
For now, Hincapie said, Dreamers should stay informed but wait on sending anything to the government. She and other advocates have urged Dreamers in the meantime to keep pushing for legislation that would grant them legal status, such as the Dream Act.
Advocates argued that Tuesday's court order only increased the urgency of passing legislation through Congress.
Trump met with lawmakers from both parties on Tuesday and told them he wants to couple protections for Dreamers with border security ― including his signature wall ― along with an end to the diversity lottery and limiting family-based visas, which he refers to as "chain migration."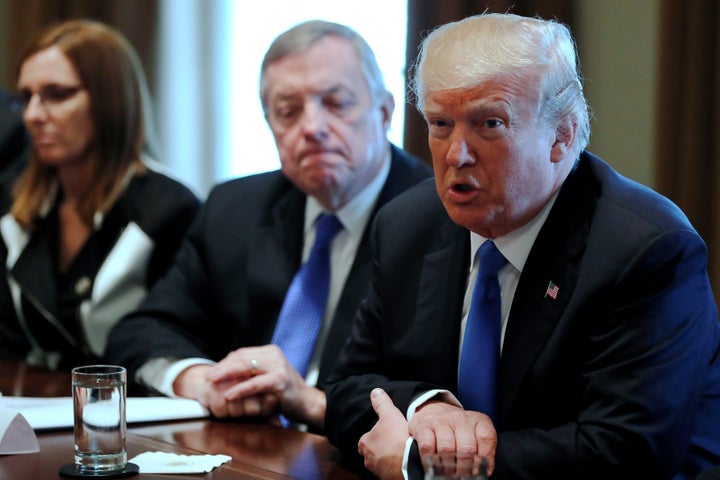 Lawmakers are working on negotiating a deal but remain far apart on many of the issues. Democrats have ruled out funding a border "wall" ― although many say they are open to other measures, including some areas of fencing ― and oppose efforts to cut legal immigration without getting something in return, such as temporary worker visas or legal status for a larger group of the undocumented population, like in previous comprehensive reform efforts. Democrats have argued against a deal with too many components, and say it would be better to combine DACA only with border security measures.
Some conservatives are pushing for a far more expansive approach with policies including a mandate that businesses check employees' immigration statuses, cracking down on so-called "sanctuary cities" that don't fully cooperate with deportation efforts, and eliminating policies meant to protect asylum-seekers and children apprehended at the border. 
Both the White House and members of Congress indicated after the court ruling that it didn't change their view that it's important to find a legislative fix for Dreamers. While blasting the court decision, White House spokeswoman Sarah Huckabee Sanders said in a statement that Trump will continue to work with Congress on a permanent solution.
Senate Majority Whip John Cornyn (R-Texas) said "it doesn't change the need for us to act," according to Politico.
"I don't think it relieves the anxiety of the DACA recipients that something is gonna happen," he said. "It really just adds additional uncertainty, I think, into the mix. So we're plowing ahead like we discussed yesterday at the White House."
Senate Minority Leader Chuck Schumer (D-N.Y.) said on the Senate floor on Wednesday that Democrats still want DACA protections to be part of a funding deal that must pass by Feb. 19 to avert a government shutdown. He and other advocates believe getting Dreamer relief into a must-pass bill is the only way forward because of past Republican obstruction on legal status for undocumented immigrants.
"We cannot wait. We cannot tolerate a delay," Schumer said. "Delay is a tactic employed by those who do not wish to see a deal. Let me just say, promises that 'maybe in the future we'll do it,' particularly on immigration, have vanished by the wayside."
BEFORE YOU GO
PHOTO GALLERY
How Donald Trump Talks About Undocumented Immigrants