President Donald Trump launched into another extended attack on the media at a rally in Fort Myers, Florida, on Wednesday, just a day after he ventured to Pittsburgh to honor those killed during a shooting at the Tree of Life synagogue that left 11 people dead.
"Yesterday's visit to Pittsburgh was about coming together as a nation to comfort and to heal," said Trump as he stood before a crowd wearing hundreds of "Make America great again" hats. "After this day of unity and togetherness, I came home and sadly turned on the news as the far-left media once again used tragedy to sow division."
"They did everything in their power to play it up and push people apart," he continued as the crowd chanted "CNN sucks!"
"That's what's happening. They're pushing people apart," Trump said.
Such language didn't appear to stop on Wednesday as the president leveled heated attacks against journalists, his political opponents and immigrants, with rallygoers launching into jeers and chants urging that some Florida Democrats be locked up.
Trump routinely uses such campaign events to whip supporters into an anti-media frenzy, but Wednesday's appearance reflected a president emboldened and frustrated with a spate of coverage that has distracted from next week's midterm elections. The New York Times noted earlier this week that Trump has been tossing out increasingly controversial proposals in an attempt to pivot attention back to the elections, including sending thousands of troops to the southern border to deal with a migrant caravan that is weeks away and is proposing an executive order to negate portions of the 14th Amendment that grant citizenship to anyone born in the U.S.
At the same time, the White House has been dealing with the mass-mailing of likely pipe bombs to prominent Democrats by a loyal Trump supporter and the shooting in Pittsburgh. Critics have linked the attacks to the president's divisive rhetoric, claims the White House has vehemently denied, instead shifting blame back on the media.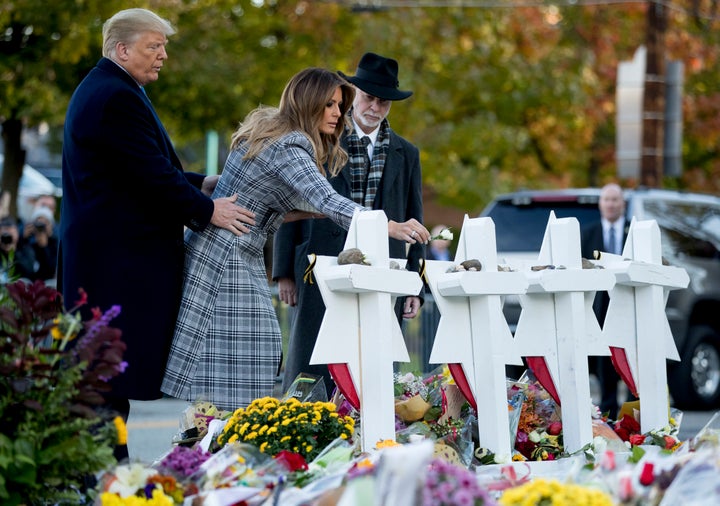 "When we talk about division, this is a big part of the division right there," Trump said of coverage of his venture to Pittsburgh. "The far-left media has spread terrible lies and stories about the Trump administration and the tens of millions of people who make up our great movement."
The president continued to celebrate his supporters at the rally, saying his election was "possibly the greatest political movement anywhere," and it was all "because of you."
"The media doesn't want you to hear your story, it's not my story, it's your story," the president said. "And that's why 33 percent of the people in this country believe the fake news is, in fact, and I hate to say this, in fact the enemy of the people."