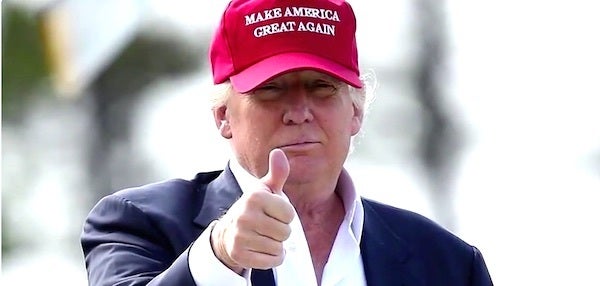 President Donald J. Trump often quotes the German philosopher, Georg Wilhelm, stating that "nothing great in the world has been accomplished without passion."
For millions of American entrepreneurs, passion is the seed that will birth an idea, but to be successful in business you sometimes you need a boost and that might mean financing or advice.
The backbone of the U.S. economy is small business, which makes up 99 percent of all U.S. businesses. Keenly aware of its importance, President Donald Trump promised on the campaign trail to support local business owners and their employees by loosening government regulations, which is stifling economic growth.
True to his word, he tapped a former corporate CEO who bootstrapped her own business which became an international entertainment powerhouse, to run the nation's largest business support agency. Linda McMahon, the former CEO of World Wrestling Entertainment, Inc. has hit the ground running as the new Administrator of the U.S. Small Business Administration. The SBA Administrator is a cabinet level position, which highlights its deep significance to the Trump Administration's economic agenda.
While most of the media has shifted to a tabloid function by focusing on style over substance, President Trump has been ardently focused on rebuilding our economy. America's new economic transformation begins with this hugely important, but little known government agency.
The U.S. Small Business Administration is the tip of the spear in small business advocacy. They assist start-ups and those small businesses seeking to advance to the next level by providing access to mission critical funding. While they don't directly loan money, they work with SBA certified financing organizations to offer something even more crucial to businesses – each SBA supported loan is backed by the full faith and credit of the U.S. government. It is worth its weight in gold when a business owner walks into a bank and asks for a loan alongside the U.S. government who is vouching for them.
The Trump Administration has begun to fill key senior management positions with a team of experienced economic development and private sector financial industry executives who will utilize their experience to support our nation's businesses. For example, Administrator McMahon appointed New York investment banker, William Manger to head up the Office of Capital Access. This office oversees the management of the SBA's $120 billion loan portfolio, which includes the SBA 504 and 7(a) programs. The Trump Administration is currently considering additional high caliber talent with private and public sector experience.
Having worked closely with the SBA for years, I can attest to the value of this agency which assisted many of my clients, each with their own business challenges. As Sir Francis Bacon famously said, "Knowledge is Power" and the SBA offers our nation's entrepreneurs decades of business experience by connecting small businesses with former executives who volunteer their time to mentor and guide them towards success. Further, they have worked with known companies such as Tesla and Apple to provide a financial pathway during their infancy. During a time of crisis the SBA also supplies emergency funding to businesses impacted by natural disasters (e.g., Hurricane Sandy).
A key piece of the Trump Administration's agenda is supporting women-owned businesses.
More than half of all U.S. businesses are women owned. The most fragile point for a small business is when it needs capital to expand and that means obtaining a loan. For many, new businesses financing is the impediment to growth. President Trump and Administrator McMahon have made it a priority to support women entrepreneurs and expand financing options for this large, but underserved group. A recent report cites that only 18 percent of women businesses had access to the SBA 7(a) loan program, which provides critical working capital.
In my experience, women owned businesses have been at a disadvantage in accessing capital and government contracts. For years, the federal and state governments have set lofty goals to support this important group, but fell short of that objective. This administration must set mandates for government contracts to be given not only to women owned businesses, but also to minority and veteran-owned businesses as well.
Further, the SBA should work with other federal departments such as Housing and Urban Development and Commerce to coordinate certain economic development functions that would lift up economically disadvantaged urban communities – a major goal of the Trump Administration.
Recently, Administrator McMahon launched The Nationwide Ignite Tour, listening to small business owners concerns and ideas to reform our regulatory process and tax system. To combat the trade imbalance cited by President Trump during the campaign, his administration announced an $18-million SBA funding opportunity to support export growth among US small businesses that will be awarded through the State Trade Expansion Program (STEP).
The SBA has always been charged with advocating for small business throughout the federal bureaucracy. However, now that a successful corporate executive is at the helm, it's the perfect opportunity to streamline and promote programs aimed at supporting American businesses.
Just as President Trump believes there is a direct link between passion and success, he has put his words into action, assembling a leadership team at the SBA that will focus on putting American businesses first.
This post was published on the now-closed HuffPost Contributor platform. Contributors control their own work and posted freely to our site. If you need to flag this entry as abusive,
send us an email
.