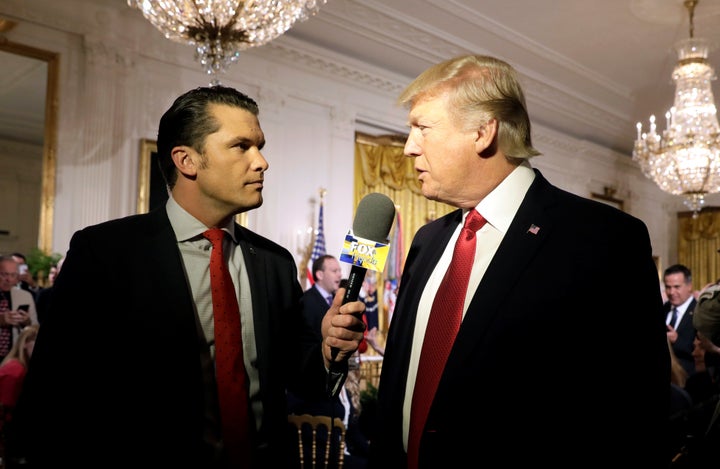 Overall, 25 percent of Americans in the new poll say the media is an enemy to people like themselves, with 19 percent calling it unfriendly. Just 17 percent label the media friendly and 13 percent view it as an ally, with 26 percent not sure.
Those figures are similar to the ones in the February poll.

Trump, who often lashed out against journalists during his presidential campaign, has continued to do so as president. On Wednesday afternoon, his campaign texted backers a fundraising appeal including the phrase, "FAKE NEWS is the enemy."
Indeed, 49 percent of Republicans consider the Democratic Party to be the "enemy," while almost the exact same number of Democrats ― 48 percent ― say that about the GOP.
As for attitudes toward Trump, 40 percent of Americans consider him an ally or a friend to people like themselves, with 16 percent considering him unfriendly and 27 percent an enemy.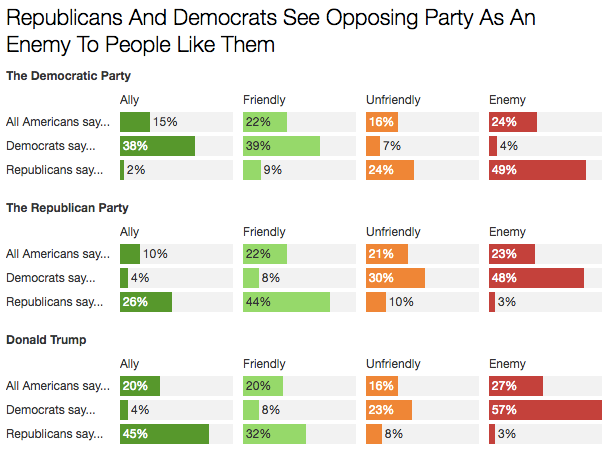 Ill-feelings from the contentious election linger, with 86 percent of Trump voters saying Hillary Clinton voters are either the enemy of people like themselves or unfriendly. Among Clinton's supporters, 81 percent apply one of those characterizations to Trump voters.

Use the widget below to further explore the results of the HuffPost/YouGov survey, using the menu at the top to select survey questions and the buttons at the bottom to filter the data by subgroups:
The HuffPost/YouGov poll consisted of 1,000 completed interviews conducted May 26-27 among U.S. adults, using a sample selected from YouGov's opt-in online panel to match the demographics and other characteristics of the adult U.S. population.
HuffPost has teamed up with YouGov to conduct daily opinion polls.You can learn more about this project and take part in YouGov's nationally representative opinion polling. Data from all HuffPost/YouGov polls can be found here. More details on the polls' methodology are available here.
Most surveys report a margin of error that represents some, but not all, potential survey errors. YouGov's reports include a model-based margin of error, which rests on a specific set of statistical assumptions about the selected sample, rather than the standard methodology for random probability sampling. If these assumptions are wrong, the model-based margin of error may also be inaccurate. Click here for a more detailed explanation of the model-based margin of error.