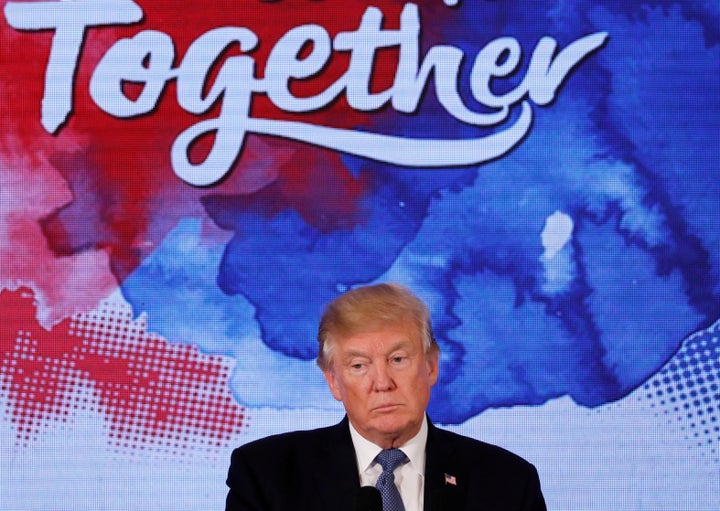 The National Security Council clarified on Monday that President Donald Trump did not have a call with North Korea last week, but rather, was referencing another interaction he'd had with the president of South Korea, a longtime ally of the United States.
At a media dinner on Saturday, Trump spoke about North Korea and said he would not rule out direct talks with the country's leader, Kim Jong Un. Tensions with Pyongyang have appeared to cool in recent weeks, and both North Korean and American officials have said they would be willing to open diplomatic channels.
But Trump suggested that such talks had already begun, telling those gathered at the Gridiron Dinner in Washington, D.C., on Saturday that the North had "called up a couple of days ago and said, 'We would like to talk.'"
"And I said, 'So would we, but you have to de-nuke, you have to de-nuke,'" Trump added.
But he was apparently referencing the wrong Korea when he made those comments.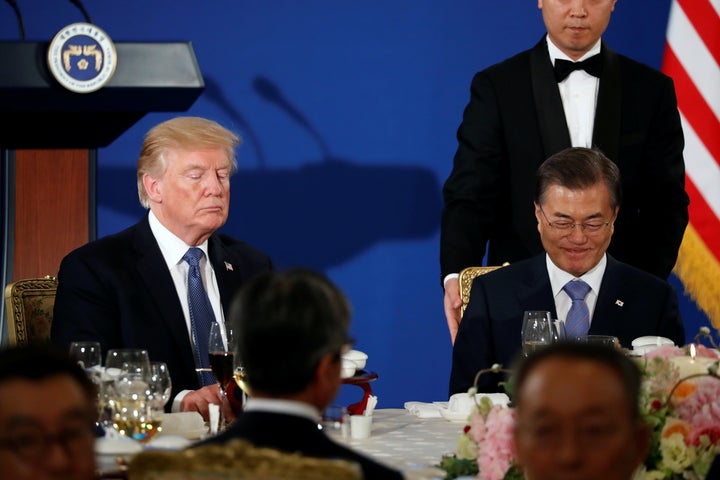 An unnamed official on the National Security Council told South Korea's Yonhap News Agency that "President Trump did not have a call with the North Koreans." Rather, the official said Trump was referencing a call with South Korean President Moon Jae-in on March 1.
A source provided the same clarification to Agency France-Presse. The White House did not immediately reply to HuffPost's request for comment.
It wouldn't have made any sense for Trump to tell South Korea to "de-nuke" ― Seoul abandoned its nuclear weapons program decades ago ― so it's not clear why the U.S. president would have presented his conversation that way.
An official readout of the phone call said Trump congratulated Moon on the hosting of the 2018 Winter Olympics and said that Trump was briefed "on developments regarding North Korea and inter-Korean talks."
"President Trump and President Moon noted their firm position that any dialogue with North Korea must be conducted with the explicit and unwavering goal of complete, verifiable, and irreversible denuclearization," the release states.
Some U.S. policy experts on North Korea expressed their frustration with the clarification on Twitter, including Jeffrey Lewis, the director of the East Asia Nonproliferation Program at the Middlebury Institute, who simply said "JFC."
South Korea sent an official delegation to North Korea this week, and the North Korean government's Korean Central News Agency hailed a meeting between the two countries as an "openhearted talk" that could lead to an official summit between Kim and Moon. The envoys are expected to fly to Washington to meet with the Trump administration in an effort to convince the White House to open diplomatic channels with the North.