WASHINGTON – President Donald Trump has promised a "tremendous" health care plan, one that would cost Americans "a tiny fraction" of what they're paying now, and would also be "beautiful."
What does any of that mean?
As the Republican plan to repeal the Affordable Care Act lies in critical condition in the Senate, what precisely the president would do to revive it and the details of what the ideal Trump health care plan would look like remain as hazy as ever.
Trump, who has astounded even Republican members of Congress by his lack of knowledge on the issue, on Tuesday again spoke about the matter in only general terms. "It's a great plan for a lot of people," he told reporters during a White House photo opportunity. "And eventually we're going to get something done, and it's going to be very good."
Trump's staff claims he has been constantly engaged in the health care legislative process, with numerous phone call and meetings with GOP senators to round up support ― including a White House dinner with some of those lawmakers Monday night. His aides also dispute that Trump does not understand the details of what he calls one of his top priorities.
"I think the president has shown he has extensive knowledge. He's laid out the priorities that are important for him to be included in the legislation," deputy press secretary Sarah Sanders said Tuesday.
Sanders' assessment seems dubious at best. During the GOP primaries and the general election campaign, as other candidates laid out detailed proposals to replace or improve Obamacare, Trump stuck to generic assertions that the existing system was terrible and that he, because of his business acumen and great intellect, was the only one equipped to fix it.
"You're going to have such great health care at a tiny fraction of the cost, and it's going to be so easy," he predicted last October.
During a February 2016 GOP presidential primary debate in Houston, Trump was mocked by Florida Sen. Marco Rubio for relying on the removal of "the lines around the states" in the sale of health insurance as the sole policy detail he could come up with, when pressed for particulars.
"What is your plan? I understand the lines around the state, whatever that means. This is not a game where you draw maps," Rubio said.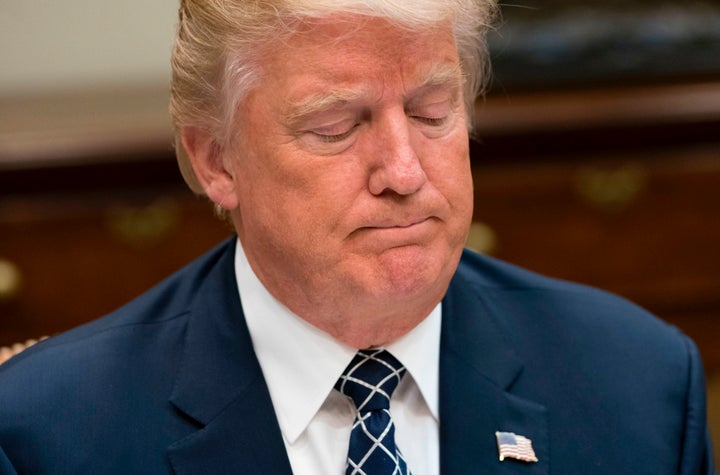 After taking office Trump did, in a moment of candor, concede that the issue was perhaps more complex than he had imagined. "Nobody knew health care could be so complicated," he said during a February meeting with governors at the White House.
The boasts about his subject mastery, though, quickly resumed. "In a short period of time I understood everything there was to know about health care," he said in a May interview with Time magazine.
But even Monday night, as two GOP senators released a joint statement announcing their opposition to the Senate health care bill, effectively killing it, Trump reportedly was again asking his dining companions about removing the "lines around the states."
Whether Trump's lack of knowledge about the issue matters is unclear.
The Republican Party's devotion to repealing the Affordable Care Act predates Trump's interest in that goal by several years. And while Trump did call President Barack Obama's signature legislative achievement "virtually useless" and "a disaster" in his 2015 candidate announcement speech, he devoted far more time to attacking undocumented immigrants and vowing to build a southern border wall.
"Presidential leadership certainly makes a difference," said Avik Roy, a conservative health care policy analyst who worked for Rubio's primary campaign. He pointed to President Lyndon Johnson's wrangling support from various disparate factions to pass Medicare and Medicaid in the 1960s.
Roy said Trump's lack of familiarity with the complexities of the health cr e debate wasn't necessarily a drawback, but that his failure to give Congress some basic guidelines has created problems. If Trump truly believes that every American should be covered, Roy said, then he should have made that clear to House and Senate Republicans.
"He could have easily played a greater role, if he wanted to. And he still can," Roy said. But he then allowed that at some point Trump's approach would be problematic. "When negotiations are thorny, it's good to have command have of details," he said.