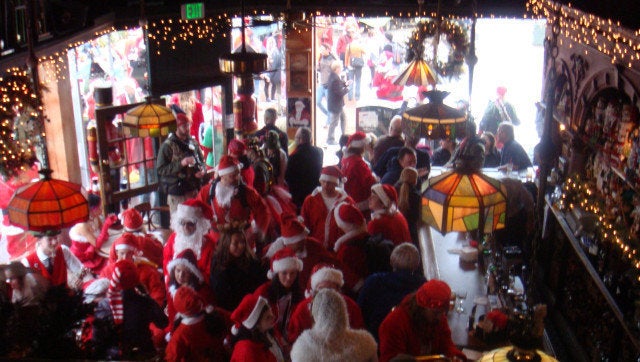 Originally an Irish pub, Twin Peaks Tavern became a popular gay bar and made history when the owners added floor-to-ceiling windows in 1972--a revolutionary decision for a gay bar at the time.
"That move represented the coming out of our community into the light instead of hiding in the shadows," said District Supervisor Scott Wiener in an interview with The Huffington Post. "Twin Peaks Tavern has enormous historical significance for the LGBT community."
The Commission mentioned the glass windows in its report, as well.
"The first known gay bar to feature full-length open plate glass windows, the Twin Peaks Tavern is a living symbol of the liberties and rights gained by the lesbian, gay, bisexual, transgendered community," wrote the Commission in its report. The Commission also noted the bar's contribution to neighborhood nightlife and community events.
However, though the recommendation may be celebrated by the city, it might not be celebrated by the property owners, who have so far remained mum.
"Landmarking a building can present additional costs and hurdles to making changes," explained Wiener. "And I'm very much of the belief that you shouldn't be landmarking a building unless the owner is supportive."
Indeed, though landmarking affects only the building and not the business, the honor would make changes to the property extremely challenging. According to Wiener, the owners have been contacted and the Commission is awaiting a response.
"We'll see what they say," said Wiener. "But regardless, Twin Peaks Tavern will always be an important asset to San Francisco."
While Twin Peaks Tavern is thriving, other historic local institutions haven't fared so well. Check out some iconic San Francisco spots in danger of closing in the slideshow below:
PHOTO GALLERY
SF Icons In Danger Of Closing