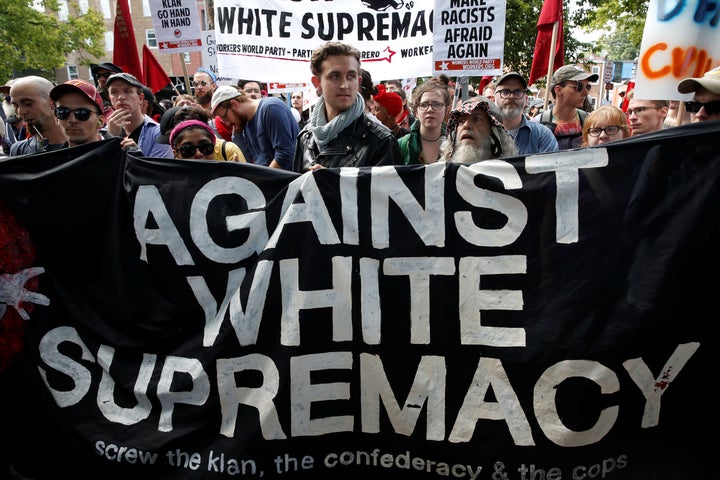 Tyler Magill, a University of Virginia employee who protested a rally of Tiki torch-carrying white supremacists in Charlottesville, Virginia, is recovering from a stroke after being injured in the weekend's violence, the Chronicle of Higher Education reported on Wednesday. 
After Magill was admitted to the university's medical center on Tuesday, doctors discovered that his carotid artery was partially dissected, causing a clot that resulted in a stroke, according to The Chronicle. Doctors suspect Magill sustained "blunt force trauma" to his neck, the paper reported, citing a family friend of Magill's. 
Lisa Moore, a friend of Magill's who set up a GoFundMe page to help with the costs of his recovery, told HuffPost that Magill originally went to the ER on Tuesday because he was losing his vision. While he was there, Moore said, his carotid artery tore and two blood clots were released to his brain, causing a stroke. 
"Tyler reported that he was hit by one of the Tiki torches Friday night on UVA grounds," Moore said. "That was his only reported injury from the weekend, though he was very active in the counter-protest. I was with him for much of Saturday because I was there as a nurse and medic and I was on the scene of the car crash, treating victims." 
Moore said Magill's friends and loved ones don't have "definitive proof" that the torch caused the injury, but she said "it is certainly the most likely scenario." She added that there is an ongoing search for video of the alleged assault.
She also said that Magill's health is improving: "He is able to speak and recognize friends and is regaining function on his right side. He will need a lot PT and likely other therapies."
While Magill's friends and supporters say a white supremacist caused his injury, Magill's brother-in-law Loren Mendosa said that's "conjecture" in an interview with BuzzFeed. Mendosa told BuzzFeed that Magill's memory is a bit foggy because of his stroke.
The university's medical center did not immediately respond to a request for comment.
UVA Library posted a link to the GoFundMe page to help Magill, who worked at Alderman Library, as he recovers. 
James Alex Fields Jr., 20, has been charged with second-degree murder in the incident.
In a video posted to Twitter on Sunday, Magill can be seen walking behind Jason Kessler, an organizer of the rally, and blaming him for Heyer's death. Kessler eventually fled his own press conference as counter-protesters shouted him down.
"Her name was Heather, Jason, her blood is on your hands," Magill says in the footage. "Her blood is on your hood." 
Magill's GoFundMe page features a photo of him with his arms raised above his head as he walks behind Kessler.
"The community is trying to deal with and recover from fascist invasion and terrorist incidents on the streets of our downtown," Moore said in an interview with The Washington Post. "Tyler was everywhere that mattered last weekend and he was everywhere he needed to be. We just want to do all we can to aid his recovery."
BEFORE YOU GO
PHOTO GALLERY
Clashes In Charlottesville