Anthony Lake, the new executive director of UNICEF, fears many of the world's children can disappear in a haze of statistics, making progress on paper while neglect, abuse or impoverishment go undetected.
As the Obama's administration's new choice to head the United Nations Children's Fund, Lake, whose full name is William Anthony Kirsopp Lake wants to make what he calls "equity" his top priority -- analyzing disparities among the world's children. While national -- or even world statistics -- can show an improvement in the care of children or maternal mortality, pockets of poverty within a nation or within a community often tell a different story.
"We are working very hard now on reviewing our programs throughout the organization to see if we can refocus with a greater priority on getting into the toughest neighborhoods in the cities and the farthest communities to try to reduce those disparities," Lake said in an interview, his first since taking office in May.
In measuring child mortality, Lake said as an example of "equity" issues, you get different answers depending on the analysis. He pulled out maps of Brazil, a middle-income country, which he said could be maps for any country in Africa or in south Asia. If you look at the country's average mortality for children under 5 years old, Brazil has a low rate -- fewer than 17 per 1,000 live births. If the map is broken down by pockets of deprivation, the death rate would be double.
"If we focus on averaging alone, we could easily miss all the work that needs to be done and result in an 'easy win' rather than finding the forgotten children," Lake said. "I am convinced that this is not only the right thing in moral terms but also the right thing in practical terms."
Clean Water for Pakistan
UNICEF, the world's largest provider of vaccines in developing nations, supports child health, nutrition clean water and sanitation and basic education in more than 150 countries -- including Pakistan, which this month is occupying the agency.
The agency says that 6 million children have been affected by the deadly floods with 2.7 million children urgently in need of life-saving equipment. At this stage, UNICEF is helping the government help provide clean water, sanitation and hygiene in an effort to prevent major outbreaks of water-borne diseases (cholera, scabies, diarrhea).
Looming in mid-September is another UN summit on the Millennium Development Goals, first adopted by world leaders in 2000 to alleviate extreme poverty through quantifiable targets. Among the eight goals are universal primary education, reducing child mortality and improving maternal health, the heart of UNICEF's programs.
UNICEF is also involved in trying to gain the release of and treatment for child soldiers in some 15 countries. "If you look at them as little killers and treat them that way, then this is being replicated over and over again through the generations," Lake said.
Lake's immediate predecessor, Ann M. Veneman was also known for her innovations of data, increasing updates from five years to three years and teaching UNICEF and its partners how to use it as well as a renewed campaign for children with AIDS. Her predecessor Carol Bellamy , among other campaigns, promoted women and children's rights, drawing scathing criticism from U.S. conservatives.
To write about Lake, the former national security advisor in the Clinton administration and most recently a professor at Georgetown University, without doing a puff piece is difficult. He answers all questions without hesitation -- in short an easy interviewee.
He has been immersed in foreign affairs since he served as a junior Foreign Service officer during the Vietnam War and then became national security advisor during the Clinton administration. He is also the detached academic after years of writing books and teaching at various universities, most recently at Georgetown.
Despite an open application process, it is no secret that Washington chooses the UNICEF chief, who is formally appointed by the UN secretary-general. Washington contributed $63,272,000 and the U.S. National Committee for UNICEF donated nearly $25 million for the agency's $3.25 billion budget in 2009. The plum job matches the political party of whoever is in the White House.
Bellamy, a lawyer, a former New York City Council president and head of the Peace Corps, was able to stay in office for 10 years since the Clinton administration was in its last year in office when her first five-year term expired in 2000. Veneman, an attorney from California and a former secretary of agriculture in the Bush administration, was not as lucky and could only spend five years in the post.
At a party in July given in Lake's honor by Susan Rice, the U.S. ambassador to the United Nations, conversations around him were about war and peace, like Afghanistan.
So what is he doing at UNICEF? He explains that he worked as the unpaid chairman of the U.S .UNICEF committee and went on several trips to the field with the group.
"I always loved Unicef -- what's not to love?" he said.
Ambassador Rice was instrumental in getting Lake his job. He quipped at the reception that the young Rice was so forceful that he hired her when he was national security adviser in 1993, and "I very much enjoyed working for her for the next four years."
And national security? "I kicked the habit."
Prior UNICEF executive directors (all Americans):
Maurice Pate - from 1947-65
Henry R. Labouisse - 1965-79
James P. Grant - 1980-95
Carol Bellamy - 1995-2005
Ann M. Veneman - May 1 2005 - Apr 30 2010

(A shorter version of the interview was published by UNA-USA's InterDependent online magazine, www.theinterdependent.com).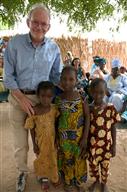 Lake in Senegal May 19, 2010