Sean Christoper Urbanski, a 22-year-old student at the University of Maryland, has been charged with first- and second-degree murder as well as first-degree assault following the recent slaying of Richard Wilbur Collins, a senior at Bowie State University. 
The UMD Police Department enlisted the help of federal law enforcement after discovering Urbanski's connection to "Alt-Reich: Nation," a racist Facebook group that posts disparaging content about African Americans and other minority groups.
Collins was visiting UMD during graduation weekend when Urbanski allegedly stabbed him early Saturday morning. The BSU student was waiting for an Uber near a UMD shuttle bus stop with a couple of friends when a screaming Urbanski allegedly approached the group around 3 a.m.
Witnesses told police that Urbanski was intoxicated and incoherent as he shouted at Collins to "step left if you know what's best for you," according to court documents obtained by News 4 Washington. After Collins refused, Urbanski allegedly thrust a "3 to 4 inch silver blade" into the victim's chest. 
When police arrived on the scene, they found Collins bleeding and laying on the sidewalk as Urbanski sat on a bench roughly 50 feet away.
Urbanski was arrested and Collins was transported to a local hospital, where he died.
Authorities said the attack was caught on surveillance camera and thought to be unprovoked. Urbanski is being held without bond.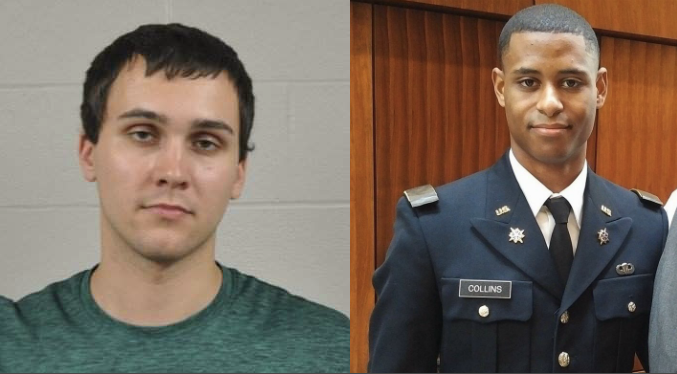 Collins, 23, was set to graduate from Bowie State University on Tuesday. He was commissioned as a second lieutenant in the U.S. Army just days before his death.
Vidal Adams, a fellow Bowie State student, told The Baltimore Sun that Collins was "vibrant, funny and outgoing," adding that his late friend had wanted to travel the world and go skydiving.
"It never gets any worse than this," UMD Police Chief David Mitchell said at a press conference on Saturday. "When I sat with the victim's father, who is a military veteran, and his pastor and we shed tears together ... I can tell you, it rips your heart out."
UMD President Wallace D. Loh vowed to increase police presence on campus in response to the attack and encouraged community members to "do more to nurture a climate" that stands "against hate crimes."
"As we search for answers to this senseless crime, please continue to keep the family and friends of Lt. Collins, and the BSU community, in your thoughts and prayers," Loh said in a statement Sunday. "We all grieve together for a promising life ended far too early."
BEFORE YOU GO
PHOTO GALLERY
24 Inspiring College Grads Who Exemplify Black Excellence