The holiday season usually attracts lovers that can't wait to feast in turkeys, pumpkin, ginger and nutmeg spices so it will be quite adventurous to serve and eat unorthodox dishes that will still satisfy your tastebuds and cravings.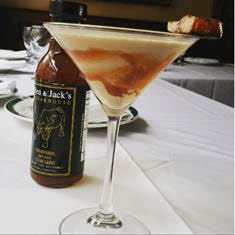 Steak Sauce Eggnog Martini
Wolfgang Puck visited AOL BUILD to give demo on how to spruce up your holiday dinners. So what unusual flavors and dishes can you surprise your friends and family with? Steak sauce - specifically Ben & Jack's (Not Just) Steak Sauce which was created by Executive Chef, Admir Alibasic who oversees the menu at Ben & Jack's Steak House in New York City.
"When I tell people that I have made a cocktail with steak sauce, they automatically think it's a bloody mary. But, when they see a white chocolate martini with steak sauce, they think I'm crazy. This is because I like to experiment with unconventional ingredients with food. The steak sauce adds a slight kick and tones down the bitterness of the chocolate. Steak sauce chocolate chili has to be hands down one of the best dishes to make." states Chef Admir.
Now you are probably thinking to yourself what is the difference between regular steak sauce and Ben and Jack's (Not Just) Steak Sauce and Admir adamantly states, " Ben & Jack's (Not Just) Steak Sauce is a perfect combination of flavors. It hits every note on the pallet; starting with a sweet molasses on the tip of the tongue then you get a citrus burst towards the middle and it finishes with a slight kick that doesn't linger. Other steak sauces are either full of sugar or Worcestershire sauce, taste like cocktail sauce, and skimps out on the horseradish."
Still not convinced? Try these recipes at home and come to your own conclusion:
Steak Sauce Chocolate Cheesecake Lollipops

Ingredients
1 9-inch prepared cheesecake
1 pound bittersweet chocolate (70% cacao), chopped
2 tablespoons Ben & Jack's (Not Just) Steak Sauce
1 teaspoon cayenne pepper
1/2 teaspoon chili powder
1 teaspoon finely grated orange zest
½ pound chopped walnuts, toasted
Melted caramel
20 lollipop sticks

Directions

Use a melon baller to scoop the cheesecake balls onto a wax paper-lined baking sheet. Freeze until solid, at least an hour. Melt the chocolate in a small, deep bowl set over a saucepan of partial simmering water. Once the chocolate has melted, stir in steak sauce, cayenne pepper, chili powder, and orange zest. Remove the cheesecake balls from the freezer and gently dip into the melted chocolate, let excess chocolate drip off, then return to the wax paper-lined baking sheet. Sprinkle with chopped toasted walnuts and drizzle with melted caramel.
Or, If you want to create a cocktail with steak sauce, ( which will probably be the most interesting and talked about conversation at your party) Alibasic has also created a steak sauce martini.
Steak Sauce Eggnog Martini
And to top it off, he recently integrated the steak sauce into the perfect holiday cocktail, "Steak Sauce Eggnog Martini," which incorporates Bourbon, White Chocolate Liqueur, Frangelico, of course Eggnog, accompanied by a bacon strip for stirring. It's the perfect combination of salt and sweet, which can be served for any holiday occasion.
There's even a low-cal version!
Steak Sauce Eggnog Martini Low-Cal
Ingredients
1 oz Bourbon 66 calories
1 oz Eggnog 25 calories
½ oz White Chocolate Liquor 51 calories
½ oz Frangelico 35 calories
¼ tsp steak sauce 9 calories
Directions
Smear the steak sauce on the inside of a chilled martini glass.
In a shaker tin with ice, add bourbon, eggnog, white chocolate liquor, and Frangelico. Shake and pour into the martini glass.
Alibash makes every batch himself and if you are interested in purchasing a bottle you can contact him here.
Don't feel adventurous enough to try steak sauce on your desserts? If you are in the Chicago area for Christmas, you might be interested in Chef Stephen Gillanders creative interpretation on classic Chinese dishes such as Truffled Egg Drop Soup with chicken broth, green onion, schmaltz; Roasted Pekin Duck with traditional garnishes and condiments; and Foie Gras Fried Rice with sunny-side duck egg, ginger crumbs.
Foie Gras Fried Rice with sunny-side duck egg,ginger crumbs.